Dining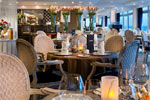 Aqualina
For tastes of the Mediterranean, reserve your place at Aqualina, where you'll be soothed by a blue and white decor and equally magnificent water views. Taste your way through starters including seafood bouillabaisse, lobster-asparagus salad, and wild mushrooms with parmesan and white truffle cream.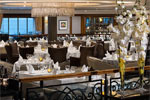 Discoveries
With stellar nightly selections, Discoveries is not to be missed. Azamara serves all the classic dinner favorites and have added a deliciously different twist to each, like a filet mignon with black truffle sauce. What's more, open seating provides you the opportunity to dine at your leisure.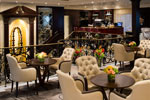 Mosaic Cafe
Sink into a comfortable chair at the Mosaic Cafe and enjoy an espresso or hot tea with fresh biscotti, tea sandwiches or scones-on the house, of course. Centrally located on deck five, the Mosaic's congenial service and atmosphere make it a favorite gathering spot for conversation, cards and trivia games.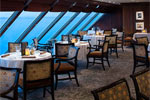 Prime C
At Prime C, Azamara's classic steakhouse, relax into the rich autumn colors and wood paneled dining room as you take in magnificent floor-to-ceiling water views. The menu includes crab cakes with remoulade, lobster bisque, wedge salad with bacon and blue cheese, and of course, steaks.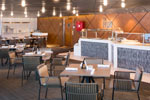 The Patio and Swirl & Top
While a casual "pool grill" during the day, in the evening this venue will be completely transformed into a sit-down al fresco dining experience. And for a little touch of whimsy, a self-serve frozen yogurt station—Swirl & Top. With a variety of flavors and your choice of toppings, it's the perfect way to cool off during the day or end your evening meal.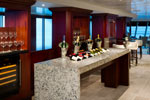 The Wine Cellar
Just outside the Prime C, the Azamara Wine Cellar will delight your palate with an amazing collection of limited production, small label and rare vintage wines. Enjoy your evening here with knowledgeable sommeliers helping you pair the best wines with your dinner.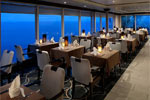 Windows Cafe
Take in the fresh breeze at an outdoor table in Windows Cafe, a casual buffet offering made-to-order breakfasts and a large variety of lunch and dinner options, including fresh sushi, stir-fries and pastas, salads, a carving station and sumptuous desserts.
Spa and Beauty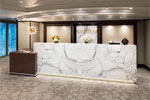 The Sanctum Spa
Let Azamara's Spa transport you to a whole new world with treatments inspired by rituals from exotic cultures. You'll also find a hair salon, the Sanctum Terrace with a Thalassotherapy pool, and an assortment of the finest spa products. The Sanctum Spa also includes a nail bar and pedicure area, and dedicated stations for barber services, teeth whitening, and hair services, along with the Medi-spa and acupuncture clinic.
Onboard Activities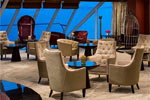 Card Room & In Touch
On the starboard side of the Living Room, guests will find the Card Room for those who love a round of Bridge or other games. Four computers and interactive table tops are available for guest use during the voyage.​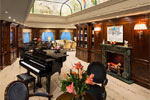 The Drawing Room
This library is one of the quiet jewels of Azamara, a peaceful and beautifully appointed space for reading or relaxing after dinner. Browse the collection and feel free to borrow the library books.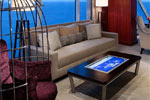 The Living Room
The idea of the Living Room is just that. It's the perfect space for guests throughout the day and evening to engage in lively conversations, take in interesting speakers, peruse art, play a game of cards, enjoy a cup of tea or coffee, wines & tapas, delightful music, or simply relax with a good book.
Casino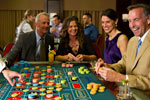 Casino
Popular games of skill, of chance and a wide selection of slot machines - the casinos of Azamara Club Cruises offer an entertaining onboard gaming experience for a broad range of players.
Night Life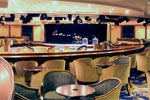 Cabaret Lounge
Marvel at the talent of Azamara's singers and dancers as you are transported to another world. Soft, comfortable seating and Azamara-style cocktail service highlight this elegant showroom.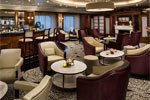 Discoveries Lounge
Located just outside Azamara's main restaurant, this congenial bar is a favorite gathering place for pre- and post-dinner conversation and drinks. Bar service includes a full selection of fine wines, mixed drinks, and premium spirits…plus the entertaining banter of Azamara's friendly bartenders.
Pool Bar
The Pool Bar serves refreshments while enjoying the Pool during the day, and cocktails of your choice in the evening.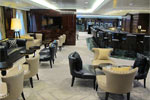 Spirits
For all you sports fans, the Spirits bar adjacent to the Casino features a flat-screen TV and full bar, making it a very pleasant place to keep up with your favorite teams.
Sports and Fitness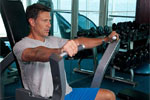 Fitness Center
Outfitted with the latest in aerobic and weight-training equipment, the Fitness Center offers specialized classes and private instruction from certified personal trainers.
Shopping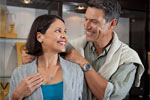 Indulgences
Aptly named, Indulgences will satisfy your desires for the finer things in life. If you are looking for designer jewelry, it's the perfect place to window shop or to find that extra special purchase.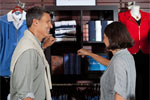 The Journey Shop
It's one-stop shopping in The Journey Shop. Apparel, sundries, handbags, candies, souvenirs and lots more await. If you find that you forgot to pack something, chances are you'll find it in The Journey Shop.
Pools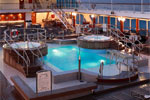 The Pool
While spending daytime sun-drenched and relaxed by the pool, don't think of missing Azamara's famous White Night party held at least once on every cruise (weather permitting). Colorful décor and linen-draped tables, a fabulous buffet feast, and boutique wines on the house make this an event like no other.