Dining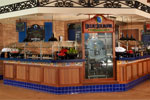 BlueIguana Cantina
Nobody knows Mexican dining like a blue iguana. Well, Carnival's blue iguana, at least. That's why it should come as no surprise that the BlueIguana Cantina features freshly made tacos and burritos stuffed specially for your enjoyment.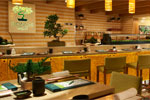 Bonsai Sushi
Dine amidst expertly-pruned bonsai trees while enjoying sit-down service and an affordable menu of delectable catches… plus soups, sides, sakes and desserts. So the next time you're taking an onboard stroll, stop at Bonsai Sushi for a roll, a box or maybe a whole ship — it feeds two, and keeps them satisfied.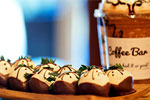 Coffee Bar
The Coffee Bar is just like a trip to one of Europe's most decadent cafes - except you don't need to master a foreign language to order. Treat yourself to a well-deserved break with a specialty coffee drink or freshly brewed tea and some delicious homemade pastries.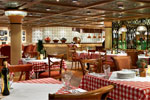 Cucina del Capitano
When seeking inspiration for a unique family-style dinner experience, Carnival looked no further than its own crew. Many of the ships' officers and captains are Italian, and you know that they know a thing or two about delicious dining!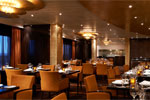 Fahrenheit 555 Steakhouse
A memorable culinary experience awaits at Fahrenheit 555, Carnival Breeze's classic American steakhouse. Combining a delicious steakhouse menu with Carnival's own unique style, Fahrenheit 555 provides guests with an unforgettable evening of dining in intimate and elegant surroundings.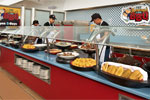 Fat Jimmy's C-Side BBQ
You don't have to leave behind your desire for great barbecue when you cruise. Fat Jimmy, the resident expert, simmers, sauces and serves up backyard-and-beach-cookout fare like Italian sausage, barbecue chicken breast, and of course the classic pulled pork sandwich.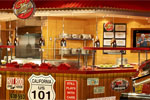 Guy's Burger Joint
Carnival has teamed up with best-selling author, restaurateur and Food Network personality Guy Fieri to bring all the authentic appeal of a roadside burger shack to Guy's Burger Joint, the cool poolside spot for hot burgers and hand-cut fries. Try a fresh-off-the-grill burger Guy's way, or take it off-road to our toppings bar and truly make it your own.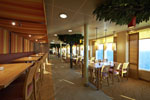 Lido Marketplace
Like all Carnival ships, Carnival Breeze actually helps you work up an appetite, so it's only right that there's tasty food available whenever you want it. The Lido Marketplace not only features a rotating carousel of made-to-order favorites throughout the day like burgers, a deli, Mongolian wok, and a burrito bar, but 24 hour options - like cheesy pizza and soft-serve ice cream - that are ready for you when you're ready for them.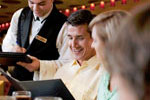 Main Dining Rooms
Whether Early or Late dining is more your style, as you cruise, you'll get to know not only your table companions, but your dining room waiter, who brings more to the table than just food! A meal in Carnival Breeze's main dining rooms means more than just a meal - and a complimentary delicious, multi-course one at that - it's an experience featuring an all-singing, all-dancing, all-fun waitstaff! If you're not the type to plan ahead, check out Your Choice Dining and eat the same great food on your own flexible schedule.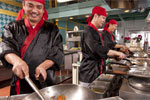 Mongolian Wok
Chow down on some delicious Asian goodness. First, select your noodles and veggies. Then tell one of the chefs which sauce and meat you want in the wok. Will it be mussels and Szechuan? Beef and Thai barbecue? Chicken and black bean? Don't worry, the decision doesn't have to be final — you can come back to Mongolian Wok and try all the combos your heart desires!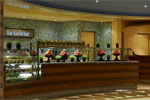 Ocean Plaza Cafe
Ocean Plaza Cafe is the indoor/outdoor space that brings together that which stimulates most of your senses: food for the taste buds, live music for the ears, expansive glass walls with beautiful ocean vistas for your eyes - and blends these together in such a way that you'll scarcely notice you're indoors, if you even are indoors.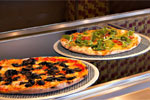 Pizza Pirate
Tossing dough is an age-old art passed down the generations. Lucky for you, someone passed us the secret to the perfect pie. While aboard, this is the place that will shiver your timbers and warm you to the bone, 24 hours a day, with a Margherita, Funghi, Prosciutto, Pepperoni or Quatttro Formaggi pizza served with a delicious Caesar salad.
Spa and Beauty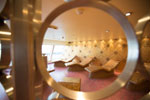 Cloud 9 Spa
Let's focus on you for a while. That's how Carnival Breeze's Cloud 9 Spa works - you'll find a special sort of treatment, in a tranquil, spacious oasis that's ripe for refreshing, relaxing and rejuvenating.
Onboard Activities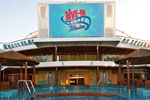 Carnival Seaside Theater
Here's the plot: You, watching a movie, on a giant screen, outdoors, while relaxing in a pool, or maybe lounging on a beach chair. Sound like a script you can get behind? Great - the role is yours! Get over to wardrobe (a bathing suit will do just fine) and then head to Carnival Breeze's Seaside Theatre, where the viewing experience may trump just about all others you've experienced. Ooh, sorry about that.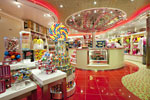 Cherry on Top
Celebrate life's little pleasures. Carnival has that perfect little something to make any occasion even more special.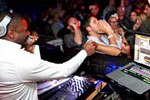 DJ IRIE'S Spiniversity
Carnival has teamed up with the Miami Heat's DJ IRIE to head their new program! DJ IRIE'S Spiniversity is designed to teach you how to DJ like a pro.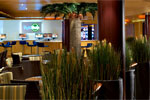 FunHub
FunHub is your Carnival connection to everything you need to know — oh, and want to know — about your vacation. Need to get around? They've got ship maps. Want to know what's when? See activity schedules. Missed that morning's Fun Times? Get the whole scoop… plus let's not forget FunAshore guides and entertainment schedules, to help plan your day and your evening. Best of all, all this is free, either from a FunHub location or your WiFi-enabled mobile device!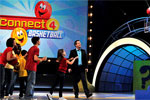 Hasbro, The Game Show
The classic board games you grew up with come to life in this wildly fun game show! You can play along with your kids or even with other adults!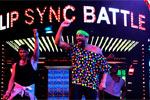 Lip Sync Battle: Carnival
This series of competitions throughout your vacation is designed to see who's got what it takes to truly channel their inner idols and make the crowd go wild. You've got what it takes, but we don't expect you to do it alone. Fight your way to the finals, where we'll provide the props, music, lighting, choreographers and even backup dancers to elevate your performance. But the attitude — superstar, diva, rockstar — that is all you. So get up there and work it, twerk it, give it all you got.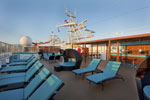 Serenity Adult Only Retreat
All grown up with no place to go? Not so! Carnival Breeze's Serenity area lets adults spend time with other adults, far away from both stress and - you know - kids. It's called 'Serenity' for a reason, so if you're a relaxation enthusiast, this is the place you'll want to be. Read a book, enjoy the view, sip something from the bar, or just spend some quality you-time - it's your place to just be you. And is there any better place to be you than on a hammock? That's an easy one!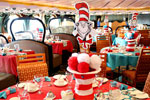 Seuss at Sea
Dr. Seuss's timeless stories are the kind kids memorize, and this is the kind of cruise you'll remember for a lifetime. The whole family will still enjoy all the classic Carnival activities, but the littlest ones, and their families, will also enjoy an all-new, extra-special experience as the fantastical world of Dr. Seuss comes to life around them. Enjoy a special onboard character parade, interactive story time, arts & crafts activities, character breakfast featuring their favorite Dr. Seuss friends and more. Seuss at Sea truly brings your child's favorite books to life.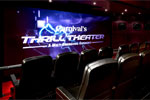 Thrill Theater
We're supposed to be quiet at the movies, right? Well… that might be a little hard at Thrill Theater. Here, the action doesn't just stay on the screen — it makes you a part of the experience. You'll laugh, you'll cheer… you know, you may even scream a little. It all starts with state-of-the-art 3D video effects, but moves into even more dimensions — feel the wind in your hair, a light splash here and there, plus your seat even gets in on the action for total cinematic immersion.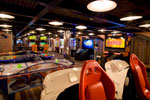 Video Game Room
You know you're awesome, and you've got the high score to prove it. Carnival Breeze's video game room brings out the winner in everybody, with not only a slew of the latest arcade games, but a selection of classic analog favorites like air hockey. There are fun times for all here, but bring a skilled friend for the ultimate two-player challenge.
Casino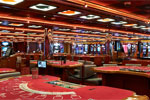 Casino
Feeling lucky? Grab your favorite good-luck charm and head on over to the place to make the most of this feeling: Carnival Breeze's Casino. From roulette to blackjack, slots to poker, if you play your cards right, there are more ways to be a winner here than just about anywhere else at sea!
Night Life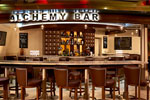 Alchemy Bar
You don't need to be a mix-master to appreciate Alchemy – you just have to be up for trying something new. They've been stirring up some magic behind the scenes at Carnival to produce a tasty series of all-new cocktails served at this unique vintage-themed cocktail "pharmacy." Let the cocktail specialists prescribe you something from the bar, with both nonalcoholic and alcoholic elixirs to remedy what ails you. Or, create your own custom concoction from a variety of unique ingredients.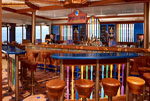 BlueIguana Tequila Bar
The BlueIguana Tequila Bar offers up Mexican favorites, including several brands of tequila and a slew of Mexican brews. Since it's next to the pool, you can stay cool and take in the bar's laid-back vibe while you kick back and enjoy some sun.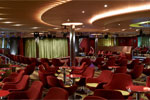 Limelight Lounge
The limelight's where you want to be if you're an artist. The Limelight Lounge is too, but it's also a great place to be as a fan! Here on the stage, entertainers of all kinds — musicians, vocalists, comedians... even karaoke stars and more — make themselves at home as they practice their craft the enjoyment of the audience. So whether it's tapping your foot, bobbing your head, laughing out loud... or of course, cheering wildly, don't forget to show the entertainers some love.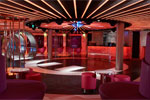 Liquid Nightclub
Get up and get down at the most happenin' club in the Caribbean. The DJs are spinning today's hottest hits and yesterday's golden oldies, guaranteed to get you out of your seat and tapping your feet. (Hey, that rhymed!)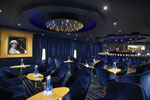 Piano Bar
For a toast and a tune, look no further than the lively atmosphere of Carnival Breeze's Piano Bar. Grab a drink and a close-up seat for a up-close view, and watch as the master pianist tickles the ivories, producing sounds to delight even the most discerning of ears. Get your vocal chords all warmed up, because a singalong is sure to start up at a moment's notice!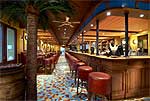 RedFrog Pub
RedFrog Pub is Carnival's laid-back, no-worries, British-West-Indies-meets-Key-West-style bar. If that sounds like a mouthful, don't worry, there definitely won't be a test! Inside RedFrog you'll find a great atmosphere perfectly tuned for a high level of carefree fun, and outside, you'll find even more island ambience. RedFrog Pub is also home to Carnival's exclusive house brew, ThirstyFrog Red, and mouth-watering Caribbean-inspired fare. Ready to get hungry?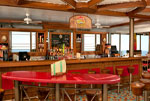 RedFrog Rum Bar
Inspired by the RedFrog Pub, Carnival decided to make a new addition. This poolside bar serves Caribbean based drinks in the chilled out atmosphere you love.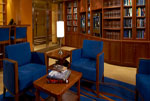 The Library Bar
If you like reading your favorite book with a glass of wine then you'll love The Library Bar. With self-serving wine dispensers, you can choose to unwind with a board game, some light chatting with new friends, or pick up a new book to read.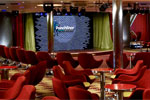 The Punchliner Comedy Club
Comedy clubs on land… well, it's kinda funny. Nobody likes paying cover charges, and you know that two-drink minimum? They've gotta be joking! You won't find either of these at The Punchliner Comedy Club aboard your Carnival cruise. Up on stage you will find some real pros who know how to wedge a little laughter into anyone's evening. You can count on these comedians to not hold back either. Since some of them get up and say exactly what's on their mind, we also schedule family-friendly performances… so the only red faces in the audience are from laughing a little too hard.
Youth Activities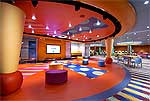 Camp Carnival
Camp Carnival is the place where the youngest cruisers - ages 2 through 11 - can have the best time, featuring games, finger painting, story time, movies and more, all in a supervised environment, while their parents can be off having fun of their own. The fun doesn't end at bed time, either; Carnival's babysitting program offers, for a fee, a fun late-night option for kids while their parents stay out until as late as 3 A.M.
Circle C
Video games, scavenger hunts, and especially dance parties, are always a blast, but may be even more fun at sea. From all of these at Circle "C", to getting outside with sports, pool parties and special shore excursions, young teens 12-14 enjoy more of what they love, and best of all, enjoy it with teens their own age!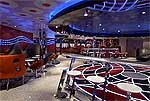 Club O2
One of the hottest destinations on board Carnival Breeze is Club O2, but there's only one way in: be between 15 and 17 years old! Teens can enjoy the latest music with exclusive dance parties, video gaming and movies from the club's comfy seating, with video monitors all over the place. They'll even have fun outside of the club, with pool parties, team sports and special teen-only shore excursions.
Sports and Fitness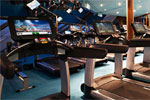 Fitness Center
We have some bad news for you — your ship has a gym. In other words, there's no excuse for leaving your fitness routine back on land. That's great news, however, for your body, which will definitely benefit from all the extra energy that vacationing pumps directly into you.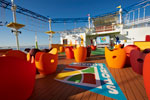 SportSquare
SportSquare gives your inner champion a place to run wild! Basketball? Soccer? Jogging? Strength training? Can you say 'check check check check?' Even if your inner champion is the more laid-back type, there's even mini golf, foosball, table tennis and more. Spectators are welcome at SportSquare, and anyone can take a breather - even if they're only worn out from all the cheering - at the sports bar. You'll even see the return of Carnival Magic's game-changing first ropes course at sea. Completing it won't be a breeze, but will be loads of fun. Put your competitive spirit - or bragging abilities - to the test at SportSquare.
Shopping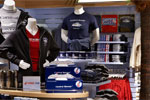 Shopping
You'll find the perfect gifts for friends, family or yourself at the onboard gift shops, stocked with so much good stuff you'll want to shop 'til you drop. With everything from T-shirts to high-end timepieces, lockets to your favorite spirits (available duty-free), you're bound to find something special for that special someone, or perhaps even you.
Pools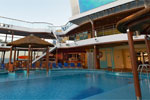 Beach Pool
So you found the Beach Pool! Good find — the pool's an exclusive retreat to paradise by day, and the resort-style pool even provides the best seat in the house for kicking back and enjoying whatever's playing at Carnival's Seaside Theatre, which promises a good show for all.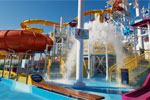 Carnival Waterworks
If water is your thing, WaterWorks is your place. This onboard water park features multiple waterslides and a giant - 300-gallons-giant - dump bucket. Stationary water toys let you take rivalries of all sorts - sibling, professional, or just carried over from SportSquare - and settle them in a fun, cool way. Carnival Breeze's WaterWorks is just the thing to get even the most experienced cruiser wet behind the ears again.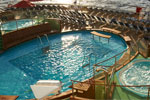 Tides Pool
Flanked by a pair of oversized whirlpools, the Tides Pool is the perfect pick to let the hours drift by under the sun.