Dining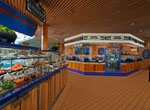 BlueIguana Cantina
Nobody knows Mexican dining like a blue iguana. Well, Carnival's blue iguana, at least. That's why it should come as no surprise that the BlueIguana Cantina features freshly made tacos and burritos stuffed specially for your enjoyment. Throw in homemade tortillas and salsa into the mix, and you have a casual dining experience that will make you say "mmmm" (which is actually Iguanese for "more, please").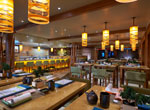 Bonsai Sushi Bar
Dine amidst expertly-pruned bonsai trees while enjoying sit-down service and an affordable menu of delectable catches… plus soups, sides, sakes and desserts. So the next time you're taking an onboard stroll, stop at Bonsai Sushi for a roll, a box or maybe a whole ship — it feeds two, and keeps them satisfied.
Chef's Table
Treat your taste buds to the experience of a lifetime, culminating in a sumptuous multicourse dinner hosted by one of Carnival's master chefs. Your VIP experience starts with cocktails and hors d'oeuvres for a select group of 12, followed by a tour to see the galley in operation.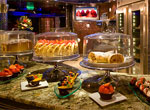 Coffee Bar
The Coffee Bar is just like a trip to one of Europe's most decadent cafes except you don't need to master a foreign language to order. Treat yourself to a well-deserved break with a specialty coffee drink or freshly brewed tea and some delicious homemade pastries.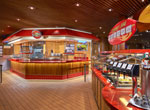 Guy's Burger Joint
Carnival went looking for someone to help them grill up the best burgers at sea, and they found just the guy. Carnival has teamed up with best-selling author, restaurateur and Food Network personality Guy Fieri to bring all the appetizing appeal of a roadside burger to Guy's Burger Joint, the cool poolside spot for hot burgers and hand-cut fries.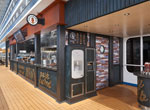 Guy's Pig & Anchor Bar-B-Que
At this onboard, open-air spot, Guy's doin' his authentic, real-deal barbecue, his way. The Barbecue Hall of Famer is bringin' some big time meats like Championship Pork Butt, Smoked Round of Beef, Smoked Andouille Sausage and his famous Blue Ribbon Chicken as well as rockin' sides like Mac Daddy Mac n Cheese, Old Skool Potato Salad and Collard Greens. Throw in his signature line of barbecue sauces and you've got a rockin' sea day on deck.
Kids Menu
Carnival's kids' menu features delicious, fun foods to keep even the pickiest eaters happy. They've got all the familiar options they love from home, like spaghetti & meatballs, chicken nuggets, hot dogs, mac & cheese, peanut butter & jelly sandwiches, and fresh fruit and veggies.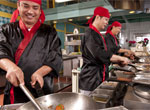 Mongolian Wok
Chow down on some delicious Asian goodness. First, pick your noodles and veggies. Then tell one of the chefs manning the wok what sauce and meat you'd like added in. Will it be mussels and Szechuan? Beef and Thai Barbecue? Chicken and Black Bean? Don't worry, the decision doesn't have to be final, because with Mongolian Wok open every day from late morning to early evening.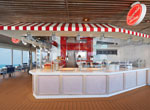 Pizzeria del Capitano
Pizzeria del Capitano is open to everyone, 24 hours a day! And since our captains tend to be Italian, you know the quality of the ingredients truly pass muster. (Sorry, nautical pun.) Hand-tossed dough, made from imported Italian flour, plus fresh mozzarella form a solid base, and a choice of toppings put the finishing touches on this piping hot, fresh-from-the-oven mealtime — or anytime — classic.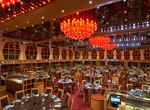 Signature Dining
Chances are, you've worked up an appetite after a day of awesome onboard activities or exploring one of many beautiful destinations. Now it's time to feast on amazing culinary delights in one of Carnival's dazzling main dining rooms.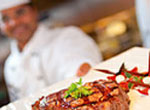 Steakhouse
How do you make a special vacation even more special? Book a table at Carnival's memorably delicious Steakhouse. The menu features mouthwatering beef cooked to your exact specifications, as well as a fantastic selection of seafood, entrees, gourmet appetizers and an extensive wine list.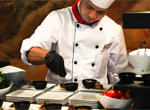 The Taste Bar
A voyage to new destinations is the perfect time to try new things… and here's the perfect place: The Taste Bar. Stop by for a taste of the flavors awaiting you at dining venues across the Carnival fleet. Pick up a complimentary appetizer before dinner for a taste of something different.
Spa and Beauty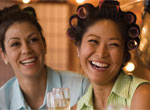 Hair and Beauty Salon
Helloooo, gorgeous! Yes, we're talking to you. Because after you've met with Carnival's experienced staff, you'll be seeing your best self ever. The European-style salon is staffed with trained professionals who specialize in pampering you and bringing out all your best features.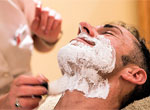 Men's Services
Hey man, been to the spa lately? Well, why let the ladies have all the fun? You can actually enjoy a lot of the same stuff they do, plus manly services like razor-close barbershop-style shaves — pair one with a facial to really get a good thing going up top. Speaking of the barber, a cruise is a great time to rock a whole new hairstyle, a quick grey-hair darkening, or even just a fresh trim. And what guy wouldn't go for a little extra relaxation with a massage?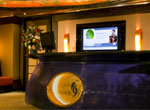 Spa
When it comes to relaxation from the inside out, nothing beats a trip to the spa. From the minute you step inside, the soothing ambiance begins to work its magic. Renew yourself with premium beauty and wellness therapies, like hot stone massages, aromatherapy or full-body wraps.
Onboard Activities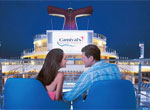 Carnival Seaside Theater
Night time isn't the only time you'll find stars on your cruise. Day or night, find a spot on deck and check out Carnival's Seaside Theatre's huge outdoor screen. Hit movies, live sporting events, concerts and even cartoons for the kids are just some of what you'll find featured at this large-scale outdoor entertainment zone. Grab a copy of the FunTimes and check the day's listings... then grab a friend or three and get ready to kick back and enjoy.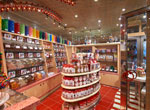 Cherry On Top
A cruise is the perfect time to treat yourself to something sweet, and Cherry On Top happens to be the perfect place. You'll find this well-stocked candy-and-more-store not only great for enjoying some of your confectionery favorites, but the place to pick up food and apparel gifts for that special someone, even if — admit it — that someone happens to be you!
DJ IRIE's Spin'iversity
Nobody can get the party started like a great DJ, right? That's why Carnival brought DJ IRIE into the mix (pun intended) to make the nightlife on board Carnival hotter than ever. He'll be heading up "DJ IRIE's Spin'iversity," a program designed to train our DJs to keep their spinning skills sharp and their personalities party-ready. Oh, and as for music, graduates will be spinning expanded musical catalogs in clubs across the fleet for maximum guest body-rocking.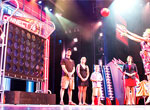 Hasbro, The Game Show
You've played Connect 4 and Yahtzee, but have you ever played giant versions of them onstage in a competition that puts your gaming skills to the test? You'll have your chance when you take part in Hasbro, The Game Show. From SORRY! SLIDERS to YAHTZEE BOWLING, CONNECT 4 BASKETBALL, OPERATION SAM DUNK and SIMON FLASH, you can team up with your friends and family to win great prizes, all in front of a live audience.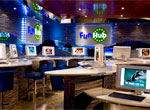 Internet Cafe
Internet cafés harken back to kinder, simpler times — bygone days when the Internet was a place you would visit and stay a while, before returning to your "real life." A Carnival cruise is the perfect place to return to a (mostly) disconnected lifestyle — visit the onboard Internet café to check in with the outside world now and then.
Karaoke
Grab the mic and get ready for your singing superstar dream to come true! Croon country classics, belt Broadway showstoppers, sing out some soul or serenade your sweetie with "your song." Whether your musical dreams are made of classic rock or '80s pop, you'll be sure to find some tracks that you want to sing out loud.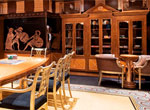 Library
Looking for the perfect place to curl up for some quiet time? Look no further than the library. Sink into a cozy chair and let the hours drift by in this quiet onboard haven. It's the perfect place to catch up on your reading, do a crossword, write a postcard to the gang back home, or stimulate your brain with a game of chess, checkers or Scrabble.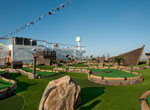 Mini Golf
Foooooooore! Have a swinging good time at the onboard mini-golf course. The greens are meticulously maintained and the view is pretty spectacular. (When's the last time you played with an unobstructed view of the Caribbean?)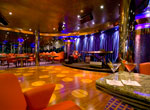 Ocean Plaza
Take a break, grab a snack or catch a performance. This laid-back-by-day venue lets you satisfy your appetite for food and interactive games such as trivia, with live music and more heating the place up when the sun goes down.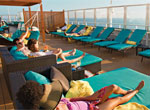 Serenity Adult Only Retreat
Somebody at Carnival knows just what you need, and it's pretty much exactly the Serenity Adult-Only Retreat. Look, you'll still be on the same ship as the kids, the hoopla, and all the Carnival-style excitement… but you could easily forget, because when you're at Serenity you could not be further from it all. The world you'll find yourself in is one of complete peace, sea breezes, swaying hammocks and, of course, a nearby bar. It's the place to get done the kind of stuff you just can't seem to do anywhere else — reconnect with your partner, finish that book, or do absolutely, blissfully, nothing at all.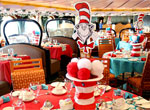 Seuss at Sea
Dr. Seuss's timeless stories are the kind kids memorize, and this is the kind of cruise you'll remember for a lifetime. The whole family will still enjoy all the classic Carnival activities, but the littlest ones, and their families, will also enjoy an all-new, extra-special experience as the fantastical world of Dr. Seuss comes to life around them. Enjoy a special onboard character parade, interactive story time, arts & crafts activities, character breakfast featuring their favorite Dr. Seuss friends and more. Seuss at Sea truly brings your child's favorite books to life.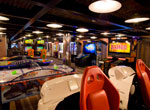 Video Arcade
If you love to play video games, you're in luck. Carnival's video arcade boasts a huge array of games, and is open to players of all ages, all night and all day. So get some tokens from the vending machine and let the fun times begin.
Casino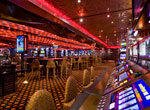 Casino
Press your luck onboard at the casino offering your favorite casino games such as, blackjack, poker, craps, slot and more.
Night Life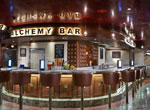 Alchemy Bar
You don't need to be a mix-master to appreciate Alchemy – you just have to be up for trying something new. They've been stirring up some magic behind the scenes at Carnival to produce a tasty series of all-new cocktails served at this unique vintage-themed cocktail "pharmacy." Let the cocktail specialists prescribe you something from the bar, with both nonalcoholic and alcoholic elixirs to remedy what ails you. Or, create your own custom concoction from a variety of unique ingredients.
BlueIguana Tequila Bar
BlueIguana Tequila Bar is the onboard spot to chill and enjoy a slushy tequila drink or an ice-cold Mexican cerveza. The menu offers up Mexican favorites, including several brands of tequila and a slew of Mexican brews. There's a lineup of frozen concoctions, cocktails and margaritas served by the glass or by the pitcher, and even a special Mexican beer cocktail (yes, really). So stay cool and take in the bar's vacation vibe while you kick back on your cruise – that's what official bar mascot Blue the Iguana would tell you.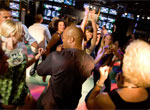 Night Club
Get up and get down at the most happenin' club in the Caribbean. The DJs are spinning today's hottest hits and yesterday's golden oldies, guaranteed to get you out of your seat and tapping your feet.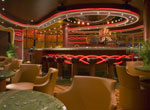 Piano Bar
Play it again, Sam. Or Diana. Or whatever your name is. Because this is the bar where you call the shots and the songs. Pull up a seat, order your favorite cocktail, and let your friendly piano player know the songs you'd like to hear.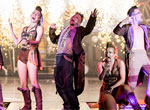 Playlist Productions
Playlist Productions creates a new spin on songs you know and love! By transforming the songs into extraordinary musical productions, these professional dancers and singers will have you singing along with them.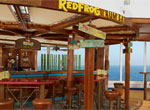 RedFrog Rum Bar
Carnival has taken the best parts and brought them poolside with the RedFrog Rum Bar, where the frog keeps the fun hopping day and night with all the island flava you know and love. Join the party at this poolside bar featuring a great selection of frog-approved Caribbean rum-based concoctions available by the glass or pitcher, plus plenty of Carnival's signature private-label draft beer, ThirstyFrog Red.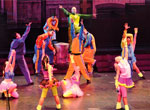 Stage Shows
Carnival's stage shows are designed to razzle and dazzle. Featuring talented singers, musicians and dancers performing crowd-thrilling numbers in extravagant costumes with awesome sets and scenery, it's like catching one of the best shows on land.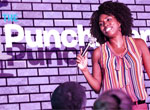 The Punchliner Comedy Club
Comedy clubs on land… well, it's kinda funny. Nobody likes paying cover charges, and you know that two-drink minimum? They've gotta be joking! You won't find either of these at The Punchliner Comedy Club aboard your Carnival cruise. Up on stage you will find some real pros who know how to wedge a little laughter into anyone's evening. You can count on these comedians to not hold back either. Since some of them get up and say exactly what's on their mind, Carnival also schedules family-friendly performances… so the only red faces in the audience are from laughing a little too hard.
Youth Activities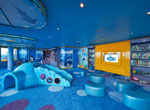 Camp Ocean
Camp Ocean is the place where the youngest cruisers - ages 2 through 11 - can have the best time, featuring games, finger painting, story time, movies and more, all in a supervised environment, while their parents can be off having fun of their own. The fun doesn't end at bed time, either; Carnival's babysitting program offers, for a fee, a fun late-night option for kids while their parents stay out until as late as 3 A.M.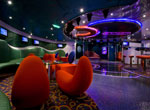 Circle C
What does the "C" in Circle "C" stand for? Well, "chill," "connect" and "cool," just to name a few. It?s where young teens ages 12 to 14 go to hang out, meet new friends, and enjoy some pretty awesome activities like dance parties, games, outdoor movies and more, in the special Circle "C" area or around the ship.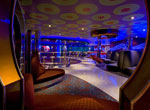 Club O2
Your parents deserve a nice vacation… but then again, so do you. So let's let them go do their thing while you do yours. Where to? Club O2. Hang out and do stuff like watch movies, listen to music from this decade, play sports and video games, join karaoke jam sessions… maybe even have a pool party or two, all with other high schoolers ages of 15 to 17.
Sports and Fitness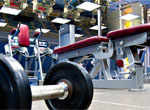 Fitness Center
Stay fit on your vacation with the help of Spa, Carnival's fully equipped fitness center. Go for a jog, lift some weights, or use state-of-the-art equipment to work up a sweat and get stronger.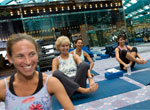 Fitness Classes
You can have all the will in the world, a great attitude that keeps you working hard at the gym, but still not see the results you're hoping for. If that's the case — or you're just looking to shake things up with a little extra fun or challenge in your workout — check out Carnival's selection of onboard fitness classes. Whether it's yoga, pilates, indoor cycling or boot camp, there's a fitness class that'll get you the workout you need, and the instruction you need to do it right.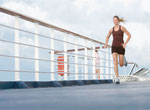 Jogging Track
Who said you can't run on water? Lace up your sneakers and hit the deck for a run alongside the ocean at any time of day or night. Whether you feel like an early morning jog or a midnight run under the stars, the jogging track is always open and available for anyone looking to get their heart rate up over the great blue sea.
Shopping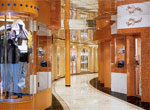 Shopping
You'll find the perfect gifts for friends, family or yourself at our onboard gift shops, stocked with so much good stuff you'll want to shop 'til you drop. With everything from T-shirts to high-end timepieces, lockets to your favorite spirits (available duty-free), you're bound to find something special for that special someone, or perhaps even you.
Pools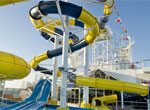 Carnival Waterworks
Wanna splish and splash the day away? Head on over to WaterWorks, our very own onboard waterpark. First up, there's the Twister Waterslide, designed to make other waterslides jealous. It's four decks high and 300 feet of spiraling awesomeness, and the largest on any cruise ship.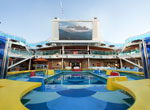 Main Pool
Imagine relaxing by a cool pool with a cool breeze with your favorite drink in hand. Make it a reality and head on over to the resort-style pool located in the middle of the ship.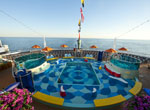 Sunset Aft Pool
Whether today's the day for a bit of a dip, a dash of splash or even some swimming — or just a serious poolside lounging session — your Carnival cruise has the just pool for you. At the Sunset Aft Pool you'll catch a breeze, plus a sea view featuring the ship's wake.