Dining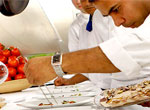 Chef's Table
Treat your taste buds to the experience of a lifetime, culminating in a sumptuous multicourse dinner hosted by one of Carnival's master chefs. Your VIP experience starts with cocktails and hors d'oeuvres for a select group of 12, followed by a tour to see the galley in operation.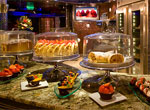 Coffee Bar
The Coffee Bar is just like a trip to one of Europe's most decadent cafes except you don't need to master a foreign language to order. Treat yourself to a well-deserved break with a specialty coffee drink or freshly brewed tea and some delicious homemade pastries.
Kids' Menu
Carnival's kids' menu features delicious, fun foods to keep even the pickiest eaters happy. They've got all the familiar options they love from home, like spaghetti & meatballs, chicken nuggets, hot dogs, mac & cheese, peanut butter & jelly sandwiches, and fresh fruit and veggies.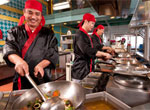 Mongolian Wok
Chow down on some delicious Asian goodness. First, pick your noodles and veggies. Then tell one of the chefs manning the wok what sauce and meat you'd like added in. Will it be mussels and Szechuan? Beef and Thai Barbecue? Chicken and Black Bean? Don't worry, the decision doesn't have to be final, because with Mongolian Wok open every day from late morning to early evening.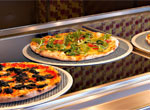 Pizza Pirate
Tossing dough is an age-old art passed down the generations. Lucky for you, someone passed Carnival the secret to the perfect pie. While aboard, this is the place that will shiver your timbers and warm you to the bone, 24 hours a day, with a Margherita, Funghi, Prosciutto, Pepperoni or Quatttro Formaggi pizza served with a delicious Caesar salad. Savvy? Then it's the pirates' life for you!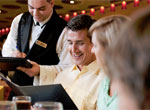 Signature Dining
Chances are, you've worked up an appetite after a day of awesome onboard activities or exploring one of many beautiful destinations. Now it's time to feast on amazing culinary delights in one of Carnival's dazzling main dining rooms.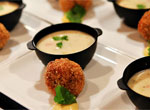 The Taste Bar
A voyage to new destinations is the perfect time to try new things… and here's the perfect place: The Taste Bar. Stop by for a taste of the flavors awaiting you at dining venues across the Carnival fleet. Pick up a complimentary appetizer before dinner for a taste of something different.
Spa and Beauty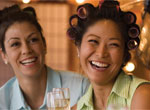 Hair and Beauty Salon
Helloooo, gorgeous! Yes, we're talking to you. Because after you've met with Carnival's experienced staff, you'll be seeing your best self ever. The European-style salon is staffed with trained professionals who specialize in pampering you and bringing out all your best features.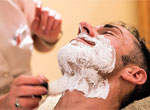 Men's Services
Hey man, been to the spa lately? Well, why let the ladies have all the fun? You can actually enjoy a lot of the same stuff they do, plus manly services like razor-close barbershop-style shaves — pair one with a facial to really get a good thing going up top. Speaking of the barber, a cruise is a great time to rock a whole new hairstyle, a quick grey-hair darkening, or even just a fresh trim. And what guy wouldn't go for a little extra relaxation with a massage?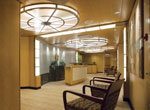 Spa
When it comes to relaxation from the inside out, nothing beats a trip to the spa. From the minute you step inside, the soothing ambiance begins to work its magic. Renew yourself with premium beauty and wellness therapies, like hot stone massages, aromatherapy or full-body wraps.
Onboard Activities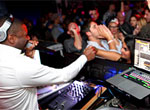 DJ IRIE'S Spiniversity
Carnival has teamed up with the Miami Heat's DJ IRIE to head their new program! DJ IRIE'S Spiniversity is designed to teach you how to DJ like a pro.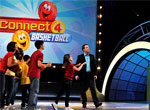 Hasbro, The Game Show
You've played Connect 4 and Yahtzee, but have you ever played giant versions of them onstage in a competition that puts your gaming skills to the test? You'll have your chance when you take part in Hasbro, The Game Show. From SORRY! SLIDERS to YAHTZEE BOWLING, CONNECT 4 BASKETBALL, OPERATION SAM DUNK and SIMON FLASH, you can team up with your friends and family to win great prizes, all in front of a live audience.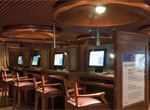 Internet Cafe
Open 24 hours, the Internet cafe features private terminals where you have the ability to surf the Web, chat online and access your private email account.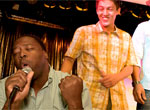 Karaoke
Grab the mic and get ready for your singing superstar dream to come true! Croon country classics, belt Broadway showstoppers, sing out some soul or serenade your sweetie with "your song." Whether your musical dreams are made of classic rock or '80s pop, you'll be sure to find some tracks that you want to sing out loud.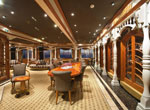 Library
Looking for the perfect place to curl up for some quiet time? Look no further than the library. Sink into a cozy chair and let the hours drift by in this quiet onboard haven. It's the perfect place to catch up on your reading, do a crossword, write a postcard to the gang back home, or stimulate your brain with a game of chess, checkers or Scrabble.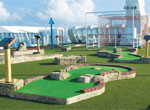 Mini Golf
Foooooooore! Have a swinging good time at the onboard mini-golf course. The greens are meticulously maintained and the view is pretty spectacular. (When's the last time you played with an unobstructed view of the Caribbean?)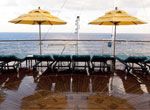 Serenity Adult Only Retreat
All grown up with no place to go? Not so! Carnival's Serenity area lets adults spend time with other adults, far away from both stress and - you know - kids. It's called 'Serenity' for a reason, so if you're a relaxation enthusiast, this is the place you'll want to be. Read a book, enjoy the view, sip something from the bar, or just spend some quality you-time - it's your place to just be you. And is there any better place to be you than on a hammock? That's an easy one!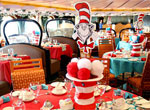 Seuss at Sea
Dr. Seuss's timeless stories are the kind kids memorize, and this is the kind of cruise you'll remember for a lifetime. The whole family will still enjoy all the classic Carnival activities, but the littlest ones, and their families, will also enjoy an all-new, extra-special experience as the fantastical world of Dr. Seuss comes to life around them. Enjoy a special onboard character parade, interactive story time, arts & crafts activities, character breakfast featuring their favorite Dr. Seuss friends and more. Seuss at Sea truly brings your child's favorite books to life.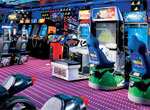 Video Arcade
If you love to play video games, you're in luck. Carnival's video arcade boasts a huge array of games, and is open to players of all ages, all night and all day. So get some tokens from the vending machine and let the fun times begin.
Casino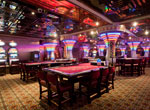 Casino
Press your luck onboard at the casino offering your favorite casino games such as, blackjack, poker, craps, slot and more.
Night Life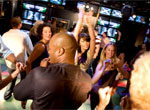 Night Club
Get up and get down at the most happenin' club in the Caribbean. The DJs are spinning today's hottest hits and yesterday's golden oldies, guaranteed to get you out of your seat and tapping your feet.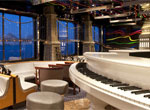 Piano Bar
Play it again, Sam. Or Diana. Or whatever your name is. Because this is the bar where you call the shots and the songs. Pull up a seat, order your favorite cocktail, and let your friendly piano player know the songs you'd like to hear.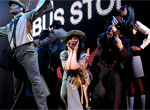 Playlist Productions
Playlist Productions creates a new spin on songs you know and love! By transforming the songs into extraordinary musical productions, these professional dancers and singers will have you singing along with them.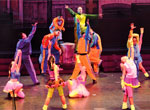 Stage Shows
Carnival's stage shows are designed to razzle and dazzle. Featuring talented singers, musicians and dancers performing crowd-thrilling numbers in extravagant costumes with awesome sets and scenery, it's like catching one of the best shows on land.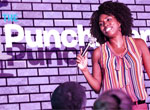 The Punchliner Comedy Club
Comedy clubs on land… well, it's kinda funny. Nobody likes paying cover charges, and you know that two-drink minimum? They've gotta be joking! You won't find either of these at The Punchliner Comedy Club aboard your Carnival cruise. Up on stage you will find some real pros who know how to wedge a little laughter into anyone's evening. You can count on these comedians to not hold back either. Since some of them get up and say exactly what's on their mind, Carnival also schedules family-friendly performances… so the only red faces in the audience are from laughing a little too hard.
Youth Activities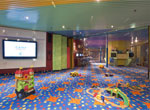 Camp Carnival
At Camp Carnival, they'll start by splitting up into three different age groups: 2 to 5 years, 6 to 8 years, and 9 to 11 years. The counselors, each with education or childcare experience, are there to make sure everyone in these small groups has an amazing time. And they do, with tons of fun-filled, age-appropriate activities including arts and crafts, dancing, movies, toy-time and video gaming! When it's mealtime, kids get their own menus, with faves like mac & cheese, chicken nuggets, and more.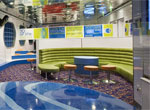 Circle C
What does the "C" in Circle "C" stand for? Well, "chill," "connect" and "cool," just to name a few. It's where young teens ages 12 to 14 go to hang out, meet new friends, and enjoy some pretty awesome activities like dance parties, games, outdoor movies and more, in the special Circle "C" area or around the ship.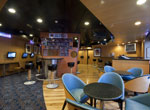 Club O2
Your parents deserve a nice vacation… but then again, so do you. So let's let them go do their thing while you do yours. Where to? Club O2. Hang out and do stuff like watch movies, listen to music from this decade, play sports and video games, join karaoke jam sessions… maybe even have a pool party or two, all with other high schoolers ages of 15 to 17.
Sports and Fitness
Fitness Center
Stay fit on your vacation with the help of Spa, Carnival's fully equipped fitness center. Go for a jog, lift some weights, or use state-of-the-art equipment to work up a sweat and get stronger.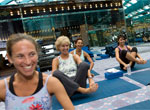 Fitness Center
You can have all the will in the world, a great attitude that keeps you working hard at the gym, but still not see the results you're hoping for. If that's the case — or you're just looking to shake things up with a little extra fun or challenge in your workout — check out Carnival's selection of onboard fitness classes. Whether it's yoga, pilates, indoor cycling or boot camp, there's a fitness class that'll get you the workout you need, and the instruction you need to do it right.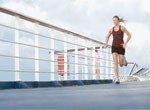 Jogging Track
Who said you can't run on water? Lace up your sneakers and hit the deck for a run alongside the ocean at any time of day or night. Whether you feel like an early morning jog or a midnight run under the stars, the jogging track is always open and available for anyone looking to get their heart rate up over the great blue sea.
Shopping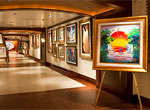 Art Gallery
An ever-changing collection of fine art and limited-edition prints adorns the ships' corridors. These works aren't just pleasing to the eye - many are available to buy during art auctions. Sip some champagne, browse the gallery, and bid on a piece to take home as a trip memento.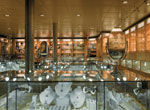 Shopping
You'll find the perfect gifts for friends, family or yourself at our onboard gift shops, stocked with so much good stuff you'll want to shop 'til you drop. With everything from T-shirts to high-end timepieces, lockets to your favorite spirits (available duty-free), you're bound to find something special for that special someone, or perhaps even you.
Pools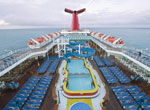 Resort Pool
Imagine relaxing by a cool pool with a cool breeze with your favorite drink in hand. Make it a reality and head on over to the resort-style pool located in the middle of the ship. On select ships, the midship pool is even flanked by a pair of oversized whirlpools, which mean even more ways to let the hours just drift by.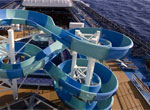 Twister Waterslide
Above the ship you'll find the shining sun, but that's not all — basking in its rays is a gleaming symbol of fun, a monument to merriment... a sign of splashy-good times to come. Spot the spiraling Twister Waterslide atop your Carnival ship and you can be sure that your vacation comes complete with twists, turns and squeals of thrilled delight.