Dining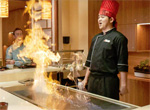 Bonsai Teppanyaki
It's a meal, a performance, and it's definitely unforgettable. The Bonsai Teppanyaki experience is set to delight guests aboard Mardi Gras. Take a little time out of vacation to sit down to a selection of tempting appetizers, before your chef prepares the main course featuring selections of meats, tofu, fish, shrimp or lobster… right at your table.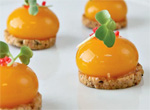 Chef's Table
When you cruise on Mardi Gras, make sure to reserve a seat at The Chef's Table. At this small gathering of foodies you'll indulge in a cascading series of delectable plates as our chef… honestly, kind of shows off a little! And that's a great thing for guests gathered around the table for dinner. Close your eyes as you savor a series of courses for the main event, but prepare to have them opened during a galley tour — a behind-the-scenes appetizer event that offers a look at where all that magic gets prepared.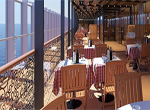 Cucina Del Capitano
At Cucina del Capitano on Mardi Gras, who you've got gathered around the table is truly as important as what's being served there. At our table you'll enjoy delicious Italian favorites — we serve them family-style because we know that sharing large plates and sharing tales of your day's adventures goes hand-in-hand. Speaking of which, our walls are adorned with old snapshots from our officers' family albums, proving that the rustic Italian-farmhouse atmosphere definitely isn't for show.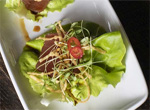 Emeril's Bistro 1396
In 2020 Mardi Gras will set sail with Emeril Lagasse's first-ever restaurant at sea: Emeril's Bistro 1396™. Everybody knows about Emeril's love for Creole cuisine, and now you'll enjoy the authentic bayou flavors and fun New Orleans is known for on your vacation. If you haven't had the pleasure, we're talking about fried oysters, duck & sausage gumbo, po-boy sandwiches, fresh ceviche and more.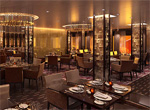 Fahrenheit 555 Steakhouse
Haute cuisine meets atmosphere at Fahrenheit 555, a dining experience that stands toe-to-toe with some of the best steakhouses on land. Except this one's at sea — aboard Mardi Gras. Ours features your choice of steak cuts, lobster, lamb and more… and inside, there's even a full bar that pours great pairings. Outside, there's seating for dining al fresco. These are the building blocks of an amazing experience — delectable elements that combine with great service to offer an evening to remember.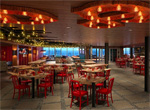 Guy's Pig & Anchor Smokehouse
With choices like brisket, sausage, baby back ribs and dry-rubbed chicken, our pros do the smoking right there over hickory wood before serving them up at your table. You're in Guy Fieri's house — Mardi Gras has Guy's Pig & Anchor Smokehouse | Brewhouse. Now about the brews: this house of BBQ tradition doesn't just satisfy your hunger — you'll also enjoy our all-new, exclusive line of Parched Pig™ craft brews. There's a smoked porter, a farmhouse ale, a hoppy IPA and a toasted amber, all brewed just feet from your table. Tip: Come by and check out the free menu at lun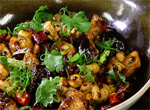 Jiji Asian Kitchen
A modern restaurant inspired by a millennia-old society, JiJi Asian Kitchen on Mardi Gras serves up enticing dishes in an eclectic space that brings not just good food — but also good fortune — to the table. You'll enjoy your meal among Asian prayer rolls and Mongolian-inspired fabrics in this unique culinary experience. JiJi offers a full-service menu featuring a mix of exotic and familiar dishes designed to challenge and delight your senses.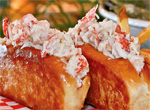 Seafood Shack
A good seafood dish… mmm, quite the catch. However you like yours — roll, bowl or platter — Seafood Shack is Mardi Gras's place for you to cast your net. Imagine a seaside spot in New England, where the locals gather for great meals served with a bit of a breeze and a lot of a view. (That said, nowhere on land will you get 360-degree ocean views like ours!) Look to Seafood Shack for rustic favorites like Crab Cake Sliders, Lobster BLT, Fried Buffalo Shrimp, Snow Crab and more.
Spa and Beauty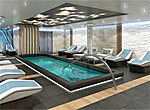 Cloud 9 Spa
True or false: cruises are a time for relaxation. Our answer: whether you're all action all the time, or chill to the core, everybody needs a chance to take it easy! And nobody will find an easier spot than Cloud 9 Spa aboard Mardi Gras.
Onboard Activities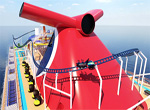 BOLT: Ultimate Sea Coaster
Aboard Mardi Gras you'll meet BOLT™: the fastest — and first! — rollercoaster at sea. Strap in and zoom your motorcycle-style speed machine around an open-air course high, high above sea level. You know how on most rollercoasters... actually, never mind. Forget other coasters because this all-electric thrill ride puts you in the driver's seat.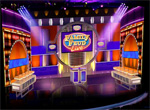 Family Feud
The show has been delighting viewers at home for generations, but you've never had the chance to buzz-in on a cruise ship until Family Feud™ Live hits Mardi Gras. On every sailing we'll be hosting four unique games on an authentic Family Feud™ set… right down to the iconic Face-Off podium, plus all the excitement of Fast Money.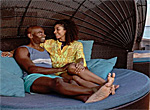 Serenity Adult Only Retreat
Somebody at Carnival knows just what you need, and it's pretty much exactly the Serenity Adult-Only Retreat. Look, you'll still be on the same ship as the kids, the hoopla, and all the Carnival-style excitement… but you could easily forget, because when you're at Serenity you could not be further from it all. The world you'll find yourself in is one of complete peace, sea breezes and, of course, a nearby bar.
Night Life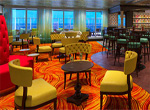 Havana Bar & Pool
On Mardi Gras you'll find the Havana Bar & Pool. Good find — the relaxation pool is an exclusive retreat to paradise by day, and the bar becomes a hot dance spot when the sun goes down. Grab a seat at the bar and order up a handcrafted Cuban cocktail like a traditional daiquiri or classic mojito.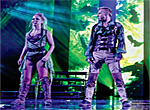 Playlist Productions
When was the last time you got up and grooved… at the theater? Playlist Productions takes songs you know and presents them like you've never known them before. Past favorites become full-blown musical productions featuring multi-talented performers absolutely bringing down the house with song, dance… and superstar attitude.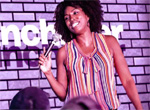 The Punchliner Comedy Club
Mardi Gras has its own Punchliner Comedy Club in the Grand Central zone, and up on stage you'll find some real pros who know how to wedge a little laughter into anyone's evening. You can count on these comedians to not hold back either.
Sports and Fitness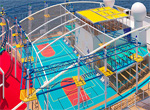 Sports Square
You'll find an oasis of friendly competition at SportSquare, located at The Ultimate Playground on Mardi Gras. Take on friends at mini-golf, battle strangers at basketball, or push yourself to new heights at SkyCourse... or to record-setting low times at the jogging track. SportSquare gets you in the game with soccer and volleyball (the b-ball court converts!), brings pool, foosball and ping-pong to the table, and rounds things out for shaping up with your choice of stationary bikes and elliptical machines. Are you game?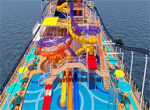 Waterworks
For those who flock to waterparks just ready to make a splash, we'd suggest sliding on over to WaterWorks aboard Mardi Gras. Three large-scale spiraling slides, a giant dumping bucket, twin racing slides and more — you know, the works — are all practically overflowing for your hydro-delight.