Dining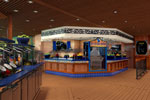 BlueIguana Cantina
BlueIguana Cantina is Carnival Horizon's onboard taco-and-burrito place, featuring freshly-made Mexican faves. Because BlueIguana is all about you, we'll make it with the ingredients you choose — tell us which meat, veggies, rice and beans you're in the mood for — and then we'll hand it over to you for the finishing touches.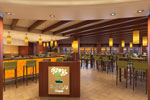 Bonsai Sushi
So maybe you've had sushi before, but have you tried it at Bonsai Sushi? This is Carnival's onboard seafood-and-soy-sauce spot, and we think you'll enjoy their latest location, aboard Carnival Horizon. Dine indoors or out amidst carefully-pruned bonsai trees, while enjoying a delectable menu with sit-down service.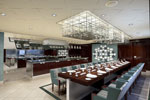 Chef's Table
When you cruise on Carnival Horizon, make sure to reserve a seat at The Chef's Table. At this small gathering of foodies you'll indulge in a cascading series of delectable plates as our chef… honestly, kind of shows off a little! And that's a great thing for guests gathered around the table for dinner.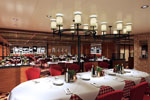 Cucina Del Capitano
At Cucina del Capitano on Carnival Horizon, who you've got gathered around the table is truly as important as what's being served there. At the table you'll enjoy delicious Italian favorites — we serve them family-style because we know that sharing large plates and sharing tales of your day's adventures goes hand-in-hand.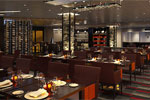 Fahrenheit 555 Steakhouse
Haute cuisine meets atmosphere at Fahrenheit 555, a dining experience that stands toe-to-toe with some of the best steakhouses on land. Except this one's at sea — aboard Carnival Horizon. Ours features your choice of steak cuts, lobster, lamb and more… and inside, there's even a full bar that pours great pairings.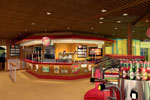 Guy's Burger Joint
We call Carnival Horizon's onboard burger spot Guy's Burger Joint… and that's "Guy" as in Guy Fieri. We teamed up with him to design not just the burgers and fries, but to help bring in the kind of rustic atmosphere you'd find at a roadside burger shack somewhere off a coastal highway.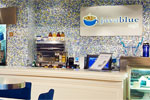 JavaBlue Café
Maybe you take your coffee straight-up, or perhaps you prefer your pick-me-up with an upgrade. From the simply caffeinated to the simply sublime, nothing satisfies your coffee craving like JavaBlue Café, featuring fun twists on the hot and cold drinks you enjoy. While the coffee is the main event here, there's more to JavaBlue — enjoy the baked treats we like to call "comfort snacks"… which you'll call "delicious!"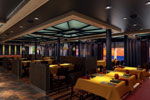 JiJi Asian Kitchen
A modern restaurant inspired by a millennia-old society, JiJi Asian Kitchen on Carnival Horizon serves up enticing dishes in an eclectic space that brings not just good food — but also good fortune — to the table. You'll enjoy your meal among Asian prayer rolls and Mongolian-inspired fabrics in this unique culinary experience.
Main Dining
Here, your taste buds don't get a vacation. Every night at dinner you'll find your menu featuring a selection of favorites... and your future favorites, new and surprising dishes to try. Bring all your buds and gather around a big table for a festive sit-down dining event in one of two dining rooms.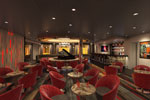 Piano Bar
Play it again, Sam. Or Diana. Or whatever your name is. Because this is the bar where you call the shots – and the songs. Pull up a seat, order your favorite cocktail, and let your friendly piano player know the songs you'd like to hear. Then join the sing-along for a hand-clapping, foot-tapping, finger-snapping good time.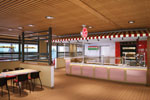 Pizzeria del Capitano
Pizzeria del Capitano is open to everyone, 24 hours a day! And since our captains tend to be Italian, you know the quality of the ingredients truly pass muster. (Sorry, nautical pun.) Hand-tossed dough, made from imported Italian flour, plus fresh mozzarella form a solid base, and a choice of toppings put the finishing touches on this piping hot, fresh-from-the-oven mealtime — or anytime — classic.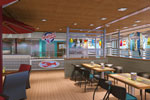 Seafood Shack
A good seafood dish… mmm, quite the catch. However you like yours — roll, bowl or platter — Seafood Shack is Carnival Horizon's place for you to cast your net. Imagine a seaside spot in New England, where the locals gather for great meals served with a bit of a breeze and a lot of a view.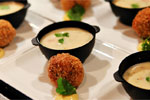 The Taste Bar
A voyage to new destinations is the perfect time to try new things… and here's the perfect place: The Taste Bar. Stop by for a taste of the flavors awaiting you at dining venues across the Carnival fleet. Pick up a complimentary appetizer before dinner for a taste of something different.
Spa and Beauty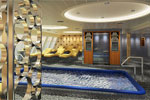 Cloud 9 Spa
Sometimes you just need to get away… from all that vacation. We know — sitting at home, it's hard to imagine that, but trust us — it's really, really nice to have a place to unwind from the day's excitement. Escape to a world designed, from the ground up, for relaxation. Massages, facials, body wraps, thermal suites and more — these are the tools of the trade. And the trade is ultimate relaxation.
Onboard Activities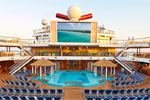 Carnival Seaside Theater
Night time isn't the only time to see stars on your cruise. Day or night, find a spot on deck and check out the huge poolside screen — it's Carnival Seaside Theater™! Hit movies, live sporting events, concerts and even cartoons for the kids are just some of what you'll find featured at this large-scale outdoor entertainment zone. Grab a copy of the FunTimes and check the day's listings... then grab a friend or three and get ready to kick back and enjoy.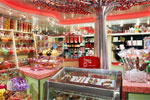 Cherry On Top
A cruise is the perfect time to treat yourself to something sweet, and Cherry On Top happens to be the perfect place. You'll find this well-stocked candy-and-more-store not only great for enjoying some of your confectionery favorites, but the place to pick up food and apparel gifts for that special someone, even if — admit it — that someone happens to be you!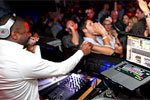 DJ IRIE's Spiniversity
Nobody can get the party started like a great DJ, right? That's why Carnival brought DJ IRIE into the mix (pun intended) to make the nightlife on board Carnival hotter than ever. He'll be heading up "DJ IRIE's Spin'iversity," a program designed to train our DJs to keep their spinning skills sharp and their personalities party-ready.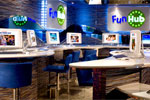 FunHub
FunHub is your Carnival connection to everything you need to know — oh, and want to know — about your vacation. Need to get around? We've got ship maps. Want to know what's when? See activity schedules. Missed that morning's Fun Times? Get the whole scoop… plus let's not forget FunAshore guides and entertainment schedules, to help plan your day and your evening. Best of all, all this is free, either from a FunHub location or your WiFi-enabled mobile device!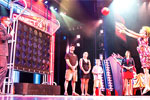 Hasbro, The Game Show
You've played Connect 4 and Yahtzee, but have you ever played giant versions of them onstage in a competition that puts your gaming skills to the test? You'll have your chance when you take part in Hasbro, The Game Show. From SORRY! SLIDERS to YAHTZEE BOWLING, CONNECT 4 BASKETBALL, OPERATION SAM DUNK and SIMON FLASH, you can team up with your friends and family to win great prizes, all in front of a live audience.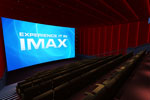 IMAX Theater
Carnival Horizon actually features two movie theaters next door to one another, and we call the whole great big thing Carnival Multiplex. Behind door number one is an actual IMAX Theatre in all its huge-screen, huge-fun glory.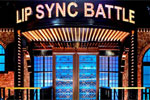 Lip Sync Battle
The mic is off, but the battle is on… Carnival Horizon. Lip Sync Battle: Carnival, a stage version of the hit Spike TV series, features a series of competitions to see who can truly channel their inner superstar, and make the crowd go wild.
Ocean Plaza
Ocean Plaza's where it all comes together — and all in all, it's all kinds of delicious. Enjoy live music, coffee and snacks, dancing… and best of all the outdoors are right next door, so expect extra helpings of sunshine and sea breezes, simply ripe for the sitting and savoring. Oh, and when nature's all done sunning for the day, Ocean Plaza transforms into a spot that's seriously stunning for the night.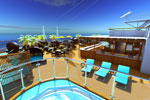 Serenity Adult Only Retreat
On Carnival Horizon, the Serenity Adult Only Retreat is a place to relax in complete peace, as smooth as a sea breeze through a palm tree. Serenity's the place to do the stuff that's so hard to do in everyday life — reconnect with your partner, finish that book… or do absolutely, blissfully, nothing at all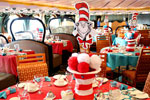 Seuss at Sea
Dr. Seuss's timeless stories are the kind kids memorize, and this is the kind of cruise you'll remember for a lifetime. The whole family will still enjoy all the classic Carnival activities, but the littlest ones, and their families, will also enjoy an all-new, extra-special experience as the fantastical world of Dr. Seuss comes to life around them. Enjoy a special onboard character parade, interactive story time, arts & crafts activities, character breakfast featuring their favorite Dr. Seuss friends and more. Seuss at Sea truly brings your child's favorite books to life.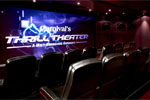 Thrill Theater
We're supposed to be quiet at the movies, right? Well… that might be a little hard at Thrill Theater. Here, the action doesn't just stay on the screen — it makes you a part of the experience. You'll laugh, you'll cheer… you know, you may even scream a little. It all starts with state-of-the-art 3D video effects, but moves into even more dimensions — feel the wind in your hair, a light splash here and there, plus your seat even gets in on the action for total cinematic immersion.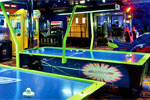 Video Arcade
If you love to play video games, you're in luck. Our video arcade boasts a huge array of games, and is open to players of all ages, all night and all day. So get some tokens from the vending machine and let the fun times begin. Challenge your friends to a game, or just see if you can beat the top score.
Casino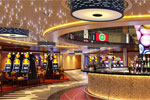 Casino
Feeling lucky? Grab your favorite good-luck charm and head on over to the place to make the most of this feeling: Carnival Horizon's Casino. From roulette to blackjack, slots to poker, if you play your cards right, there are more ways to be a winner here than just about anywhere else at sea!
Night Life
Alchemy Bar
You don't need to be a mix-master to appreciate Alchemy – you just have to be up for trying something new. They've been stirring up some magic behind the scenes at Carnival to produce a tasty series of all-new cocktails served at this unique vintage-themed cocktail "pharmacy." Let the cocktail specialists prescribe you something from the bar, with both nonalcoholic and alcoholic elixirs to remedy what ails you. Or, create your own custom concoction from a variety of unique ingredients.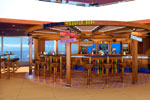 BlueIguana Tequila Bar
BlueIguana Tequila Bar is the onboard spot to chill and enjoy a slushy tequila drink or an ice-cold Mexican cerveza. The menu offers up Mexican favorites, including several brands of tequila and a slew of Mexican brews. There's a lineup of frozen concoctions, cocktails and margaritas served by the glass or by the pitcher, and even a special Mexican beer cocktail (yes, really).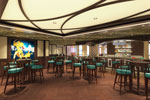 Havana Bar
A spot that's intriguing by night and friendly anytime, step into the Havana Bar and be transported to antebellum Cuba preserved today in old postcards, vintage literature… and classic delicacies. Take in great ocean views as you try something authentically Cuban, like café Cubano (that's Cuban coffee!) or handcrafted Cuban cocktails (think daiquiris, mojitos and more). And this spot definitely doesn't cool down when the sun goes down, with music and dancing keeping things hot well into the night.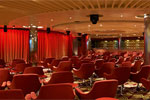 Limelight Lounge
The limelight's where you want to be if you're an artist. The Limelight Lounge is too, but it's also a great place to be as a fan! Here on the stage, entertainers of all kinds — musicians, vocalists, comedians... even karaoke stars and more — make themselves at home as they practice their craft the enjoyment of the audience. So whether it's tapping your foot, bobbing your head, laughing out loud... or of course, cheering wildly, don't forget to show the entertainers some love.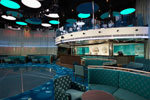 Night Club
Get up and get down at the most happenin' club in the Caribbean. The DJs are spinning today's hottest hits and yesterday's golden oldies, guaranteed to get you out of your seat and tapping your feet. (Hey, that rhymed!)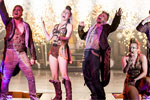 Playlist Productions
When was the last time you got up and grooved… at the theater? Playlist Productions takes songs you know and presents them like you've never known them before — past favorites become full-blown musical productions featuring singers and dancers bringing down the house.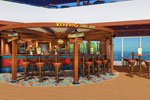 RedFrog Rum Bar
Inspired by the RedFrog Pub, Carnival decided to make a new addition. This poolside bar serves Caribbean based drinks in the chilled out atmosphere you love.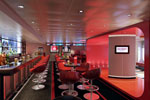 SKYBOX Sports Bar
Get hands-on with a game, a drink… and high-fives galore! SKYBOX Sports Bar gets you right onto the 50-yard line of onboard sports action. Grab a drink or order some snacks — they're great while kicking back and watching your favorite teams on one of the big screens, or just dropping by to check out real-time scores and headlines on the panoramic ticker.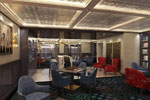 The Library Bar
For relaxing times, check out The Library Bar, where great literature meets great wine! This intimate wine lounge features state-of-the-art self-serve dispensers. So swing by, pour yourself a bit of vino and unwind with quiet conversation, a board game, or by simply plucking a new book off the shelves for a good read.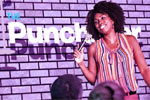 The Punchliner Comedy Club
Comedy clubs on land… well, it's kinda funny. Nobody likes paying cover charges, and you know that two-drink minimum? They've gotta be joking! You won't find either of these at The Punchliner Comedy Club aboard your Carnival cruise. Up on stage you will find some real pros who know how to wedge a little laughter into anyone's evening. You can count on these comedians to not hold back either. Since some of them get up and say exactly what's on their mind, we also schedule family-friendly performances… so the only red faces in the audience are from laughing a little too hard.
Youth Activities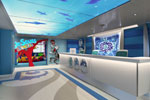 Camp Ocean
When families cruise Carnival, even the smallest fish in the pond have a big, awesome time. Okay, so it's actually way more than just a pond — it's Camp Ocean. At Camp Ocean, 2–11 year-olds stay busy, keep active and have fun as they enjoy all new ocean-themed activities and entertainment made for kids.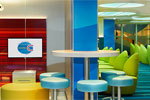 Circle C
What does the "C" in Circle "C" stand for? Well, "chill," "connect" and "cool," just to name a few. It's where young teens ages 12 to 14 go to hang out, meet new friends, and enjoy some pretty awesome activities like dance parties, games, outdoor movies and more, in the special Circle "C" area or around the ship.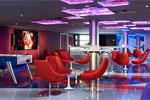 Club O2
Your parents deserve a nice vacation… but then again, so do you. So let's let them go do their thing while you do yours. Where to? Club O2. Hang out and do stuff like watch movies, listen to music from this decade, play sports and video games, join karaoke jam sessions… maybe even have a pool party or two, all with other high schoolers ages of 15 to 17.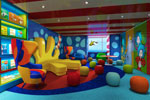 Dr. Seuss Bookville
Let's use our imaginations — just think what would happen if we took a normal library and put it through one of Dr. Seuss's wacky contraptions… set to maximum fun, of course. It would probably come out looking much like Dr. Seuss Bookville, which as you can imagine, is exclusively aboard Carnival! The room is all decked out in bright colors, fun and whimsical furniture and even has some of your all-time favorite Dr. Seuss characters on the walls.
Sports and Fitness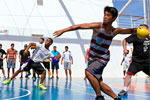 Dodgeball
Some would say that dodgeball is a game of give and take. A game of yin and yang. A game of yes and no… well, maybe. What we're saying is that this old-school favorite is surprisingly deep. For a game called dodgeball, everyone sure seems to focus on the throwing, when the real story is in the — pardon us for being blunt — the dodging. The skillfully evasive maneuvers.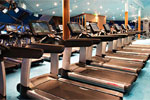 Fitness Center
We have some bad news for you — your ship has a gym. In other words, there's no excuse for leaving your fitness routine back on land. That's great news, however, for your body, which will definitely benefit from all the extra energy that vacationing pumps directly into you.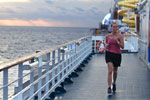 Jogging Track
Jogging may not immediately come to mind when you think of things to do at sea, but it probably should. You don't have to walk on water, you just have to get on a Carnival cruise.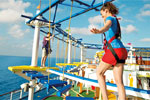 SkyCourse
The chance to complete an awesome challenge, high above it all… now that's what you want in a good ropes course. An awesome ropes course, however, will let you do all that with a cool sea breeze and a view to match! Not sure that navigating a high-up-there challenge is for you? Did we mention that on SkyCourse you'll be safely strapped in, emboldening you to take on the kinds of challenges you may not normally feel up to? Here everyone — even kids — become thrill-seekers, testing their ability to make their way around the course.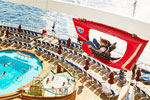 SkyRide
SkyRide is a bit like riding a bike — you'll never forget it. But SkyRide is also completely unlike riding a bike, because when was the last time you biked around a ship, high above the deck and even higher above the sparkling blue sea? Zip safely around our two-lane suspended course in a pedal-powered go-mobile, in search of your biggest racing victory, lowest lap time… or simply the greatest view.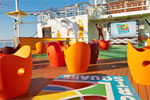 SportsSquare
At SportSquare on Carnival Horizon, it isn't just winning — but even just playing — that's big fun. At SkyRide, strap in and zip safely around our suspended two-lane course bike course high above the deck. At The Clubhouse, try indoor activities like mini-bowling and pool... while outdoor soccer, volleyball and ping-pong are always just steps away.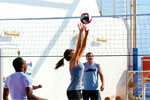 Volleyball
A Carnival cruise is all about service. There's usually someone to take you dinner order, make your bed, bring you drinks, give massages at the spa, and so on.
Pools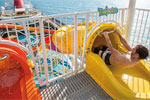 Carnival Waterworks
For those who flock to waterparks looking for big ways to make a splash… can we suggest sliding on over to WaterWorks aboard Carnival Horizon? Get down to soaking with our classic spiraling waterslides, dual mini racing slides, stationary water toys and more.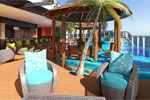 Havana Pool & Bar
On Carnival Horizon you'll find the Havana Bar & Pool. Good find — the pool's an exclusive retreat to paradise by day, and the bar becomes a hot dance spot when the sun goes down.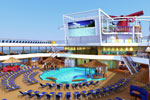 Pools
POOL DAY! Whether today's the day for a bit of a dip, a dash of splash or even some swimming — or just a serious poolside lounging session — your Carnival cruise has the just pool for you. In fact, pools are so important to a great cruise that they designed many of their ships to have two of them.