Dining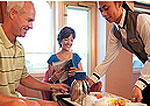 24 Hour Room Service
So you're in the mood for some good eats, but you're not in the mood to leave your comfy, cozy stateroom? Just pick up the phone and order off our tasty room service menu, available around the clock and featuring all kinds of delicious dishes guaranteed to satisfy any appetite.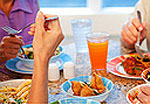 Casual Dining
Like your meals low-key? You're in luck, 'cuz there's lots of awesome options for casual. First, try the Lido Buffet. Grab some delicious food and sit anywhere you like... fancy an ocean view? There's the kid's menu with all their faves, like chicken fingers, hot dogs and more.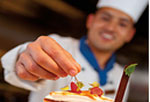 Chefs Table
Treat your taste buds to the experience of a lifetime, culminating in a sumptuous multicourse dinner hosted by one of our master chefs. Your VIP experience starts with cocktails and hors d'oeuvres for a select group of 12, followed by a tour to see the galley in operation.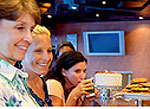 Coffee Bar
Our coffee bar is just like a trip to one of Europe's most decadent cafes except you don't need to master a foreign language to order. Treat yourself to a well-deserved break with a specialty coffee drink or freshly brewed tea and some delicious homemade pastries.
Kids Menu
Our kids' menu features delicious, fun foods to keep even the pickiest eaters happy. We've got all the familiar options they love from home, like spaghetti & meatballs, chicken nuggets, hot dogs, mac & cheese, peanut butter & jelly sandwiches, and fresh fruit and veggies.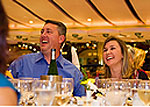 Signature Dining
Chances are, you've worked up an appetite after a day of awesome onboard activities or exploring one of our beautiful destinations. Now it's time to feast on amazing culinary delights in one of our dazzling main dining rooms.
Spa and Beauty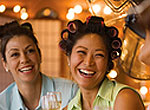 Hair and Beauty Salon
Helloooo, gorgeous! Yes, we're talking to you. Because after you've met with our experienced staff, you'll be seeing your best self ever. Our European-style salon is staffed with trained professionals who specialize in pampering you and bringing out all your best features.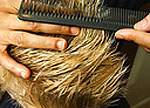 Mens Services
Our salon offers a variety of treatments for men, including haircuts, shaves, manicures, pedicures, facials and hairstyling.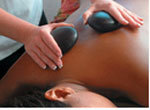 Spa
When it comes to relaxation from the inside out, nothing beats a trip to the spa. From the minute you step inside, the soothing ambiance begins to work its magic. Renew yourself with premium beauty and wellness therapies, like hot stone massages, aromatherapy or full-body wraps.
Onboard Activities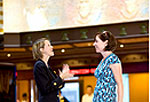 Atrium
The atrium is not only where you'll find the grand staircase and wonder at the scenic high ceiling - it's also the heart of any Carnival ship. Day or night, you can get your questions answered at guest services, plan some fun at the shore excursion desk, enjoy music that helps set the atmosphere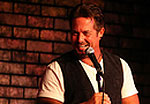 Comedy Club
In the mood for some laughter? Our live comedians will have you in stitches. (Not literally, of course.) And with family-friendly (bring the kids!) and late-night (bring the insomniacs!) shows, you'll have plenty of options for laughing along with whoever you're cruising with.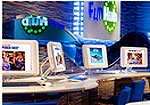 Internet Cafe
Open 24 hours, the Internet cafe features private terminals where you have the ability to surf the Web, chat online and access your private email account.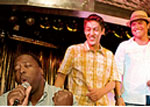 Karaoke
Grab the mic and get ready for your singing superstar dream to come true! Croon country classics, belt Broadway showstoppers, sing out some soul or serenade your sweetie with "your song." Whether your musical dreams are made of classic rock or '80s pop, you'll be sure to find some tracks that you want to sing out loud.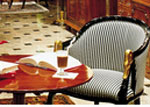 Library
Looking for the perfect place to curl up for some quiet time? Look no further than the library. Sink into a cozy chair and let the hours drift by in this quiet onboard haven. It's the perfect place to catch up on your reading, do a crossword, write a postcard to the gang back home, or stimulate your brain with a game of chess, checkers or Scrabble.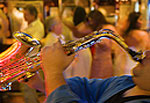 Live Music
Want to rock 'n' roll every night and every day? Well, you've come to the right ship. We bring some of the best performers on land out to sea for an ambiance that can't be beat.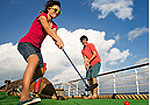 Mini Golf
Foooooooore! Have a swinging good time at the onboard mini-golf course. The greens are meticulously maintained and the view is pretty spectacular. (When's the last time you played with an unobstructed view of the Caribbean?)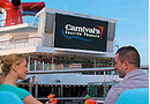 Seaside Theater
Night time isn't the only time you'll find stars on your cruise. Day or night, find a spot on deck and check out Carnival's Seaside Theatre's huge outdoor screen.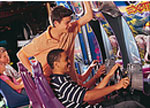 Video Arcade
If you love to play video games, you're in luck. Our video arcade boasts a huge array of games, and is open to players of all ages, all night and all day. So get some tokens from the vending machine and let the fun times begin.
Casino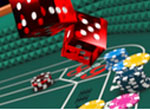 Casino
Press your luck onboard at the casino offering your favorite casino games such as, blackjack, poker, craps, slot and more.
Night Life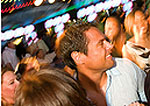 Night Club
Get up and get down at the most happenin' club in the Caribbean. Our DJs are spinning today's hottest hits and yesterday's golden oldies, guaranteed to get you out of your seat and tapping your feet.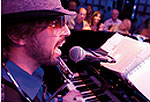 Piano Bar
Play it again, Sam. Or Diana. Or whatever your name is. Because this is the bar where you call the shots and the songs. Pull up a seat, order your favorite cocktail, and let your friendly piano player know the songs you'd like to hear.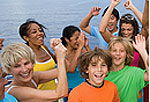 Pool Deck Parties
Whether it's celebrating sail-away, marking midnight or well, just because it's vacation time, there's always a reason to party on a Carnival cruise!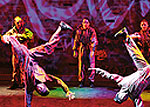 Stage Shows
Carnival's stage shows are designed to razzle and dazzle. Featuring talented singers, musicians and dancers performing crowd-thrilling numbers in extravagant costumes with awesome sets and scenery, it's like catching one of the best shows on land.
Youth Activities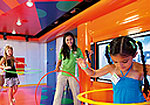 Camp Carnival
It's everything they love about summer camp and their favorite babysitter, all in one! Camp Carnival offers tons of activities designed for children in three different age groups: 2 to 5 years, 6 to 8 years, and 9 to 11 years.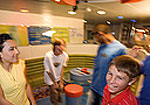 Circle C
What does the "C" in Circle "C" stand for? Well, "chill," "connect" and "cool," just to name a few. It's where young teens ages 12 to 14 go to hang out, meet new friends, and enjoy some pretty awesome activities like dance parties, games, outdoor movies and more, in the special Circle "C" area or around the ship.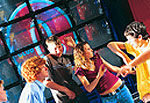 Club O2
So, your parents are, like, so annoying ... where do you go to hang out with normal people? You know, people who don't talk about taxes and stuff all the time? Club O2, duh. Hang out and do stuff like watch movies, listen to music from this decade, play sports and video games, or join a karaoke jam sessions, and tons more for ages 15 through 17.
Sports and Fitness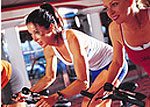 Fitness Center
Stay fit on your vacation with the help of Spa Carnival's fully equipped fitness center. Go for a jog, lift some weights, or use our state-of-the-art equipment to work up a sweat and get stronger.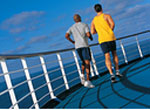 Jogging Track
Who said you can't run on water? Lace up your sneakers and hit the deck for a run alongside the ocean at any time of day or night. Whether you feel like an early morning jog or a midnight run under the stars, the jogging track is always open and available for anyone looking to get their heart rate up over the great blue sea.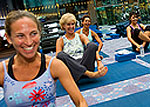 Yoga and Pilates
Our yoga and Pilates classes will have you finding inner peace before you can say "om." With classes ranging from meditative stretching to more intensive, advanced levels, you'll be sure to find the class that's perfect for you.
Shopping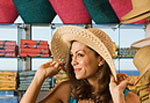 Shopping
You'll find the perfect gifts for friends, family or yourself at our onboard gift shops, stocked with so much good stuff you'll want to shop 'til you drop. With everything from T-shirts to high-end timepieces, lockets to your favorite spirits (available duty-free), you're bound to find something special for that special someone, or perhaps even you.
Pools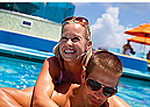 Resort Pools
Imagine relaxing by a cool pool with a cool breeze? with your favorite drink in hand. Make it a reality and head on over to the resort-style pool located in the middle of the ship. On select ships, the midship pool is even flanked by a pair of oversized whirlpools, which mean even more ways to let the hours just drift by.