Dining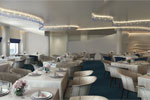 Blu
AquaClass guests will enjoy this exclusive restaurant featuring clean, crisp flavors and inventive cuisine complemented by an extensive list of sustainable, biodynamic wines. Pair all of that with personalized service, inviting surroundings, and natural light, and you have the fresh and bold experience of Blu.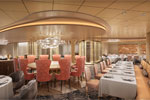 Cosmopolitan Restaurant
To maintain the essence of the Celebrity dining experience on Edge, Celebrity created the Cosmopolitan Restaurant—the next evolution of their current main restaurants. The walk-through wine display at the entrance sets the scene for the creative cuisine within—new American with global influences. (Main Dining)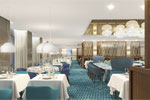 Cyprus Restaurant
In Cyprus, the menu's main focus is seafood and features simple, clean dishes that celebrate the food and beverages of the Mediterranean region. (Main Dining)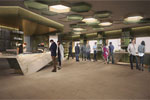 Eden Café
Eden Café offers a wide variety of morning beverages and casual culinary bites. Three stories of windows bring in the shimmering morning light to create a bright and airy atmosphere, and change as the mood shifts from breakfast to lunch, plus al fresco dining is available on either side of the café.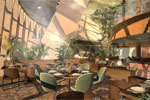 Eden Restaurant
Enter a place where dining is taken to new and exciting places. Eden restaurant features menus that deliver sensory experiences and experiential dishes served by performance artists Celebrity calls Edenists. Let your inhibitions go and set your senses free with innovative, mouthwatering specialties inspired by nature.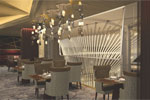 Fine Cut Steakhouse
Discover an upscale steak and seafood experience where service is elevated to an art form and a space that's warm and inviting with a glamorous palette of rich ruby, amber, and gold design elements. While the design creates an ambience of sophistication, the cuisine offers up the sizzle—literally, with a wide selection of the choicest cuts of meat to the freshest, premium seafood.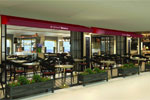 Le Grand Bistro
Inspired by classic French bistros, the mouthwatering sights, scents, and sounds of a bustling boulangerie-patisserie are sure to excite and entice. With an ambience that changes from morning to evening, and seating options from the planter-edged sidewalk to the inner café offering stunning views of the sea, every time you eat here, it's a whole new experience.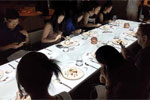 Le Petit Chef
Using innovative technology created by Skullmapping and presented by TableMation Studios, Celebrity's bringing your tabletop to life in Le Grand Bistro with Le Petit Chef—an animated character who appears beside your plate and prepares each course you'll be enjoying right in front of you before you're served the actual dish. It's an immersive, mind-blowing fusion of entertainment and dining like nothing you've experienced before.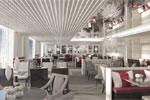 Luminae at the Retreat
Boldly elegant, the interior is as distinctive as the cuisine. Not only is the restaurant exclusive for suite guests, its menus are as well. Crafted by Celebrity's own Michelin-starred Chef Cornelius Gallagher, the modern, eclectic cuisine served here is not available anywhere else on board. Open for breakfast, lunch, and dinner, Luminae at the Retreat will tantalize guests' taste buds – and their eyes.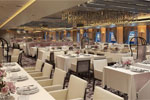 Normandie Restaurant
With ties to the elegant Murano specialty restaurant on many of Celebrity's ships and a nostalgic nod to Celebrity Summit, Normandie Restaurant features contemporary French cuisine in a modern, upscale, refined space that evokes the romance of springtime in Paris. Enjoy regional European wines, deliciously unique cocktails, tantalizing starters, and mouthwatering entrées. (Main Dining)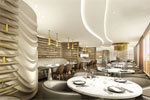 Raw on 5
Using both raw and refined elements with earth tones, pearlescent accents, and natural textures, Celebrity's created a sophisticated yet approachable restaurant. The dramatic raw bar display at the entrance showcases an abundance of oysters, crab, and lobsters to choose from.
Rooftop Garden Grill
Enjoy lunch or dine under the stars at the Rooftop Garden Grill, nestled perfectly in its own delicious corner of the Rooftop Garden. Discover the ultimate in outdoor eateries where you're surrounded by the open sky and the most incredible ocean views around while you savor gourmet backyard BBQ favorites.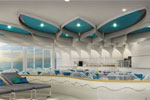 Spa Cafe and Juice Bar
After indulging at the spa, grab something fresh and flavorful. You'll love the creative take on healthy cuisine with nourishing salads and nutritious smoothies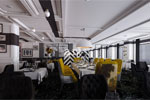 Tuscan Restaurant
Step inside and discover the delicious ambiance — a modern classical design centered around Italian fashion and film. Savor mouthwatering cuisine inspired by authentic southern Italian eateries, featuring all homemade pastas prepared with a rustic flare. Your taste buds will get a tour of southern Italy without even stepping ashore. (Main Dining)
Onboard Activities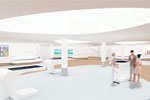 Destination Gateway
Destination Gateway is a modern, multi-purpose area that brings the destination to life. When the Magic Carpet is positioned here, Destination Gateway serves as a comfortable and welcoming environment that leads to the Edge Launches for easy and effortless transportation ashore.
Eden
This mind-blowing venue is the epitome of Celebrity Edge's outward-facing concept and will awaken every one of your senses in an atmosphere that transforms from chillful mornings to playful afternoons to sinful evenings.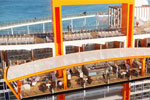 Magic Carpet
The industry-first Magic Carpet is both the best way to take in spectacular views and the most exciting place to be. By changing function and location, it provides an incredible array of visual perspectives and a distinct experience on every deck it visits.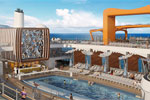 Resort Deck
The Resort Deck offers endless ways to enjoy the outdoors and connect with the sea. It includes everything from an asymmetrical outward-facing pool deck to a jogging track that winds up, down, and around the new Rooftop Garden—a living urban playscape inspired by childhood playgrounds.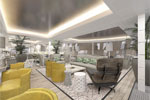 Retreat Lounge
A private lounge for those in Suite Class, as well as for Captain's Club Zenith members. This luxurious club features a large-screen TV, reading areas stocked with magazines, newspapers, and books, plus a continental breakfast. Complimentary pre-dinner drinks and tapas are served 5–8 PM daily. Its dedicated Concierge can help arrange your specialty dining, shore excursions, even handle inquiries about various ports of call.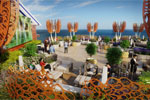 Rooftop Garden
On Celebrity Edge, the Rooftop Garden is full of unexpected pleasures day and night. Find a cozy chair, sink in, and get lost in a good book. Sip a refreshing cocktail as you gaze out over the open ocean.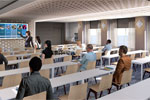 The Meeting Place
With 1,970-square-feet of flexible space, The Meeting Place is perfect for your next event. Strategically situated to provide stunning ocean views, the venue can be configured for any need—general sessions, conferences, banquets, or cocktail seating. Seating is modern and comfortable, with options for theater-style, classroom, U-shaped, or circular layouts.
Night Life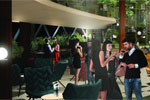 Eden Bar
Your senses are in for a tantalizing new treat. At Eden Bar, the Library of Plants is a living wall where fresh ingredients and garnishes are hand-picked for artisanal cocktails. It's all a part of the chillful, playful, sinful Eden experience.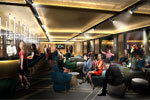 The Club
Keep the party going late into the night at The Club. Dance to your heart's content and lounge in a sumptuous, modern seating area.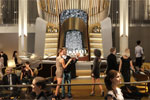 The Martini Bar
Behind an inviting, attention-getting bar, flair bartenders dazzle with gravity-defying skill as they craft creative cocktails. Pull up a chair, raise a glass, and say, "Cheers" to new friends and new experiences.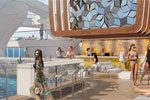 The Pool Bar
Enjoy refreshing drinks poolside and be mesmerized by an ever-changing mirror installation that shines day and night.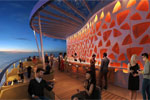 The Sunset Bar
Watch the world go by with a cocktail in hand as live pop and folk tunes play. With a casual country club atmosphere, it's the perfect place to soak in spectacular views.
Pools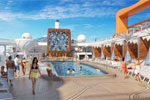 Pool Deck
Forget about old-school cruise ships, which typically set up rings of decks chairs to look inward at a swimming pool. On Celebrity Edge, our reinvented outward-facing Pool Deck make sweeping ocean views and landscapes the focal point.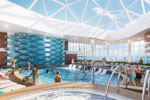 Solarium
One of the most popular spots on every Celebrity ship, the Solarium has been reimagined by celebrated architect Tom Wright, who used the ocean as his inspiration for this adults-only sanctuary.