Dining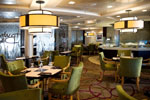 Bistro on Five
Simplicity at its succulent best, the Bistro on Five features a variety of delicious sandwiches, salads, crepes and desserts for both lunch and dinner. The light, fresh fare is complemented by an airy design and wonderful ocean views.
Blu
This specialty restaurant is the exclusive dining venue for all AquaClass guests, serving healthy fare in a sophisticated and soothing atmosphere.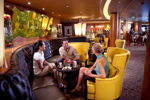 Cafe al Bacio & Gelateria
With ocean views and a central location, this European coffee house offers a selection of specialty coffees, tasty liqueurs and freshly baked pastries. The adjacent Gelateria offers a variety of Italian ices and gelatos prepared with an artistic touch.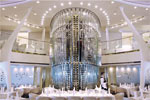 Grand Epernay Dining Room
The magnificent and luxurious main dining room of Celebrity Solstice. With a two-story glass wine tower and dazzling chandeliers, this quintessential dining area has a decidedly Hollywood aura. Serving savory World & Continental cuisine, complete with Celebritys famed European-style service.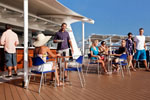 Mast Bar & Grill
Energetic, lively and casual; a large poolside spot for light and refreshing cocktails, frozen specialties and non-alcoholic offerings, from sunup to sundown or grab a great burger in a relaxed, poolside environment.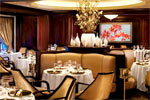 Murano
Prepare to indulge in a savory multi-course meal featuring a blend of Classic and Modern continental cuisines. A superb wine list accentuates your experience.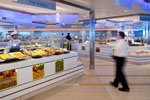 Oceanview Cafe
With a menu influenced by multiple cultures, the Oceanview Cafe takes diners on a culinary journey around the world.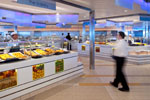 Oceanview Café
This café's décor and offerings reflect that of an international marketplace. With a menu influenced by multiple cultures, the cuisine takes diners on a voyage around the world. Stations available in the marketplace include: made-to-order pasta, stir-fry, pizza and sushi, a full salad bar, and a variety of appetizer entrées and desserts. Open for breakfast, lunch, dinner and late night.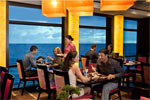 Silk Harvest Restaurant
Enjoy the cuisines of Vietnam, Thailand, Japan, China and India, served family-style, with built-in lazy-Susans and small plates perfect for sharing.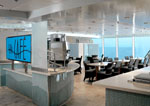 Spa Cafe
The Spa Cafe features creative takes on healthy cuisine, featuring an eclectic blend of offerings that are both flavorful and good for you.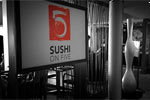 Sushi on Five
Take the opportunity to try Celebrity's premium, super-premium, and specialty sakes—selected by their sake sommelier. Ask for fresh wasabi, if you dare. It's rare to find the real thing.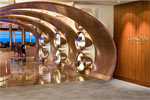 Tuscan Grille
The ultimate grill experience at sea is what you will find at Tuscan Grille, a sophisticated steakhouse and specialty restaurant. Savor fine Italian wines and panoramic views along with your Caesar salad, made tableside.
Spa and Beauty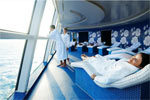 Canyon Ranch SpaClub
Relax in the impressive Canyon Ranch SpaClub and be transported to a whole new world with treatments inspired by rituals from exotic cultures. Discover a state of complete tranquility as you experience a luxurious spa afloat.
Onboard Activities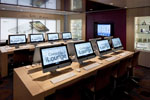 Celebrity iLounge
ne-of-a-kind hip Internet lounge that is the first Apple Specialist at Sea. The lounge is equipped with the latest Apple computers and also offers classes to help you improve photography, video and audio skills.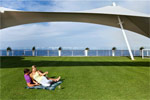 Lawn Club
There is absolutely nothing like it. A freshly manicured lawn on the highest deck of Celebrity Solstice. This is The Lawn Club. Enjoy casual outdoor activities in a decidedly Country Club atmosphere, and let the grass between your toes take you places no cruise has gone before.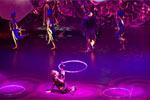 Solstice Theater
The main stage productions will leave you talking long after the final bow and match the mood of the hour. Like Elyria, an adults only, fashion-forward fairytale with a sultry late-night vibe—or iMagic, which thrills the whole family by bringing history's greatest illusions into the future.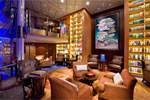 The Library
Spend some time in the Library to catch up on your favorite book or reading the news.
Casino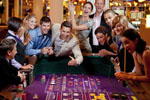 Fortunes Casino
Sophisticated and captivating, the Fortunes Casino offers exhilaration for experienced high rollers and those trying their luck for the first time.
Night Life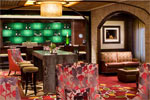 Cellar Masters
Inspired by the vineyards of Napa Valley, Cellarmasters brings to life the experience of a global wine tour while you learn about and taste a large variety of wines from around the world. A welcoming and unique on board environment, you'll discover new wines, receive recommendations and enrich your knowledge of the world of wine.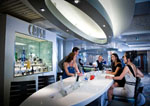 Crush
A cozy alcove off the Martini Bar, this is the place to relax around an ice-filled table while you sample caviar and vodka pairings well into the night.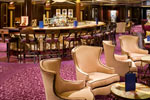 Ensemble Lounge
Start your evening off right with a soothing backdrop of instrumental or vocal sounds and the palpable air of anticipation as you gather with newfound friends. The lounge is also a great place to drop in for a nightcap and plan your next fabulous evening aboard Celebrity Solstice.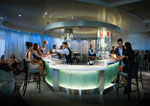 Martini Bar
Inspired by the cool grace of ice, snow and water, the Martini Bar boasts an ambiance unlike any other, exemplified by its sleek, frosted main bar. The bartenders always put on a good show with their own personal spin on mixing and serving.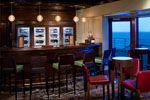 Michael's Club
Soak up the sounds of a grand piano as you share an intimate nightcap in this locale. The rich tones and deep, welcoming chairs of Michael's Club make it the ideal place to savor a single-malt scotch or late-evening cordial.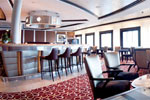 Passport Bar
Escape to the comforting environment of the decidedly casual Passport Bar. Inspired by the relaxed living space of large, oceangoing yachts, the Passport bar is an ideal place to take a break, plan your next excursion, or share stories with others.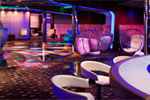 Quasar
Celebrity's retro-chic nightclub for the late-night crowd, Quasar features DJs spinning the best of today's dance and club favorites.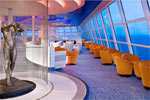 Sky Observation Lounge
Do not look back, look forward and be amazed by the breathtaking views in the ultimate observation lounge. The floor to ceiling windows will captivate and the expansive space will please you as you relax in the comfy seating all around. The lounge is versatile and can be transformed to suit any occasion.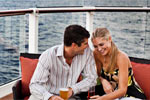 Sunset Bar
Watch the sun set over the ocean as you relax in the Sunset Bar. The casual country club atmosphere is accompanied by music from a live musician.
Youth Activities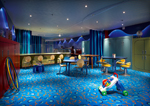 Fun Factory
Designed exclusively for kids, Fun Factory is a place where magic happens. Kids' programs are broken up into distinct groups so kids are always engaged in age-appropriate activities.
Sports and Fitness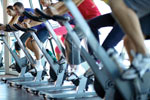 Fitness Center
In the fitness center you can meet with a personal trainer, take a fitness class, try the resistance swimming pool or challenge yourself on Celebrity's state-of-the-art exercise equipment.
Pools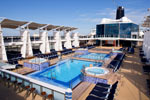 Pool
By day or night, the pool is an ideal venue to breathe in the refreshing sea air, enjoy a beverage or relax on a comfortable lounge as you revel in the luxury that is Celebrity.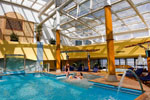 Solarium
Let the serenity surround you at this indoor pool reserved for adults only. The sound of waterfalls will transport you to a divine state of relaxation while you stretch out on thickly padded lounge chairs or melt away stress in the hot tub.