Charleston Cruises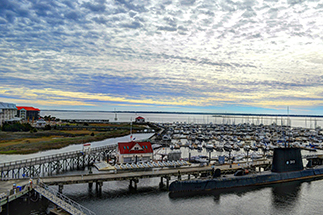 Average Yearly High Temperature in Fahrenheit (&degF)

| Jan | Feb | Mar | Apr | May | Jun | Jul | Aug | Sep | Oct | Nov | Dec |
| --- | --- | --- | --- | --- | --- | --- | --- | --- | --- | --- | --- |
| 59 | 63 | 70 | 76 | 83 | 88 | 91 | 89 | 85 | 77 | 70 | 62 |
Show Charleston Sailings
Overview
The city of Charleston is located roughly at the mid-point of South Carolina's coastline, at the junction of the Ashley and Cooper Rivers. Charleston is popular for its historical tours, water activities, and their art and culture. Walk quaint streets, explore dazzling historic homes, or take to the waters and island hop your way around the peninsula. No matter what time of year you visit, Charleston has a variety of adventures for everyone.
Things to Do
Iconic Neighborhoods
French Quarter- Not far from the cruise port, this section of downtown is home to wonderful restaurants, beautiful parks, historic buildings and museums. Head to the shore to visit the famous pineapple fountain.
Charleston Beaches-The city has 5 beautiful beach towns: Kiawah Island, Folly Beach, Sullivan's Island, Isle of Palms and Seabrook Island. Each has a variety of sight and plenty of places to enjoy the sand, sun and water.
Hotels
Courtyard by Marriott Charleston Historic District
Address: 125 Calhoun St, Charleston, SC 29401
Phone: (954) 728-2577
0.6 miles from Cruise Terminal
Market Pavilion Hotel
Address: 225 E Bay St, Charleston, SC 29401
Phone: (843) 723-0500
0.2 miles from Cruise Terminal
Activities
No trip is complete unless you visit the Historic Charleston City Market. Here you will find 4 blocks of stalls that sell crafty items, art, jewelry, and home furnishings.
Rainbow Row is a stretch of private homes that dates back to the 1800s. There are over a dozen homes that are painted in every unique pastel color of the rainbow.
Family Friendly
The Children's Museum of the Lowcountry has 9 hands-on interactives, included a water exhibit and art room. Don't miss the 3D mural in the lobby.
Children of all ages will be entertained by the intimate look at many South Carolina's native animals and plants at the South Carolina Aquarium.
Driving Directions
Port of Charleston
Union Pier Terminal
32 Washington Street
Charleston, South Carolina 29401
Driving: Entry point is Gate #2 located at the intersection of Concord and Laurens Streets, Charleston, SC 29401
Getting dropped off: The address is 32 Washington Street, Charleston, SC 29401 The Port of Charleston features both covered and non-covered parking in safe and secure locations, just a short shuttle ride from the terminal. Prepay is available.
Via Interstate 26:
Use exit 219-B from I-26. Follow the brown and white highway signs indicating the path to Union Pier Cruise Terminal. The signs have a ship logo and read "CRUISE"