Dining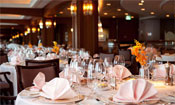 Crystal Dining Room
The menu offers an extensive selection of regionally inspired cuisine prepared in the classical French tradition. The array of tantalizing options includes their "Lighter Fare" low-sodium, low-cholesterol and low-carb selections, plus vegetarian offerings.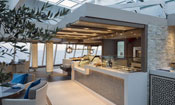 Lido Cafe
The Lido Café is a bright and welcoming space boasting modern food islands (in place of traditional long buffets) and floor-to-ceiling windows offering panoramic views. Perfect for breakfast and lunch, the vibe is relaxed and the choices are incredible.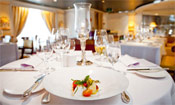 Prego Restaurant
Charming and romantic, Prego brings the flavors of Italy to Crystal Symphony and Crystal Serenity. The intimate European restaurant features classic Italian dishes. A seasonally-changing Valentino at Prego menu features signature dishes and wines that are served at Piero Selvaggio's revered Los Angeles and Las Vegas restaurants.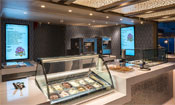 Scoops Ice Cream Bar
All new counters, digital signage and a toppings display case showcase what is on offer at Scoops ice cream bar, perfectly located just off the pool area where plush sofas and armchairs invite laid back relaxation and conversation. Teak decking and mosaic tiles help define the space.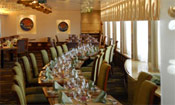 Silk Road
Crystal Serenity's Silk Road restaurant features the eclectic cuisine of famed master chef Nobuyuki 'Nobu' Matsuhisa with dishes prepared by Nobu-trained chefs. Matsuhisa redefined sushi with an innovative blending of classically styled Japanese foods with distinct Peruvian and European influences. Silk Road presents more than two dozen of Nobu's signature appetizers, soups, salads, entrees, and desserts.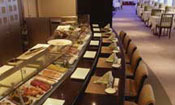 Sushi Bar
Matsuhisa redefined sushi with an innovative blending of classically styled Japanese foods with distinct Peruvian and European influences. He guided The Sushi Bar's intimate design and unveiled his own line of fine china in The Sushi Bar and Silk Road during the ship's inaugural season. The Sushi Bar offers an assortment of Nobu's signature sushi and sashimi, including Salmon Tartar with Sevruga Caviar, Tiradito Nobu-style, and Yellowtail Sashimi with Jalapeno.
Tastes
On Crystal Serenity's Tastes, homemade soups are prepared daily, accompanying such starters as Deconstructed Grilled Shrimp Salad, Stir-Fry Hokkien Noodles and Pizza di Margherita. Main courses include Spiced Duck Samosa, Vietnamese Crab Spring Rolls or Saffron Marinated Lamb Kebabs, with a choice of side orders such as Garlic Mashed Potatoes or Vegetables Slow-Roasted in Olive Oil. A selection of premium wines is available by the glass or by the bottle.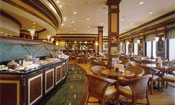 The Bistro
This popular Parisian-style coffee bar and cafe is a favorite meeting place. Espresso, latte's and cappuccino are served in our exclusive Bistro Collection of porcelain. Light snacks are served throughout the day, ranging from fresh pastries and fruit in the morning to a selection of international cheeses, charcuterie, pastries and other delicacies in the afternoon.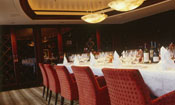 The Vintage Room
An innovative concept in wining and dining is offered aboard Crystal Cruises. The Vintage Room promotes wine education and the vast range of fine wines available on board. In addition to tastings and discussions in this beautiful room, guests may partake in a variety of private wine-themed dinners by special arrangement with the Head Sommelier.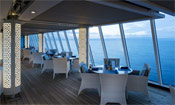 Trident Grill
Trident Grill features a three-course, low-carbohydrate menu. This newest addition to the already numerous dining choices was launched in response to the diet trend that has become a standard requirement for many of Crystal's guests.
Spa and Beauty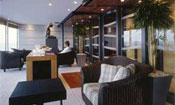 Crystal Spa & Salon
Experience the sublime and the sensuous in the Crystal Spa & Salon. The first floating spa to use the principles of Feng Shui. Treatments include: Aroma Stone Therapy, Japanese Silk Booster Facial and Well-Being Massage, all enjoyed in the relaxing spa with beautiful Asian artifacts and the peaceful ambiance of Feng Shui. The spa features panoramic sea views, which surround a facility offering sauna, steam, a full-service hair salon and a well-equipped fitness center.
Onboard Activities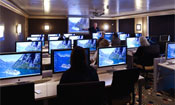 Computer
[email protected]
The extensiveness of Crystal's program is unmatched in both its variety and originality - guests work on 27" Apple Macintosh computers as a team of expert techies offer complimentary instruction on topics ranging from basic computer skills on e-mail, Word, Excel and maximizing usage of your smart phones, iPads and other gadgets, to advanced digital photo finishing and website design. Guests enjoy 24-hour Internet access from every lab computer and from every stateroom.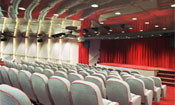 Hollywood Theatre
Sneak away to watch recent-release films and some classic film favorites in the Dolby-equipped Hollywood Theatre.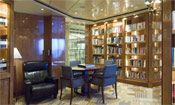 Library
The well-stocked Library contains over 2,000 books on subjects ranging from classics to popular biographies, history to contemporary mysteries. There is also an entertaining selection of over 1,000 DVD movie titles and board games which may be borrowed without charge for your enjoyment during the cruise.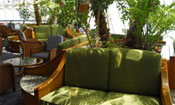 Palm Court
With panoramic sea vistas enjoyed through vast floor-to-ceiling window walls, this delightfully airy forward lounge hosts Afternoon Tea daily, evening dancing and entertainment, classical music concerts and special parties.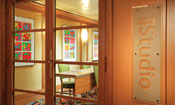 The Studio
The Studio is home to Crystal's revolutionary Creative Learning Institute including digital filmmaking.
Casino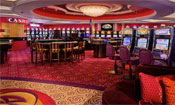 Casino
Crystal Cruises offers exciting games of chance in the new Crystal Casino featuring Blackjack, Mini-Baccarat, Craps, Roulette and 3 Card Poker, as well as Slot and Video Poker machines. A casino shipboard advance of up to $300 per person, per day, may be charged to your shipboard account using a major credit card or a personal check (up to a maximum of $3,000 per cruise). A line of credit may also be established prior to your cruise.
Night Life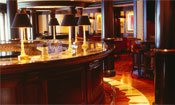 Avenue Saloon
With its dark paneled walls and rich leather club chairs, the Avenue Saloon is the perfect place to steal away a cocktail and some quiet conversation. But as the evening rolls on, and the live piano music kicks it up, a lively camaraderie fills the night.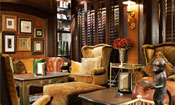 Connoisseur Club
With an impressive selection ranging from Monte Cristo to Davidoff, this refined club-like cigar lounge is ideal for after-dinner drinks and conversation.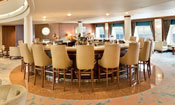 Crystal Cove
Located just off the two-story Crystal Plaza in the very heart of both ships, the Crystal Cove piano bar is a perfect spot to enjoy an aperitif or specialty drink any time of day.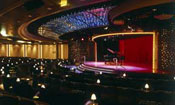 Galaxy Lounge
The Galaxy Lounge is the venue for our award-winning production shows and a host of other evening performances. The showroom was custom-designed to offer perfect views from each of its seats, and features state-of-the-art sound and lighting systems.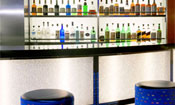 Pulse
Located near the Avenue Saloon and Connoisseur Club aboard Crystal Serenity, this high-energy dance club plays all the latest hits with a mix of long-time favorites.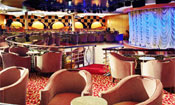 Stardust
This welcoming and comfortable lounge on Crystal Serenity is the perfect place for a pre-dinner dance and aperitif, and after dinner dancing as well. Throughout your cruise, here you will also enjoy intimate performances, recitals and special lectures.
Youth Activities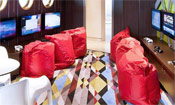 Waves & Fantasia
Fantasia welcomes children ages 3-7 and 8-12, with games, crafts, popular Sony PlayStation and Xbox 360 kiosks and large-screen televisions, board games and personal computers with entertainment and education. A video arcade at Waves keeps teens ages 13-17 entertained as well. The Library offers a selection of children's books and videos for in-room viewing; children can also see recently released films in The Hollywood Theatre.
Sports and Fitness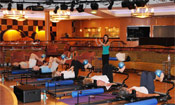 Fitness Facilities
Cruising is all about lifestyle, fine wining and dining, visiting exotic destinations and enjoying extravagant production shows. But today's guest is also interested in balancing the rich life of a cruise with health and fitness. If that sounds like you, then Crystal Cruises is your perfect vacation. From the wrap-around, all-outdoor teak Promenade Deck - one of the most popular features on all of Crystal's ships, and one you won't find on many other large cruise ships - to a Spa with one of the world's best views, every Crystal cruise offers a variety of options for keeping fit and well.
Shopping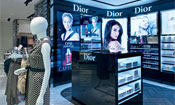 Shopping
All ships offer a chic 3,000-square foot Avenue of the Stars shopping arcade, featuring an exclusive selection of fine jewelry, designer apparel and cruise wear. Crystal Cruises also offers a full range of private-label logo apparel, and the award-winning Crystal Home Collection of popular items. In addition, there is a selection of sundry items, plus duty-free cosmetics and fragrances.
Pools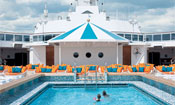 Swimming Pool
Sunbathe, snooze and read while enjoying a refreshing drink poolside in the afternoon. Our two pools, the indoor/outdoor Neptune Pool and the full-length Seahorse Pool and adjoining Jacuzzi.