Dining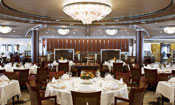 Crystal Dining Room
The menu offers an extensive selection of regionally inspired cuisine prepared in the classical French tradition. The array of tantalizing options includes their "Lighter Fare" low-sodium, low-cholesterol and low-carb selections, plus vegetarian offerings.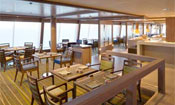 Lido Cafe
Open and airy, this breakfast and lunch venue sports a refined yet modern motif with abundant natural light and colors and details inspired by the Hampton seashore.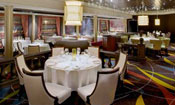 Prego
Charming and romantic, Prego brings the flavors of Italy and the Mediterranean to Crystal Symphony and Crystal Serenity. Savor a seasonally changing menu of regional favorites and impeccable tableside service. Reservations are required for this complimentary evening dining experience.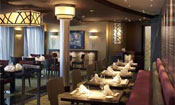 Silk Road
This intimate Asian-styled venue boasts menus showcasing Nobu's world-famous Japanese-Peruvian cuisine and is offered complimentary with reservations.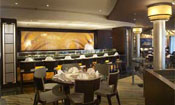 Sushi Bar
With its serene colors and fine lines evoking all the style and authenticity of a traditional Japanese sushi bar, this complimentary, reservations-required venue offers seating "at the bar" as well as at stand-alone tables.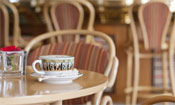 The Bistro
This popular Parisian-style coffee bar and cafe is a favorite meeting place. Espresso, latte's and cappuccino are served in our exclusive Bistro Collection of porcelain. Light snacks are served throughout the day, ranging from fresh pastries and fruit in the morning to a selection of international cheeses, charcuterie, pastries and other delicacies in the afternoon.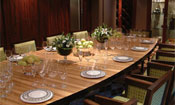 The Vintage Room
An innovative concept in wining and dining is offered aboard Crystal Cruises. The Vintage Room promotes wine education and the vast range of fine wines available on board. In addition to tastings and discussions in this beautiful room, guests may partake in a variety of private wine-themed dinners by special arrangement with the Head Sommelier.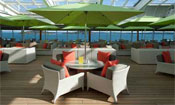 Trident Bar and Grill
Trident Bar features a three-course, low-carbohydrate menu. This newest addition to the already numerous dining choices was launched in response to the diet trend that has become a standard requirement for many of Crystal's guests.
Spa and Beauty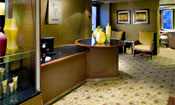 Crystal Spa & Salon
Experience the sublime and the sensuous in the Crystal Spa. The first floating spa to use the principles of Feng Shui. Treatments include: Aroma Stone Therapy, Japanese Silk Booster Facial and Well-Being Massage, all enjoyed in the relaxing spa with beautiful Asian artifacts and the peaceful ambiance of Feng Shui. The spa features panoramic sea views, which surround a facility offering sauna, steam, a full-service hair salon and a well-equipped fitness center.
Onboard Activities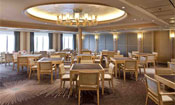 Bridge Lounge
Reminiscent of the Gilded Age's tennis and card clubs, the Bridge Lounge boasts ambient sconces, floor-to-ceiling drapes, Roman sheers, and a 12K gold, champagne leaf dome ceiling, as well as game tables and state-of-the-art audio/visual tools.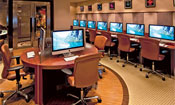 Computer Un
[email protected]
The extensiveness of Crystal's program is unmatched in both its variety and originality - guests work on 27" Apple Macintosh computers as our team of expert techies offer complimentary instruction on topics ranging from basic computer skills on e-mail, Word, Excel and maximizing usage of your smart phones, iPads and other gadgets, to advanced digital photo finishing and website design. Guests enjoy 24-hour Internet access from every lab computer and from every stateroom.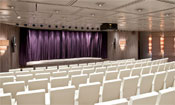 Hollywood Theatre
Completely redone with a look inspired by classic, Art Deco movie palaces, the theater features custom-woven acoustic wall paneling and velvet curtains. New Bose and Meyer audio systems and Barco projectors enhance the experience.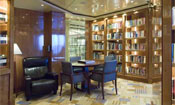 Library
Crystal's well-stocked Library contains over 2,000 books on subjects ranging from classics to popular biographies, history to contemporary mysteries. There is also a selection of over 1,000 movie titles plus board games which may be checked out free of charge for your enjoyment during the cruise.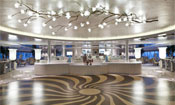 Palm Court
With panoramic sea vistas enjoyed through vast floor-to-ceiling window walls, this delightfully airy forward lounge hosts Afternoon Tea daily, evening dancing and entertainment, classical music concerts and special parties.
Casino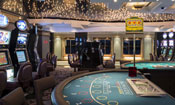 Casino
Crystal Cruises offers exciting games of chance in the new Crystal Casino featuring Blackjack, Mini-Baccarat, Craps, Roulette and 3 Card Poker, as well as Slot and Video Poker machines. A casino shipboard advance of up to $300 per person, per day, may be charged to your shipboard account using a major credit card or a personal check (up to a maximum of $3,000 per cruise). A line of credit may also be established prior to your cruise.
Night Life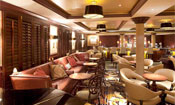 Avenue Saloon
A favorite place to gather for quiet conversation by day, or lively piano sing-alongs by night, the Avenue Saloon channels the exclusivity of a well-heeled 19th-century gentlemen's club with rich mahogany woods, buttery leathers, and luxe velvets.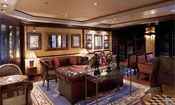 Connoisseur Club
With an impressive selection ranging from Monte Cristo to Davidoff, this refined club-like cigar lounge is ideal for after-dinner drinks and conversation.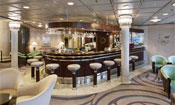 Crystal Cove
Located just off the two-story Crystal Plaza in the very heart of both ships, the Crystal Cove piano bar is a perfect spot to enjoy an aperitif or specialty drink any time of day.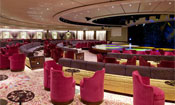 Galaxy Lounge
The Galaxy Lounge is the venue for award-winning production shows and a host of other evening performances. The showroom was custom-designed to offer perfect views from each of its seats, and features state-of-the-art sound and lighting systems.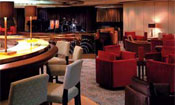 Starlite
Centrally located in the middle of Crystal Symphony's main activity deck, a dramatic round bar takes center stage in this stylishly open environment offering panoramic sea views. With window walls sparkling with Swarovski crystals, the new Starlite Club is the place to see and be seen, featuring lectures by day and dancing by night.
Youth Activities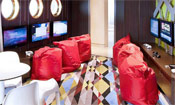 Waves & Fantasia
The "teens only" hang-out Waves features new Casalina chairs and Marimekko-patterned Fatboy bean bags, and Fantasia has been redesigned for younger kids. All enjoy Wii, PlayStation, Xbox, Kinect, wide-screen TVs, and supervised age-specific activities.
Sports and Fitness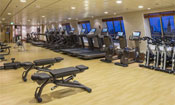 Fitness Center
Relax, rejuvenate and enrich your mind, body and spirit with the most comprehensive fitness and wellness offerings at sea. A vacation in and of itself is intended to be rejuvenating, and the fitness facilities are designed to provide an added element of harmonizing enrichment to your travels. The extensive roster of specialized programs will help you maintain, or even begin, a fitness regimen while traveling.
Shopping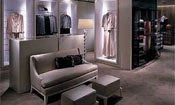 Shopping
The boutiques and shops along the Avenue of the Stars shopping promenade feature selections from brands that find a familiar home in a very sophisticated yet understated environment. Facets features a private space for guests to consider high-end jewelry purchases, and Apropos will continue to offer the line's popular logo items and resort wear.
Pools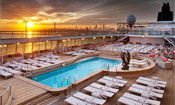 Seahorse Pool
Surrounded by teak decking, crisp white deck furniture and inviting sunbeds accented with citrus-hued cushions and throw pillows allow for added al fresco dining and conversational seating around Crystal's signature Seahorse Pool and Jacuzzi hot tub‐perfect spots to relax and unwind while enjoying life on the high seas.