Dining
Canaletto Restaurant
Named for the famous 18th-century Venetian artist, the award winning Canaletto Restaurant, adjacent to the Lido Restaurant dining area, serves classic Italian fare with tableside service for dinners only.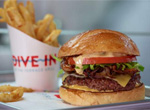 Dive-In
Dive in to a grilled burger on brioche or a Nathan's Famous gourmet hot dog. For alfresco dining by the pool, Dive-In has it all, including lighter fare like our grilled chicken breast sandwich and vegetarian-friendly portabella mushroom stack.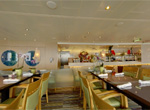 Lido Market
Lido Market provides a fresh, new approach to casual dining for breakfast, lunch or dinner, with a panoramic view of the sea. A modern marketplace with different themed stations, the Lido offers a curated selection of delicious options to grab on the go or to have quickly made to order.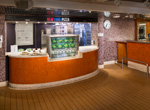 New York Pizza
Served up poolside: crisp Italian salads and personal pan pizzas made with a thin crust and a sauce so savory it does New York-style pizza proud.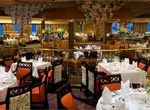 Rembrandt Main Dining Room
The Main Dining Room is a luxurious dining room that will serve you five-course menus with offerings from classic preparations regionally inspired cuisine to vegetarian options. You will have your choice of traditional pre-set seating and dining times or a flexible open schedule.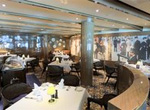 Sel de Mer
Sel de Mer ("sea salt," in French) is an intimate seafood brasserie offering a contemporary twist on French seafood classics, with à la carte dishes ranging from fresh oysters to salt-crusted whole fish to bouillabaisse. Available May 24, 2017.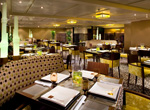 Tamarind Restaurant
Exotic dinner menus featuring dishes created by Master Chef Rudi Sodamin are categorized into the elements of water, fire, wood, and earth. Choose from selections such as snapper baked in rice paper, Penang red curry coconut chicken, wasabi and soy crusted beef tenderloin served on an oak plank, and sweet and sour vegetable tempura. Sushi & sashimi are also available to complement your dining experience.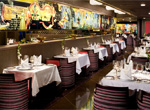 The Pinnacle Grill
The Pinnacle Grill offers a level of elegant sophistication unmatched anywhere on the seven seas. Beautifully appointed with Bvlgari china, Riedel stemware and Frette linens, the intimate Pinnacle Grill is ideal for a romantic dinner for two or a special group celebration.
Spa and Beauty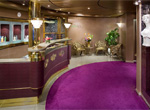 Greenhouse Spa
Of all the fascinating places you can visit with Holland America Line, none rejuvenates and relaxes like the Greenhouse Spa & Salon, featuring heavenly beauty and wellness rituals. Choose the blissful pampering of a facial therapy or let the trained fingers of a massage therapist sooth your muscles while working fragrant oils into your skin. Enjoy therapeutic water treatments as you steam in a thermal suite or bathe in herbs, all the while cruising to exotic destinations and enjoying the indulgences that are signature Holland America Line.
Onboard Activities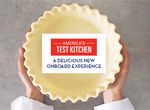 America's Test Kitchen
Coming soon in 2017, Holland America Line is teaming up with America's Test Kitchen to offer an enticing selection of live onboard cooking shows and hands-on workshops where guests will learn foolproof techniques and user-friendly recipes to make delectable dishes with confidence.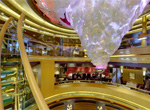 Atrium
Beautiful and elegant, The Atrium is the perfect spot to mingle, listen to piano ballads, or quite simply, just take in the magnificent center piece.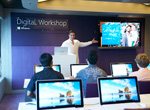 Digital Workshop, powered by Windows
Guests will be able to "show and tell" their vacation memories, learning how to share all their digital memories through email, blogging and social networking - so friends and family can see where they've been cruising even before they return home. Free workshops taught by Microsoft-trained "techsperts" make it easy and fun, even for novices.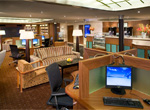 Explorations Cafe
The Explorations Cafe, powered by The New York Times offers a comfortable, coffee house environment where you can browse through one of the most extensive libraries at sea, view a wide array of audio and video programming, or simply read the morning paper. Guests can also enjoy fresh pastries and their favorite espresso drink provided by Torrefazione Italia.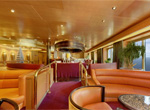 Explorer's Lounge
Savor refined coffees, drinks and liqueurs to the sounds of Adagio, a classical ensemble. Read a book, meet up with friends, or just simply sit back and relax.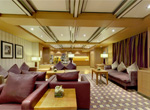 Neptune Lounge
Neptune Lounge features a private place to relax, socialize with other suite guests and enjoy the personalized service of a concierge. The fleet-wide lounges provide worktables, large screen television, library, sofas and chairs, refreshments throughout the day and Wi-Fi for a small charge. Exclusive amenity for guests cruising in Neptune (Category SA,SB,SC) and Pinnacle (Category PS) Suites.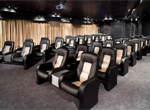 Screening Room
Screening Room is an ultra-plush 36-seat movie theater screening first-run films and special presentations.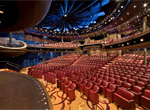 The Mainstage Show Lounge
Nights on board a Holland America Line ship glitter with choices. Begin the evening with drinks and dancing in the Ocean Bar. Watch a recent-release movie or try your luck at the blackjack table. Catch an extravagant Las Vegas style production in our state-of-the-art show lounge or visit one of our many lounges featuring live music and award-winning entertainment. You can find it all aboard a Holland America Line cruise.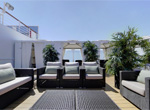 The Retreat
Your own private oasis located high above the rest...the exclusive Retreat cabanas are the ultimate place to relax surrounded by healthy refreshments and luxurious amenities.
Casino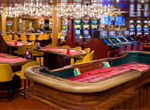 Casino
Aboard each cruise ship in the Holland America Line fleet, you can enjoy the latest in Las Vegas-style gaming and casino action. Whether you are an experienced gambler or rolling the dice for the first time, Holland America have games for all levels of players, as well as complimentary gaming lessons from friendly dealers for novices, and tournaments for advanced players.
Night Life
B.B. King's Blues Club
Direct from Beale Street, the B.B. King's All-Stars Band brings the best of Memphis music to sea. From funky and fast to soulful and smooth, this eight-piece band performs nightly in the Queen's Lounge.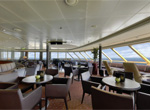 Crow's Nest Lounge
The Crow's Nest is a hip, fashionable gathering spot for cruise guests who enjoy vibrant nightlife. During the day, sweeping views make the observation lounge a top choice for relaxing, reading, and sightseeing from comfortable loungers facing out to the sea. In the evening, the Crow's Nest comes alive with a full-service bar and the latest music from top-notch DJs and great bands, with a video-wall system and a light show to make the dance floor explode with motion.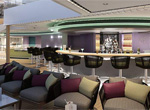 Lido Bar
Sip on your favorite refreshments poolside in shaded seating around the bar or delivered to your sunny chaise lounge.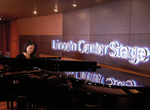 Lincoln Center Stage
In an exclusive partnership with the world's leading center for the performing arts, Lincoln Center Stage showcases outstanding live chamber music performances.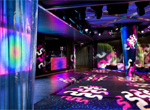 Northern Lights
This amazing night club offers guests a magical venue for late evening dancing.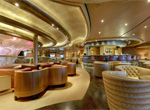 Ocean Bar
Enjoy cocktails and ocean views while listening to live string music here at the Ocean Bar.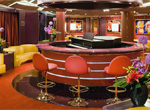 Piano Bar
Enjoy live keyboard music at the Piano Bar located on the Lower Promenade Deck.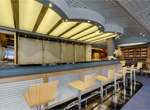 Pinnacle Bar
Organic lines blend with varied textures against a rich color backdrop in the Pinnacle Bar, creating a sophisticated aura that lends itself beautifully to an evening spent enjoying innovative cocktails, tantalizing light fare, and lively conversation with your friends and fellow guests.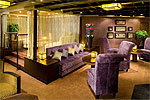 Silk Den Lounge
Get away from it all in this little cozy getaway called the Silk Den Lounge. Lounge around, talk with friends, or have a drink.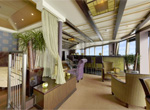 Tamarind Bar
Partake in exotic cocktails and sakétinis amid wraparound ocean views in the Tamarind Bar.
Youth Activities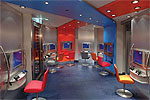 Club HAL Gameroom
Kids from all ages can come here to the game room and play all your favorite games.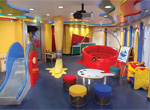 Club HAL Kids
Children, ages 3-7, can participate in such activities as story telling, fabric painting, indoor games, ship tours, arts and crafts, charades, Uno, drawing contests, ice-cream sundae parties, puzzles, bingo or a farewell pizza party. Children in the Kid's age group must be toilet trained. Children in pull-ups or diapers are not allowed in the youth facilities, due to mandates from US Public Health. Exceptions to this rule cannot be made.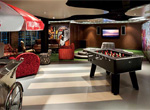 The Loft and The Oasis
Teens, ages 13-17 enjoy mocktail mixology classes, late night sporting competitions, teen yoga and hip hop classes, guys verses girls scavenger hunts, cooking demos, tech classes and teen only night club events. When there are more than 100 children on board, a HAL Talent Show is offered.
Sports and Fitness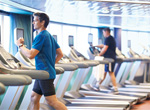 Fitness Center
Holland America Line generously proportioned teak decks are perfect for walkers and joggers, and when you are finished exercising, cool off in one of the pools. To maintain or achieve optimum health, work with one of their qualified personal trainers or take one of the fitness classes lead by knowledgeable instructors.
Shopping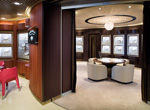 Shopping
Enjoy a wide variety of duty-free shopping in the Signature Shops such as Merabella, a luxury jewelry boutique featuring high-end watches and pieces from noted designers.
Pools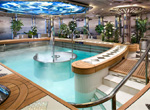 Hydro Pool
Take soothing dip at the Hydro Pool located at the Greenhouse Spa. You will enjoy a private experience and massaging jet streams.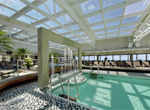 Lido Pool
Warm days with light, salty breezes are made for lounging poolside with an icy beverage in one hand and an epic novel in the other. Does this count as doing something or doing nothing? You'll soon know...