Dining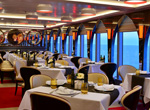 Canaletto
This authentic Italian restaurants offers a menu that celebrates spartire (Italian for "sharing"). Try Braised Chicken Cacciatore "al Forno," Branzino ai Ferri or a classic Italian pasta: spaghetti pomodoro or garlic shrimp-infused ravioli, perhaps. Buon appetito!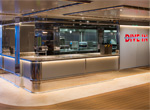 Dive-In
Dive in to a grilled burger on brioche or a Nathan's Famous gourmet hot dog. For alfresco dining by the pool, Dive-In has it all, including lighter fare like the grilled chicken breast sandwich and vegetarian-friendly portabella mushroom stack.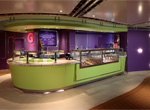 G Gelato
Enjoy this classic European dessert on ms Koningsdam, made fresh on board in a variety of delicious flavors and styles.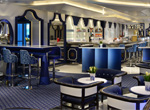 Grand Dutch Cafe
Inspired by Holland America's Dutch heritage and complemented with blue-and-white Delftware, the Grand Dutch Cafe is the perfect place to enjoy a fine pint of lager or your favorite coffee drink, along with a traditional savory Dutch snack.
Lido Market
Lido Market provides a fresh, new approach to casual dining for breakfast, lunch or dinner, with a panoramic view of the sea. A modern marketplace with different themed stations, the Lido offers a curated selection of delicious options to grab on the go or to have quickly made to order.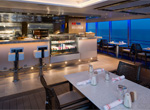 New York Pizza
Served up poolside: crisp Italian salads and personal pan pizzas made with a thin crust and a sauce so savory it does New York-style pizza proud.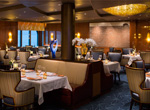 Pinnacle Grill
Enjoy dishes inspired by America's Pacific Northwest, such as king salmon from Alaska and choice, responsibly raised beef from Washington State's Double R Ranch. Complement your meal with a selection of boutique wines from the Pacific Northwest and other celebrated vineyards from around the world.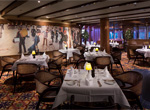 Sel de Mer
Sel de Mer ("sea salt," in French) is an intimate seafood brasserie offering a contemporary twist on French seafood classics, with à la carte dishes ranging from fresh oysters to salt-crusted whole fish to bouillabaisse.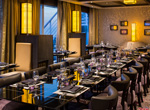 Tamarind
Tamarind delights diners with exotic menus evoking the culinary traditions of Southeast Asia, China and Japan. Lunch includes tantalizing items such as steamed dim sum and spicy crab. Exotic dinner menus created by Master Chef Rudi Sodamin feature dishes honoring the elements of water, wood, fire and earth.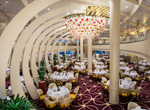 The Dining Room
Menus in the Dining Room will reflect the latest signature dishes from the influential chefs who comprise the Culinary Council, along with classic favorites, vegetarian options, and regionally inspired cuisine.
Spa and Beauty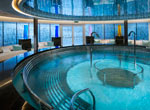 Greenhouse Spa & Salon
This tranquil contemporary spa is a haven of luxurious beauty salon and spa treatments, featuring thermal pools, heated ceramic lounges and treatment rooms facing the sea.
Onboard Activities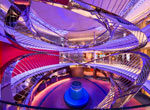 Atrium
Beautiful and elegant, The Atrium is the perfect spot to mingle, listen to piano ballads, or quite simply, just take in the magnificent center piece.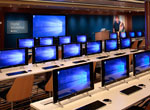 Digital Workshop
Digital Workshop offers fun, free and informative technology advice and instruction. From photo editing and movie/slide show creation, PC organization, Cloud Storage and security, choose to attend all or drop in as you please. Each session is offered several times throughout each cruise.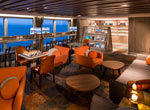 Exploration's Cafe
Relax in the comfortable coffeehouse atmosphere of Exploration's Cafe, powered by The New York Times, featuring the daily crossword puzzle, custom espresso drinks and pastries, and a comprehensive selection of books and travel guides.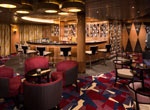 Explorer's Lounge
A refined place for coffees, drinks and liqueurs. Go to the Explorer's Lounge to meet up with your new found friends.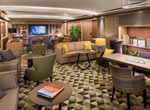 Neptune Lounge
Neptune Lounge features a private place to relax, socialize with other suite guests and enjoy the personalized service of a concierge. The fleet-wide lounges provide worktables, large screen television, library, sofas and chairs, refreshments throughout the day and Wi-Fi for a small charge. Exclusive amenity for guests cruising in Neptune (Category SA,SB,SC) and Pinnacle (Category PS) Suites.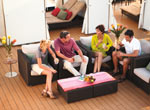 The Retreat
Book a cabana and spend your sea days enjoying a private retreat on deck. Each spacious tent features relaxing gathering areas and attentive staff. A favorite with families and groups.
Casino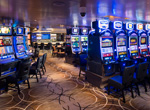 Casino
From perennially popular slot machines and blackjack tables to the latest in sophisticated gaming, the Koningdam's casino is well-equipped and staffed with professionals eager to help guests learn new skills.
Night Life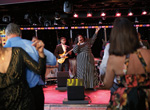 B.B. King's Blues Club
Direct from Beale Street, the B.B. King's All-Stars Band brings the best of Memphis music to sea. From funky and fast to soulful and smooth, this eight-piece band performs nightly in the Queen's Lounge.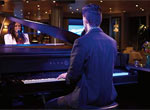 Billboard Onboard
Guests are part of the show as live musicians rock the crowd with 50 years of chart-topping hits. Between nightly sets, guests can sing and play along with trivia questions presented on screens throughout the room.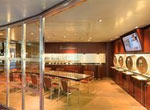 BLEND by Chateau Ste. Michelle
Wine connoisseurs and novices alike can experience the art of winemaking at BLEND aboard ms Koningsdam. In collaboration with Chateau Ste. Michelle, Washington State's oldest and most acclaimed winery, the intimate venue will enable guests to blend their own wine and enjoy it at dinner or in the privacy of their stateroom.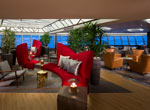 Crow's Nest Lounge
The Crow's Nest is a hip, fashionable gathering spot for cruise guests who enjoy vibrant nightlife. During the day, sweeping views make the observation lounge a top choice for relaxing, reading, and sightseeing from comfortable loungers facing out to the sea. In the evening, the Crow's Nest comes alive with a full-service bar and the latest music from top-notch DJs and great bands, with a video-wall system and a light show to make the dance floor explode with motion.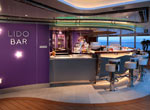 Lido Bar
Sip on your favorite refreshments poolside in shaded seating around the bar or delivered to your sunny chaise lounge.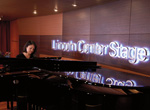 Lincoln Center Stage
In an exclusive partnership with the world's leading center for the performing arts, Lincoln Center Stage showcases outstanding live chamber music performances.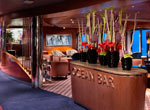 Ocean Bar
Enjoy cocktails and ocean views while listening to live string music here at the Ocean Bar.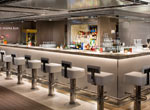 Panorama Bar
Enjoy your favorite cocktails and banter with your fellow passengers in the sleek and refined Panorama Bar.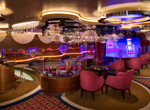 Queen's Lounge
By day, the beautiful room hosts presentations, speakers, and other activities, and can also accommodate special entertainment events. And following the evening's entertainment, the Queen's Lounge transforms yet again, into a late-night dance club fueled by state-of-the-art sound and special LED lighting effects.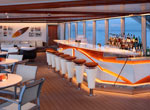 Sea View Bar
Featuring ocean views, comfortable seating and excellent service, don't be surprised when your bartender remembers your name and your drink of choice.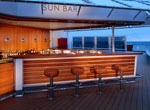 Sun Bar
Order a refreshing cocktail after soaking in the sun and taking a dip in the pool at the Sun Bar.
Youth Activities
Club HAL
Kids ages 3-7: Younger cruisers enjoy activities such as pirate treasure hunts, pizza making, storytelling and "Little Artists" crafts. 'Tweens ages 8-12: 'Tweens can take part in video game tournaments, relay races, culinary workshops, karaoke dance parties and more..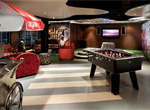 The Loft and The Oasis
Teens have their own places to hang out in The Loft and The Oasis for late-night sporting competitions, yoga and dance classes, cooking demos and teens-only nightclub events.
Sports and Fitness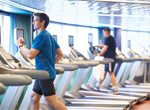 Fitness Center
The spacious, professionally-staffed Fitness Center is equipped with the latest cardio and weight machines and features fitness classes in yoga, Pilates and more. Two refreshing outdoor pools also await, along with a jogging track and sport courts on deck.
Shopping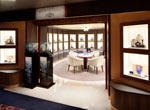 Merabella
Guests looking for something unique and special will discover rare and elegant jewelry, timepieces and original works of art created by selected designers at Holland America Line's Merabella Luxury Boutique.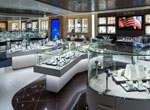 The Signature Shops
Enjoy a wide variety of duty-free shopping in the Signature Shops such as Merabella, a luxury jewelry boutique featuring high-end watches and pieces from noted designers.