Dining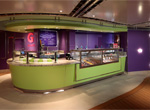 G GELATO
Enjoy this classic European dessert, made fresh on board in a variety of delicious flavors and styles.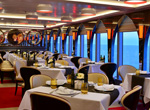 CANALETTO
This authentic Italian restaurants offers a menu that celebrates spartire (Italian for "sharing"). Try Braised Chicken Cacciatore "al Forno," Branzino ai Ferri or a classic Italian pasta: spaghetti pomodoro or garlic shrimp-infused ravioli, perhaps. Buon appetito!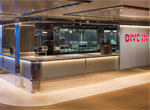 DIVE-IN
Dive in to a grilled burger on brioche or a Nathan's Famous gourmet hot dog. For alfresco dining by the pool, Dive-In has it all, including lighter fare like the grilled chicken breast sandwich and vegetarian-friendly portabella mushroom stack.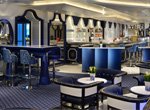 GRAND DUTCH CAFE
Inspired by Holland America's Dutch heritage and complemented with blue-and-white Delftware, the Grand Dutch Cafe is the perfect place to enjoy a fine pint of lager or your favorite coffee drink, along with a traditional savory Dutch snack.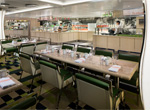 LIDO MARKET
Lido Market provides a fresh, new approach to casual dining for breakfast, lunch or dinner, with a panoramic view of the sea. A modern marketplace with different themed stations, the Lido offers a curated selection of delicious options to grab on the go or to have quickly made to order.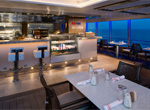 NEW YORK PIZZA
Served up poolside: crisp Italian salads and personal pan pizzas made with a thin crust and a sauce so savory it does New York-style pizza proud.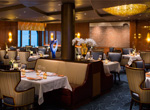 PINNACLE GRILL
Enjoy dishes inspired by America's Pacific Northwest, such as king salmon from Alaska and choice, responsibly raised beef from Washington State's Double R Ranch. Complement your meal with a selection of boutique wines from the Pacific Northwest and other celebrated vineyards from around the world.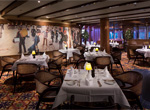 SEL DE MER
Sel de Mer ("sea salt," in French) is an intimate seafood brasserie offering a contemporary twist on French seafood classics, with à la carte dishes ranging from fresh oysters to salt-crusted whole fish to bouillabaisse.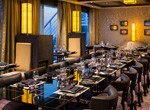 TAMARIND
Tamarind delights diners with exotic menus evoking the culinary traditions of Southeast Asia, China and Japan. Lunch includes tantalizing items such as steamed dim sum and spicy crab. Exotic dinner menus created by Master Chef Rudi Sodamin feature dishes honoring the elements of water, wood, fire and earth.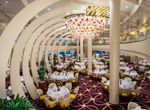 THE DINING ROOM
Menus in the Dining Room will reflect the latest signature dishes from the influential chefs who comprise the Culinary Council, along with classic favorites, vegetarian options, and regionally inspired cuisine.