Dining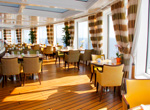 Canaletto
This authentic Italian restaurants offers a menu that celebrates spartire (Italian for "sharing"). Try Braised Chicken Cacciatore "al Forno," Branzino ai Ferri or a classic Italian pasta: spaghetti pomodoro or garlic shrimp-infused ravioli, perhaps. Buon appetito!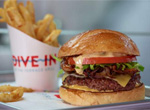 Dive-In
Dive in to a grilled burger on brioche or a Nathan's Famous gourmet hot dog. For alfresco dining by the pool, Dive-In has it all, including lighter fare like our grilled chicken breast sandwich and vegetarian-friendly portabella mushroom stack.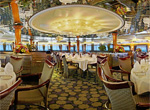 La Fontaine Dining Room
Elegance redefined in muted tones and soft lights -- the La Fontaine Dining Room offers award-winning dining at breakfast, lunch and dinner. Aromatic soups, seasonal fish and succulent meats, crisp salads and divine desserts grace a fresh, imaginative menu.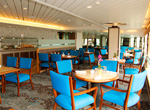 Lido Market
Lido Market provides a fresh, new approach to casual dining for breakfast, lunch or dinner, with a panoramic view of the sea. A modern marketplace with different themed stations, the Lido offers a curated selection of delicious options to grab on the go or to have quickly made to order.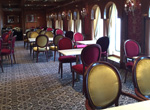 Pinnacle Grill
Guests who dine at the intimate, reservations-only Pinnacle Grill enjoy a dining experience themed to reflect the Pacific Northwest. Candlelight and fine decor create a romantic ambiance that sets the stage for fresh Northwest dishes and select wines.
Spa and Beauty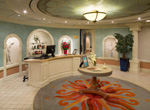 Greenhouse Spa
Of all the fascinating places you can visit with Holland America Line, none rejuvenates and relaxes like the Greenhouse Spa & Salon, featuring heavenly beauty and wellness rituals. Choose the blissful pampering of a facial therapy or let the trained fingers of a massage therapist sooth your muscles while working fragrant oils into your skin. Enjoy therapeutic water treatments as you steam in a thermal suite or bathe in herbs, all the while cruising to exotic destinations and enjoying the indulgences that are signature Holland America Line.
Onboard Activities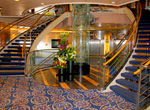 Atrium
Beautiful and elegant, The Atrium is the perfect spot to mingle, listen to piano ballads, or quite simply, just take in the magnificent center piece.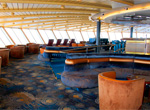 Crow's Nest
The lively Crow's Nest offers a world-class view of the course ahead. A piano serenade, a lively conversation, a cocktail before dinner, a nightcap afterwards -- with these sweeping ocean vistas, you'll never forget you're at sea.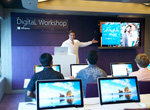 Digital Workshop, powered by Windows
Guests will be able to "show and tell" their vacation memories, learning how to share all their digital memories through email, blogging and social networking - so friends and family can see where they've been cruising even before they return home. Free workshops taught by Microsoft-trained "techsperts" make it easy and fun, even for novices.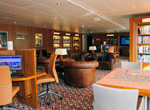 Explorations Cafe
The Explorations Cafe, powered by The New York Times offers a comfortable, coffee house environment where you can browse through one of the most extensive libraries at sea, view a wide array of audio and video programming, or simply read the morning paper. Guests can also enjoy fresh pastries and their favorite espresso drink provided by Torrefazione Italia.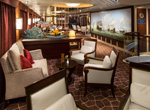 Explorer's Lounge
Calming hues and a restful atmosphere -- these are the essential ingredients for the understated elegance of the Explorer's Lounge. This meeting place for friends old and new offers intimate seating for small gatherings.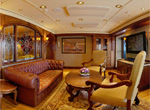 Neptune Lounge
Neptune Lounge features a private place to relax, socialize with other suite guests and enjoy the personalized service of a concierge. The fleet-wide lounges provide worktables, large screen television, library, sofas and chairs, refreshments throughout the day and Wi-Fi for a small charge. Exclusive amenity for guests cruising in Neptune (Category SA, SB) and Pinnacle (Category PS) Suites.
Casino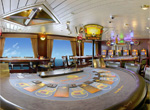 Casino
Whether you are an experienced gambler or rolling dice for the first time, our Casino offers games for all levels as well as complimentary lessons from our friendly dealers and tournaments for veteran player.
Night Life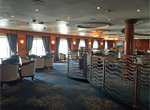 Ocean Bar
Enjoy cocktails and ocean views while listening to live string music here at the Ocean Bar.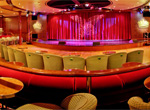 The Showroom at Sea
Catch an extravagant Las Vegas style production in our state-of-the-art show lounge or visit one of the many lounges featuring live music and award-winning entertainment. You can find it all aboard a Holland America Line cruise.
Youth Activities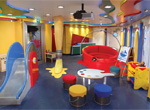 Club HAL
Creativity and fun are everywhere for kids ages 3-12. Supervised by permanent, full-time directors and staff, children can meet friends and enjoy a variety of safe and entertaining choices.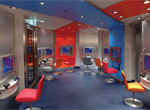 Club HAL Gameroom
Kids from all ages can come here to the game room and play all their favorite games.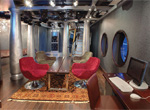 The Loft
Teens, ages 13-17 enjoy mocktail mixology classes, late night sporting competitions, teen yoga and hip hop classes, guys verses girls scavenger hunts, cooking demos, tech classes and teen only night club events. When there are more than 100 children on board, a HAL Talent Show is offered.
Sports and Fitness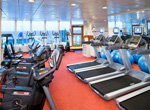 Fitness Center
Holland America Line makes it easy for you to stay fit and trim while on your journey with fully equipped fitness centers and sports courts. Fitness centers aboard each ship include exercise and weight training equipment, and sports courts may include tennis, volleyball or basketball. Their broad, generously proportioned teak decks are perfect for walkers and joggers, and when you are finished exercising, cool off in one of our pools. To maintain or achieve optimum health, work with one of many qualified personal trainers or take one of the fitness classes lead by knowledgeable instructors.
Pools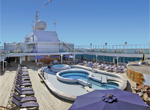 Lido Pool
Warm days with light, salty breezes are made for lounging poolside with an icy beverage in one hand and an epic novel in the other. Does this count as doing something or doing nothing? You'll soon know...