Dining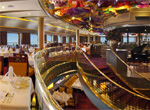 Canaletto
This authentic Italian restaurants offers a menu that celebrates spartire (Italian for "sharing"). Try Braised Chicken Cacciatore "al Forno," Branzino ai Ferri or a classic Italian pasta: spaghetti pomodoro or garlic shrimp-infused ravioli, perhaps. Buon appetito!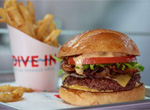 Dive-In
Dive in to a grilled burger on brioche or a Nathan's Famous gourmet hot dog. For alfresco dining by the pool, Dive-In has it all, including lighter fare like our grilled chicken breast sandwich and vegetarian-friendly portabella mushroom stack.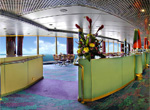 Lido Market
Lido Market provides a fresh, new approach to casual dining for breakfast, lunch or dinner, with a panoramic view of the sea. A modern marketplace with different themed stations, the Lido offers a curated selection of delicious options to grab on the go or to have quickly made to order.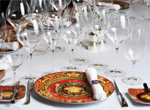 Master Chef's Table
Available on 8+ night cruises, the Master Chef's Room is the ultimate culinary experience on board. Designed by Holland America Line Master Chef Rudi Sodamin, the seven course set menu highlights his talents and culinary creations.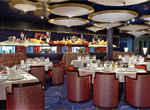 Pinnacle Grill
Guests who dine at the intimate, reservations-only Pinnacle Grill enjoy a dining experience themed to reflect the Pacific Northwest. Candlelight and fine decor create a romantic ambiance that sets the stage for fresh Northwest dishes and select wines.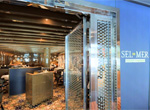 Sel de Mer
Coming in 2017. Sel de Mer ("sea salt," in French) is an intimate seafood brasserie offering a contemporary twist on French seafood classics, with à la carte dishes ranging from fresh oysters to salt-crusted whole fish to bouillabaisse.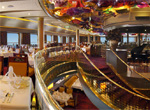 Vista Dining Room
Holland's elegant Vista Dining Room, graced with sophisticated Rosenthal china and crisp white linens, offers fine dining in a luxurious setting with fine art and antiques. During your cruise, dine on five-course menus creations designed by Master Chef Rudi Sodamin.
Spa and Beauty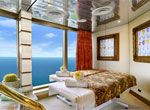 Greenhouse Spa
Of all the fascinating places you can visit with Holland America Line, none rejuvenates and relaxes like the Greenhouse Spa & Salon, featuring heavenly beauty and wellness rituals. Choose the blissful pampering of a facial therapy or let the trained fingers of a massage therapist sooth your muscles while working fragrant oils into your skin. Enjoy therapeutic water treatments as you steam in a thermal suite or bathe in herbs, all the while cruising to exotic destinations and enjoying the indulgences that are signature Holland America Line.
Onboard Activities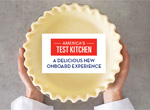 America's Test Kitchen
Holland America Line is teaming up with America's Test Kitchen to offer an enticing selection of live onboard cooking shows and hands-on workshops where guests will learn foolproof techniques and user-friendly recipes to make delectable dishes with confidence.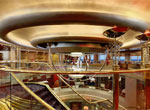 Atrium
Beautiful and elegant, The Atrium is the pefect spot to mingle, listen to piano ballads, or quite simply, just take in the magnificent center piece.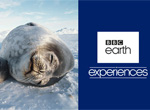 BBC Earth Experiences
Enjoy exclusive BBC Earth Natural History content on board. Learn about the ocean and natural world through amazing concerts, films, shows, children's activities and featured cruises.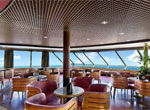 Crow's Nest
The lively Crow's Nest offers a world-class view of the course ahead. A piano serenade, a lively conversation, a cocktail before dinner, a nightcap afterwards -- with these sweeping ocean vistas, you'll never forget you're at sea.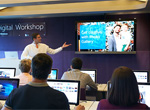 Digital Workshop, powered by Windows
Guests will be able to "show and tell" their vacation memories, learning how to share all their digital memories through email, blogging and social networking - so friends and family can see where they've been cruising even before they return home. Free workshops taught by Microsoft-trained "techsperts" make it easy and fun, even for novices.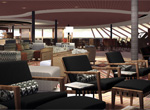 EXC: Explorations Central
Holland America Line is amplifying its destination immersion experiences with the launch of Explorations Central, or EXC, as it will be called. The multifaceted EXC experience combines a wide array of indispensable travel resources with enrichment opportunities for guests that make their travel experience more engaging, vivid and meaningful.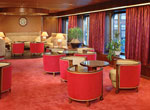 Explorer's Lounge
Club chairs in rose and taupe brocade, mood lighting and picture windows -- these are essential ingredients for the understated elegance of the Explorer's Lounge. This meeting place for friends old and new offers intimate seating for small gatherings.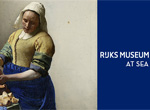 Rijksmuseum at Sea
The Rijksmuseum, Amsterdam's grand museum and home to more than 8,000 artworks in 80 galleries, is coming aboard the Holland America Line fleet. Rijksmuseum at Sea will feature a bright studio space featuring life-sized reproductions of artworks from the Rijksmuseum, drawing tables, sketch books, pencils, friendly instructors and everything guests need to create their own masterpieces.
Casino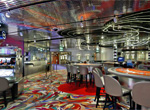 Casino
Zingy and thrilling, the Casino offers slots, blackjack, roulette and poker for your evening's entertainment. New to the lively pulse of casino action? Start with a workshop to familiarize yourself with the ins and outs, and the friendly staff will show you to the games when you're ready.
Night Life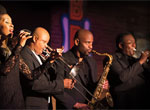 B.B. King's Blues Club
Direct from Beale Street, the B.B. King's All-Stars Band brings the best of Memphis music to sea. From funky and fast to soulful and smooth, this eight-piece band performs nightly in the Queen's Lounge.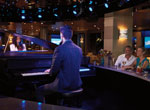 Billboard Onboard
Guests are part of the show as live musicians rock the crowd with 50 years of chart-topping hits. Between nightly sets, guests can sing and play along with trivia questions presented on screens throughout the room.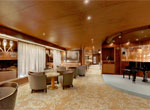 Explorer's Bar
Enjoy your favorite cocktails to the sounds of Adagio, a classical ensemble.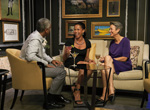 Gallery Bar
The sophisticated venue, serves an exclusive cocktail menu by celebrity mixologist Dale DeGroff and is adorned with an eclectic and whimsical mix of artwork including portraits, landscapes, still-life and abstract pieces.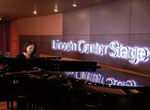 Lincoln Center Stage
In an exclusive partnership with the world's leading center for the performing arts, Lincoln Center Stage showcases outstanding live chamber music performances.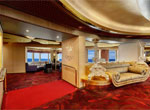 Ocean Bar
Warm wood tones and maritime motifs bring seasoned seafarers to the Ocean Bar. Rub shoulders with other "old salts" as you swap tales of journeys past.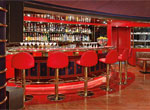 Pinnacle Bar
Order your favorite cocktails or have the bartender create something new for you at the Pinnacle Bar, located in the Lower Promenade deck.
Vista Show Lounge
Smart and sophisticated, the Vista Show Lounge whispers excitement long before the curtain rises. Watch a dazzling off-Broadway show and, in a blaze of light and color, you are instantly transported into another world.
Youth Activities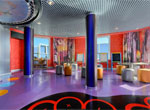 Club HAL
Children, ages 3-7, can participate in such activities as story telling, fabric painting, indoor games, ship tours, arts and crafts, charades, Uno, drawing contests, ice-cream sundae parties, puzzles, bingo or a farewell pizza party.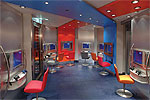 Game Room
Kids from all ages can come here to the game room and play all your favorite games.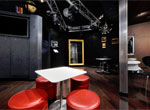 The Loft
Teens, ages 13-17, enjoy mocktail mixology classes, late night sporting competitions, teen yoga and hip hop classes, guys verses girls scavenger hunts, cooking demos, tech classes and teen only night club events. When there are more than 100 children on board, a HAL Talent Show is offered.
Sports and Fitness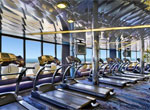 Fitness Center
Work out on the high seas in a state-of-the-art fitness center complete with machines, free weights, cardio equipment and a personal training consultant. Afterwards, re-hydrate yourself at the juice bar. On offer are carrot, apple, pineapple or vegetable blends -- good-for-you nectar of the gods!
Pools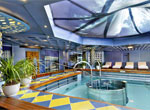 Hydro Pool
Take soothing dip at the Hydro Pool located at the Greenhouse Spa. You will enjoy a private experience and massaging jet streams.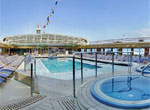 Lido Pool
Warm days with light, salty breezes are made for lounging poolside with an icy beverage in one hand and an epic novel in the other. Does this count as doing something or doing nothing? You'll soon know...