Honolulu Cruises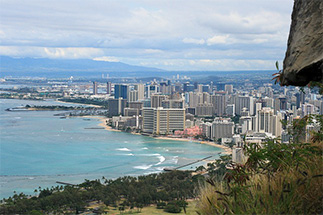 Average Yearly High Temperature in Fahrenheit (&degF)

| Jan | Feb | Mar | Apr | May | Jun | Jul | Aug | Sep | Oct | Nov | Dec |
| --- | --- | --- | --- | --- | --- | --- | --- | --- | --- | --- | --- |
| 80 | 80 | 81 | 83 | 85 | 87 | 88 | 89 | 89 | 87 | 84 | 81 |
Show Honolulu Sailings
Overview
Honolulu is the capital and largest city in Hawaii. It is home to two cruise terminal ports. Most cruise ships dock at the Aloha Tower Marketplace, except for Norwegian Cruise Line's Pride of America, which is in Honolulu all year and docks at Pier 2, about a quarter mile south of the Aloha Tower. Honolulu is the cultural, educations, dining, shopping, business and entertainment hub of the Aloha state.
Things to Do
Iconic Neighborhoods
Ala Moana-Located on the southern shores of Oahu, in between the cruise terminal and Waikiki beach is the Ala Monana. Shop at one of the largest open air shopping malls in the world and relax at the Ala Moana beach park, dedicated by FDR.
Downtown-Home of giant skyscrapers in and the Hawaii State Art Museum, downtown Honolulu is a bustling entertainment and business hub.
Hotels
Aston at the Executive Centre Hotel
Address: 1088 Bishop St, Honolulu, HI 96813
Phone: (808) 539-3000
0.4 miles from Cruise Terminal
Castle Resorts & Hotels Inc
Address: 500 Ala Moana Blvd ste 3-555, Honolulu, HI 96813
Phone:(808) 545-3510
0.5 miles from Cruise Terminal
Activities
The Aloha Tower served as a welcoming beacon beginning in 1926. It was the tallest building in the island for 40 years and today travelers can climb to the 10th floor Observation Deck for spectacular views of the harbor and the cityscape of Honolulu.
About 2.5 miles away from the cruise port is the world famous Waikiki beach. This vibrant neighborhood is the perfect place to surf, shop designer fashion, dine at waterfront restaurants or relax in the sand.
Family Friendly
The Children's Discovery Center is the perfect place for kids to be creative and use their imaginations to learn and play. The Center inspires young ones to use their senses to help them understand the world.
Give children a glimpse in to some of the world's most exotic wildlife at the Honolulu Zoo. The whole family will love exploring the 42 acres and seeing native animals in their natural habitat.
Driving Directions
Port of Honolulu
Aloha Tower Marketplace
1 Aloha Tower Dr.
Honolulu, Hawaii 96813
Pier 2 Cruise Terminal
521 Ala Moana Boulevard
Honolulu, Hawaii 96813
Parking:
Aloha Tower Marketplace was self-parking and valet parking. At Irwin Park, across from the main entrance to the Marketplace, there is also self-parking. Piers 5 and 6 are located close by and have more parking available.
Directions from Honolulu International Airport to Port of Honolulu

Go NORTH on RODGERS BLVD toward N NIMITZ HWY.
Turn LEFT onto N NIMITZ HWY
Take the HI-92 W
Keep RIGHT at the fork in the ramp.
Keep LEFT at the fork in the ramp.
Turn LEFT onto CENTER DR.
Turn RIGHT onto N NIMITZ HWY
Turn LEFT onto SOUTH AVE.
Turn RIGHT onto PAUL HAMILTON AVE.
Turn LEFT onto PORT ROYAL ST.
Finally end at Port of Honolulu