Dining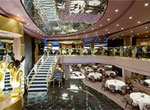 Black and White Crab Restaurant
Enjoy fantastic dinner options while you cruise to your next destination here at the Black and White Crab Restaurant.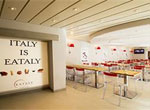 Eataly Steakhouse
Informal Italian Steakhouse serving select prime cuts of guaranteed-origin La Granda Piedmont and Angus beef, complemented by the finest traditional Italian delicacies and an array of astonishing meat and fish specialties, including MSC's very own Divina fish and seafood soup.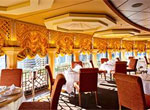 Le Muse Restaurant
Le Muse restaurant features some of the best views anywhere on the ship.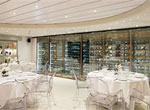 Ristorante Italia
Savor the vibrant full flavors and sumptuous textures that have made Italian cuisine one of the best loved and healthiest in the world at Ristorante Italia.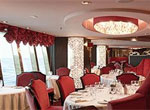 Villa Rossa Panoramic Restaurant
With panoramic views while you dine, the Villa Rossa Panoramic Restaurant offers the best choices of Mediterranean and international specialties.
Spa and Beauty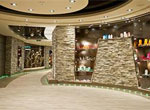 MSC Aurea Spa
Relax and pamper yourself at the MSC Aurea Spa. The spa offers specialized treatments targeted for various purposes including anti-wrinkle facial treatments, firming and exfoliating all-over body treatments and several types of massage incorporating shiatsu, reflexology and sports therapy.
Onboard Activities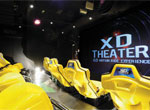 4D Cinema
Make way to this awesome 4D Cinema adventure that's full of fun for you and your kids.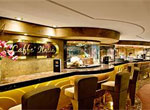 Caffe Italia
The perfect pitstop to get caffeinated while you are cruising or a pick-me-up late in the afternoon.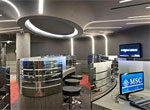 Cyber Café
Stay up to date with the news, catch up with your friends through email or social media, or just browse the web at the Cyber Café.
F1 Simulator
Try out your racing skills on this F1 Simulator and see if you got what it takes to be an F1 racer.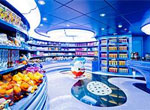 La Caramella Shop
If you are having that sweet tooth craving, look no more and head to La Caramella where you can check out all the fine candy.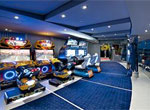 Video Arcade
Kids can enjoy high-tech gaming attractions like Virtual World and other video arcade games onboard.
Casino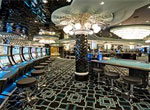 Casino Veneziano
Vegas lighting and casino sounds make this spot enjoyable while cruising at sea.
Night Life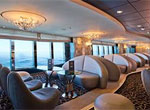 Black and White Lounge
The Black and White Lounge is the perfect spot for those who want to relax and enjoy a drink or two.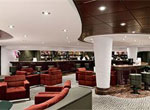 Divina Bar
If you want that special drink or just a cold beer, La Divina Bar is the place to go.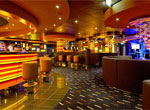 Golden Jazz Bar
The perfect late night place to hang out and listen to the sounds of jazz.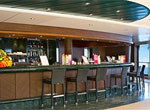 Le Sirene Bar
Located next to the pool, Le Sirene Bar is the perfect spot for those who want to take a break from swimming with a refreshing cocktail.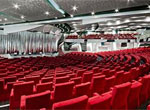 Pantheon Theatre
Don't forget to catch a show here at the Pantheon Theater. The shows are changed daily so don't miss a single one.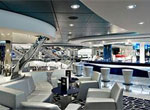 Silver Lounge Bar
Lounge, mingle, or just relax here at the Silver Lounge Bar. Enjoy exotic drinks and performances.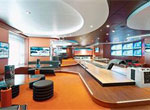 Sports Bar
Enjoy some American-style sports bar dining as you follow your favorite events on the big screen. Then challenge your friends to console gaming, mini-bowling and more!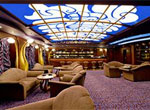 The Cigar Lounge
A cigar is much more than meets the eye. It's a uniquely opulent experience, savored slowly, that involves all the senses in incomparable intensity.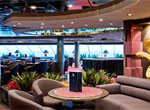 Top Sail Lounge
Exclusive to the MSC Yacht Club, the Top Sail Lounge is an elegant lounge spanning the upper foredeck, offering spectacular panoramic views in exceptional comfort.
Sports and Fitness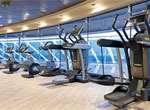 MSC Aurea Spa Gym
Stay in shape at the gym. You can admire the panorama, burn off the calories and keep in shape. Whether you prefer to train alone, love a workout in company or live to compete, you'll find just what you need.
Pools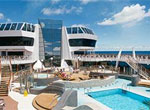 Aqua Park
Splash around with the kids at Aqua Park, MSC Divina's interactive water attraction at sea.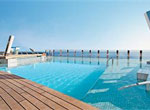 The Garden Pool
Refresh yourself by swimming some laps or lounge under sun at the pool.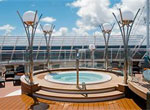 Whirlpools
Get a nice tan under the sun while relaxing in one of the two whirlpools on the MSC Divina.