Dining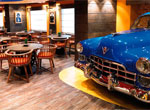 El Sombrero Tex Mex Restaurant
For lovers of spicy food, El Sombrero Tex Mex is the right choice. Sample all the tastes of Mexican cuisine: from Texas steaks to enchiladas, fajitas to burritos and tacos, guacamole to tortillas, all accompanied by Mexican beer, Tequila and Margaritas. The full-view kitchen completes the traditional atmosphere of this restaurant.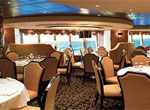 Il Cerchio d'Oro Restaurant
Il Cerchio d'Oro restaurant, on the ship's stern, features a breathtaking panorama which inspired the theme of transparency and light used in the restaurant design. This restaurant offers an assorted Mediterranean menu, including light choices and options that are always available, to satisfy those who know what they want each day.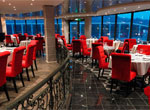 L'Etoile Restaurant
For those who seek a romantic atmosphere, L'Etoile restaurant, inspired by the Parisian Belle Epoque era with a la carte French cuisine, is the ideal choice with its soft lighting and the glow of candlelight.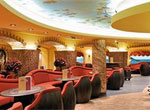 La Cantina Toscana
Savor the vibrant full flavors and sumptuous textures that have made Italian cuisine one of the best loved and healthiest in the world at La Cantina Toscana.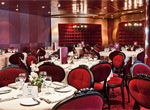 Red Velvet Restaurant
Red Velvet restaurant is distinguished by the attention paid to the details of its furnishings, from red velvet cushions to Murano glass chandeliers, refined porcelain to crystal glasses and silver flatware. Every evening, Red Velvet offers a different menu to celebrate an Italian region with its typical cuisine and most renowned wines.
Spa and Beauty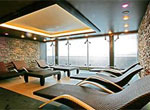 Aurea Spa
Relax your mind, body, and soul at the Aurea Spa. With a variety of treatments and services, this is the place to relax.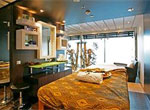 Massage Room
If a massage is what you are looking, look no further. This is the perfect way to top off your vacation.
Onboard Activities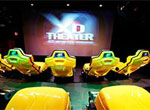 4D Cinema
Make way to this awesome 4D Cinema adventure that's full of fun for you and your kids.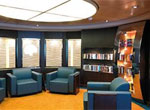 Cyber Library
Read the latest articles on the newspapers, browse the magazines, or indulge yourself by getting lost in your favorite book.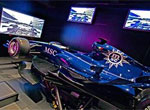 F1 Simulator
Try out your racing skills on this F1 Simulator and see if you got what it takes to be an F1 racer.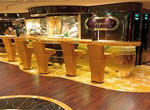 Il Cappuccino Coffee Bar
The perfect pitstop to get caffeinated while you are cruising or a pick-me-up late in the afternoon.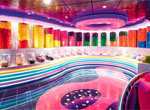 La Caramella Shop
Your sweet tooth have a craving? Well stop by La Caramella and choose from your favorite candies.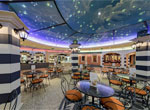 Piazza San Giorgio
Everything from exquisite mini pastries to rich chocolate desserts and luscious cups of genuine Italian ice cream. Sit back and let time float by as you savor heaven on earth in a classic Italian town square ambience.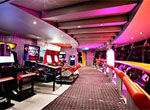 Virtual World
Got some time to kill? Head out to Virtual World and have some arcade fun.
Casino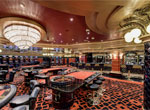 Casino delle Palme
Press your luck here at Casino delle Palme where you might just walk out a winner.
Night Life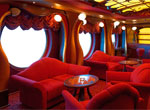 Cigar Lounge
Pack your cigars and don't miss the Cigar Lounge where you can relax and smoke the night away.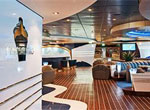 Il Transatlantico Piano Bar
The perfect late night place to hang out and listen to the sounds of the piano while you drink your favorite cocktail.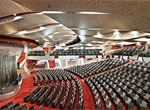 L'Avanguardia Theatre
To make your evening more enjoyable, catch a show here at L'Avanguardia Theater. Differnt shows daily that will keep you entertained on your vacation.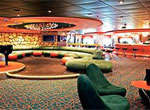 L'Insolito Lounge
Lounge, mingle, or just relax here at the L'Insolito Lounge. Enjoy exotic drinks and performances.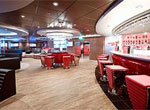 Sports Bar
A sports-inspired menu is available at the Sports Bar, featuring international dishes and imaginative snacks, such as grilled Yorkshire ham delicacies or Greek shrimp kebabs. It also serves a wide selection of the most popular international long drinks and beers.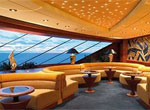 Top Sail Lounge
Exclusive to the MSC Yacht Club, the Top Sail Lounge is an elegant lounge spanning the upper foredeck, offering spectacular panoramic views in exceptional comfort.
Sports and Fitness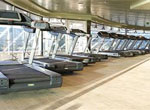 MSC Aurea Spa Fitness Center
Stay in shape at the gym. You can admire the panorama, burn off the calories and keep in shape. Whether you prefer to train alone, love a workout in company or live to compete, you'll find just what you need.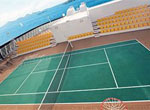 Sports Center
Stroll around the deck or run on the jogging track. Work out at the gym or try out one of the aerobic and step classes offered on board. You can also, play a game of tennis or volleyball.
Pools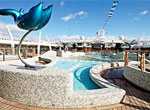 Swimming Pool
The swimming pool is just what you need to cool off and enjoy life in the sun.