Dining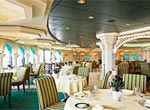 L'Olivo
L'Olivo offers select delicacies from Algeria, Croatia, Cyprus, Egypt, France, Greece, Israel, Italy, Libya, Morocco, Portugal, Spain, Tunisia and Turkey.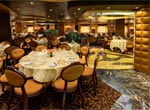 La Reggia Restaurant
La Reggia offers a different menu to celebrate an Italian region with its typical cuisine and most renowned wines.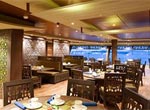 Pago Buffet
MSC's beautifully comfortable Buffet Restaurants bring you an exceptional Mediterranean dining experience, with a "visible kitchen" where you can watch chefs creating freshly made pasta, pizzas, breads and desserts while browsing an archipelago of islands, stations and corners serving an astonishingly diverse array of food and drinks to suit all tastes.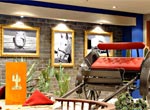 Santa Fe Tex Mex Restaurant
Enjoy the best in Tex Mex while you are at sea. From tacos to salads, this place has them all.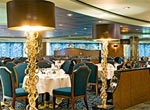 Villa Verde Restaurant
The Villa Verde restaurant, on the ship's stern, features some of the best views anywhere on the ship.
Spa and Beauty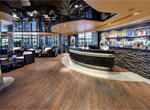 MSC Aurea Spa
Relax and pamper yourself at the MSC Aurea Spa. The spa offers specialized treatments targeted for various purposes including anti-wrinkle facial treatments, firming and exfoliating all-over body treatments and several types of massage incorporating shiatsu, reflexology and sports therapy.
Onboard Activities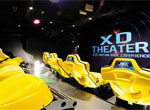 4D Cinema
Make way to this awesome 4D Cinema adventure that's full of fun for you and your kids.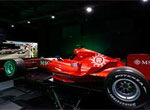 F1 Simulator
You got what it takes to be an F1 driver? Well test out your skills here on the F1 Simulator to find out.
Il Polo Nord
Il Polo Nord is the perfect area where kids can be kids and have fun all day.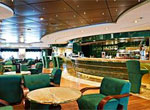 L'Espresso Coffee Bar
Classic coffee favorites and inventive new creations made from the finest beans, expertly selected and roasted in the Italian tradition for moments of pure pleasure.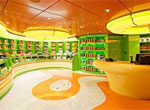 La Caramella
If you are having that sweet tooth craving, look no more and head to La Caramella where you check out all the fine candy.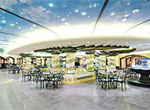 La Piazzetta
Everything from exquisite mini pastries to rich chocolate desserts and luscious cups of genuine Italian ice cream. Sit back and let time float by as you savor heaven on earth in a classic Italian town square ambiance.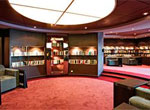 Library
Read the latest articles on the newspapers, browse the magazines, or indulge yourself by getting lost in your favorite book.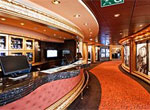 Photo Gallery
Get your photograph taken and choose from a variety of gorgeous prints. Perfect for those who want to frame memories of their vacation!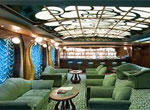 The Cigar Lounge
A cigar is much more than meets the eye. It's a uniquely opulent experience, savored slowly, that involves all the senses in incomparable intensity.
Casino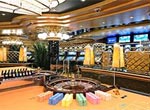 Royal Palm Casino
Vegas lighting and casino sounds make this spot enjoyable while cruising at sea.
Night Life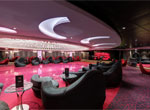 Aft Lounge
Lounge, mingle, or just relax here at the Aft Lounge located at the rear of the ship. Enjoy exotic drinks and performances.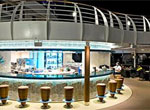 Bar del Riccio
Located next to the pool, Bar del Riccio is the perfect spot for those who want to take a break from swimming with a refreshing cocktail.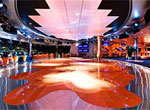 Club 33 Discoteque
Not sleepy? Well make your way to the club where you can dance the night away.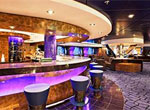 L'Aperitivo Bar
L'Aperitivo Bar is an ideal spot to join friends for an aperitif or enjoy a refreshing drink at any time of day.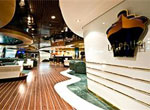 La Prua Piano Bar
If you want that special drink or just a cold beer, La Prua Piano Bar is the place to go.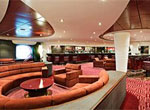 Splendida Bar
Have a wonderful time here at the Splendida Bar and meet new and interesting people.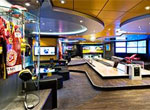 Sports Bar
Enjoy some American-style sports bar dining as you follow your favorite events on the big screen. Then challenge your friends to console gaming, mini-bowling and more!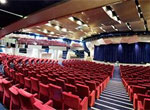 Strand Theater
Don't forget to catch a show here at the Strand Theater. The shows are changed daily so don't miss as single one.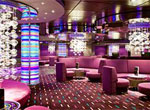 The Purple Jazz Bar
The Purple Jazz Bar is the perfect late night place to hang out and listen to the sounds of jazz.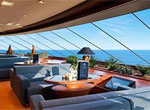 Top Sail Lounge
Exclusive to the MSC Yacht Club, the Top Sail Lounge is an elegant lounge spanning the upper foredeck, offering spectacular panoramic views in exceptional comfort.
Youth Activities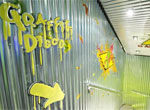 The Graffiti Disco Teen
Want to keep your kids busy, The Graffiti Disco is the perfect place for them to meet other kids on your vacation.
Sports and Fitness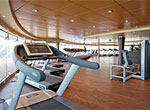 Gym
Stay in shape at the gym. You can admire the panorama, burn off the calories and keep in shape. Whether you prefer to train alone, love a workout in company or live to compete, you'll find just what you need.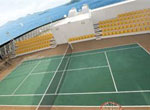 Sport Center
Stroll around the deck or run on the jogging track. Work out at the gym or try out one of the aerobic and step classes offered on board. You can also, play a game of tennis or volleyball.
Pools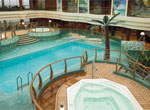 L'Equatore Pool
If you're looking to cool off or do some laps, the L'Equatore Pool is right for you.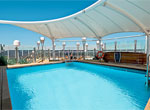 Teens Toboga Swimming Pool
A fun outdoor pool for your kids to cool off and enjoy themselves.