Mobile Cruises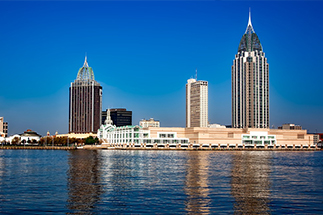 Average Yearly High Temperature in Fahrenheit (&degF)

| Jan | Feb | Mar | Apr | May | Jun | Jul | Aug | Sep | Oct | Nov | Dec |
| --- | --- | --- | --- | --- | --- | --- | --- | --- | --- | --- | --- |
| 61 | 64 | 71 | 78 | 85 | 89 | 91 | 91 | 87 | 79 | 71 | 63 |
Show Mobile Sailings
Overview
Mobile is a port city on Alabama's Gulf Coast. It has seen many flags flying over its bay during its culturally rich history, from France to Britain and then to Spain. A melting pot of people, cultures, traditions and cuisine, Mobile is home to several art museums, a professional ballet company and a symphony orchestra. Surprisingly, Mobile is also accredited with having the oldest organized Mardi Gras celebration in the United States.
Things to Do
Iconic Neighborhoods
Lower Dauphin (LODA) Street Historic District- A historic district with buildings that range in age from the 1820s to the 20th century. It was placed on the National Register of Historic Places in February 1979.
Downtown- Perfect place to browse quaint and locally owned boutiques, restaurants, bars and art galleries. The area also serves as the entertainment hub for visitors and locals to enjoy live music, museums and events.
Hotels
Fort Condé Inn
Address: 165 St Emanuel St, Mobile, AL 36602
Phone: (251) 405-5040
0.2 miles from Cruise Terminal
The Admiral Hotel Mobile, Curio Collection by Hilton
Address: 251 Government St, Mobile, AL 36602
Phone: (409) 763-0300
0.5 miles from Cruise Terminal
Activities
Fort of Colonial Mobile is full of old fashion storytelling and modern technology to give visitors insight to Mobiles past.
Watch the ship traffic at Mobile's busy port at Cooper Riverside Park. This waterfront oasis in the heart of downtown offers a beautiful vantage point.
From blues to ballet and everything in between, enjoy the latest and best music at Sanger Theater, a historic 2000 seat auditorium.
Family Friendly
Get lost in the state of the art interactive GulfQuest National Maritime Museum of the Gulf of Mexico. Shaped like a ship, spend time exploring this 90,000 square foot museum that has unique displays on marine archology and shipwrecks and more.
Browse a unique collection of 19th century fire equipment, engines and streamers at the Phoenix Fire Museum.
Gulf Coast Exploreum Science Center offers hundreds of hands on science exhibits for kids. Catch an IMAX about mountains or dinosaurs.
Driving Directions
Mobile Alabama Cruise Terminal & Parking Address
201 Water St
Mobile, AL 36602
Must pay in advance prior to your cruise, either on the Mobile Alabama Cruise Terminal website or the kiosk in the elevator lobbies on each floor.
Turn on to Eslava Street to get to the parking garage. A stevedore will take your luggage to send to the ship before you park. Take the elevator down to the lobby for screening and check-in.
Driving Directions from Mobile Regional Airport to Mobile Alabama Cruise Terminal
Start out going SOUTHEAST on JOSEPH DRAWNS DR toward AIRPORT BLVD
Turn LEFT onto AIRPORT BLVD
Turn onto I-65 S.
Turn onto I-10 E via EXIT 0 on the LEFT
Take the WATER ST exit toward DOWNTOWN.
Finally end at Port of Alabama