New Orleans Cruises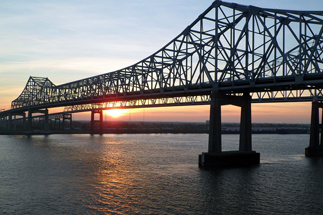 Average Yearly High Temperature in Fahrenheit (&degF)

| Jan | Feb | Mar | Apr | May | Jun | Jul | Aug | Sep | Oct | Nov | Dec |
| --- | --- | --- | --- | --- | --- | --- | --- | --- | --- | --- | --- |
| 62 | 65 | 71 | 77 | 83 | 88 | 90 | 90 | 86 | 79 | 70 | 64 |
Show New Orleans Sailings
Overview
New Orleans is a chief United States port city and historically the biggest city in the U.S. state of Louisiana. New Orleans is named after the historical Duke of Orleans, Regent of France and is one of the oldest and largely historic cities in the United States. New Orleans is known for its multicultural heritage as well as its music and cuisine. It is a world-famous tourist destination thanks to its many festivals and celebrations; the most noteworthy is Mardi Gras.
Things to Do
Iconic Neighborhoods
French Quarter- Dating back to 1718, travelers can stroll down Bourbon Street, catch a street performance in Jackson Square, and grab a beignet and coffee at Café Du Monde.
Central Business District (CBD) / Downtown- You'll find great bars, restaurants, theaters and shopping through the CBD.
Garden District- The Garden District is most known for its well preserved historic southern mansions, with sprawling balconies and iron decorative posts.
Hotels
Embassy Suites by Hilton New Orleans Convention Center
Address: 315 Julia St, New Orleans, LA 70130
Phone: (504) 525-1993
0.5 miles from Cruise Terminal
New Orleans Downtown Marriott at the Convention Center
Address: 859 Convention Center Blvd, New Orleans, LA 70130
Phone: (504) 613-2888
0.6 miles from Cruise Terminal
Activities
The National World War II museum features an expansive collection of artifacts, immersive exhibits and multimedia experiences to take visitors inside the story of the war that changed the world.
Even if you don't visit New Orleans during Mardi Gras, get a taste of the festival by exploring Blaine Kern's Mardi Gras World. See colorful floats and eccentric costumes.
Outdoor lovers will love strolling through City Park, New Orleans' largest outdoor attraction since 1854. With themed gardens, biking paths, live concerts and a large grove of mature live oaks, City Park has something for everyone.
Family Friendly
Audubon Aquarium of the Americas has a 400,000 gallon Gulf Of Mexico exhibit where you can marvel at gigantic sharks, touch sting rays and feed parakeets.
Louisiana Children's Museum is located near the cruise terminal port and has plenty of interactive exhibits for kids, like a climbing wall and art studio.
Family members of all ages will love the Texas Seaport Museum, home of the celebrated 1877 tall ship ELISSA.
Get a glimpse into the exciting world of more than 900,000 species of insects at the Audubon Butterfly Garden and Insectarium.
Sports
New Orleans most notable professional teams are the Saints and Pelicans. They also host the annual Zurich Classic and have horse racing at the Fair Grounds.

Football
New Orleans Saints
Mercedes-Benz Superdome: 1500 Sugar Bowl Dr, New Orleans, LA 70112

Basketball
New Orleans Pelicans
Smoothie King Center: 1501 Dave Dixon Dr, New Orleans, LA 70113
Driving Directions
New Orleans Port
1350 Port of New Orleans Pl
New Orleans, LA 70130
Parking for Erato St. Cruise Terminal (serves Carnival)
1100 Port of New Orleans Pl
New Orleans, LA 70130
The Erato Parking Garage entrance, located on top of terminal, is a circular ramp that you will see as you approach the building. On the first floor of the garage (3rd floor of the terminal building) SeaCaps will assist you with where to drop your luggage before directing you where to park. After parking, take the elevator to the first floor check-in and waiting area.
Parking for Julia St. Cruise Terminal (serves Norwegian & Royal Caribbean)
920 Port of New Orleans Pl
New Orleans, LA 70130
Once entering Port of New Orleans Place, go past the Erato Street Terminal to Julia Street. SeaCaps will assist you with where to drop your luggage before directing you to the parking lot.
Directions From New Orleans International Airport (MSY) to New Orleans Cruise Port


Start out going EAST on JEROME S GLAZER AIRPORT ACCESS RD toward AIRPORT ACCESS RD. 0.2 miles
JEROME S GLAZER AIRPORT ACCESS RD becomes AIRPORT ACCESS RD. 1.9 miles
Merge onto I-10 E. 10.7 miles
Keep LEFT to take US-90 BR W via EXIT 234A toward WESTBANK / SUPERDOME / CLAIBORNE AVE. 1.7 miles
Take the TCHOUPLTOULAS ST / SOUTH PETERS ST exit. 0.3 miles
Stay STRAIGHT to go onto CALLIOPE ST. 0.1 miles
Turn SLIGHT RIGHT onto TCHOUPITOULAS ST. 0.2 miles
Turn LEFT onto HENDERSON ST. 0.2 miles
Turn SHARP RIGHT onto PORT OF NEW ORLEANS PL.
End at Port Of New Orleans Pl New Orleans, LA 70130-1805, US