Norfolk Cruises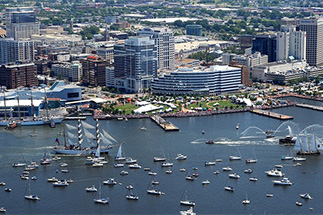 Average Yearly High Temperature in Fahrenheit (&degF)

| Jan | Feb | Mar | Apr | May | Jun | Jul | Aug | Sep | Oct | Nov | Dec |
| --- | --- | --- | --- | --- | --- | --- | --- | --- | --- | --- | --- |
| 48 | 51 | 58 | 68 | 75 | 83 | 87 | 85 | 79 | 70 | 61 | 52 |
Show Norfolk Sailings
Overview
With its shimmering downtown waterfront, tall sparkling buildings and storied maritime heritage, Norfolk, Virginia, stands today as the Mid-Atlantic region's most dynamic and progressive cultural center. Originally established as a port city for the purpose of exporting tobacco and importing goods for the colonists, Norfolk has seen extraordinary events during her 400 years of existence. Stroll through scenic botanical gardens or experience the largest military base in the world.
Things to Do
Iconic Neighborhoods
Freemason District- Listed on the National Register of Historic Places, this area of town is located right on the river. From coffee houses, to historical museums and relaxing parks, this is the perfect place to explore before or after your cruise.
Downtown- Representing the center of the city's art, dining, entertainment and financial scenes, travelers can enjoy activities on the water or attractions inland. This walkable area of town is the perfect place to shop, eat and have fun.
Hotels
Hilton Norfolk The Main
Address: 100 E Main St, Norfolk, VA 23510
Phone: (757) 763-6200
.2 miles from Cruise Terminal
Norfolk Waterside Marriott
Address: 235 E Main St, Norfolk, VA 23510
Phone: (757) 627-4200
.2 miles from Cruise Terminal
Activities
Norfolk has many historical spots that are ready to be explored. See the Armed Forces Memorial, visit the Basilica of St. Mary of the Immaculate Conception that dates back to 1791, visit the Battleship Wisconsin and the Battleship Nauticus which sit by each other in the bay.
The Chrysler Museum of Art has 5000 years of art history in these walls. Chrysler Museum is packed with exciting free programs and Cuisine and Company Restaurant.
Family Friendly
Kids can lend a hand setting the sails, take a turn at the helm, or simply sit back and enjoy the cruise aboard the Sailing Ship American Rover. This traditional tall ship is the perfect way to get the best view of the Norfolk harbor.
TowneBank Fountain Park offers daily family-oriented events and a variety of lawn games and activities. Pack a picnic and enjoy the waterfront views.
Driving Directions
Port of Norfolk
Half Moone Cruise and Celebration Center
One Waterside Drive
Norfolk, VA 23510
Parking is available at Cedar Grove Parking located on Monticello Avenue between Virginia Beach Boulevard and Princess Anne Road in Downtown Norfolk. A shuttle will take you to the port.
From Interstate-264, take the City Hall Exit (Exit #10). At the light, turn right onto St. Paul's Boulevard and follow "Cruise Parking" signs.
Directions from Norfolk International Airport to Port of Norfolk
Head east on Norview Ave toward Airport Parking Dep Rd
Make a U-turn at Airport Parking Dep Rd
Continue straight to stay on Norview Ave
Slight left onto Chesapeake Blvd
Keep right to continue on Lafayette Blvd
Turn left onto Tidewater Dr
Slight left onto Tidewater Dr/Waterside Dr
Slight left onto Waterside Dr
Turn left onto Elizabeth River Trail/Main St
Continue to follow Elizabeth River Trail