Dining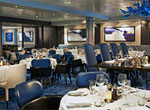 Aqua Main Dining Room
True, you are onboard ship, but that's no reason not to enjoy all the creature comforts of the big city. Choose from a daily menu that includes selection of healthy, light choices.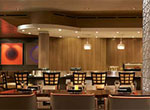 Bamboo Restaurant
This elegant adventure into Pan Asian cuisine is a world-class experience in the finest Japanese, Thai and Chinese cuisine with a sushi and sashimi bar, a teppanyaki room and many more authentic Asian dishes.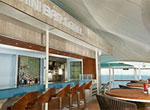 Bimini Grill
Located poolside at the Oasis Pool is Bimini Bar & Grill. Enjoy a burger, pizza and more delicious grilled items.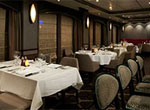 Cagney's Steak House
Succulent grilled steaks along with perfectly cooked double cut lamb chops will make your mouth water at the signature steakhouse. You can dine in style amidst the warm wood tones and comfortable leather.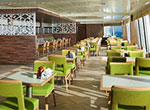 Garden Cafe
The Garden Cafe offers a family-friendly menu of omelets, pasta, soups, salads, and ethnic specialties. There's even a special kid-sized section for little eaters.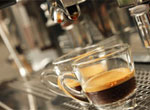 Java Cafe
Amid the hustle and bustle of the Atrium, enjoy something sweet. This is a morning and late-night favorite serving coffees, espressos, cappuccinos and more. Or indulge in freshly baked cookies, cakes and pastries.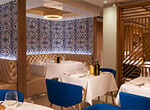 La Cucina Restaurant
Traditional, tasty and molto italiano! Enjoy pasta with a choice of seven savory sauces in a casual atmosphere. There are also crispy fresh salads, pizza, authentic Italian desserts, a fine wine list and espresso drinks to top off the meal.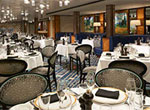 Le Bistro French Restaurant
Have it au poivre or just go straight for the bouillabaisse at our signature French restaurant. Elegant interiors and attentive servers make this an intimate dining experience reminiscent of a Parisian café. By the end of your meal, you'll might just be proclaiming c'est magnifique!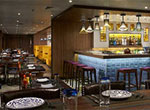 Los Lobos
Bienvenido a Los Lobos, an authentic Mexican cantina celebrating traditional flavors with a modern twist. From handcrafted margaritas to carne asada marinated in guajillo chiles and tequila to Ibarra chocolate ice cream topped with dulce de leche sauce, the chefs at Los Lobos focus on the details and unique flavor combinations.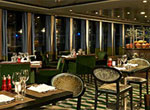 Moderno Churrascaria
If you're looking for a unique experience, this authentic Brazilian steakhouse is a must. Start with an impressive salad bar of imported cheeses, olives, cured meats, ceviche and specialty salads. Be sure to save room for the delicious skewers of slow-roasted meats including beef, pork, lamb and chicken – all carved tableside by our Pasadores.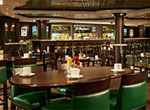 O'Sheehan's Neighborhood Bar & Grill
O'Sheehan's Neighborhood Bar & Grill offers classic American fare in a relaxed pub atmosphere 24 hours a day. With popular dishes like Chicken Pot Pie and Fish n' Chips to daily dinner specials ranging from Prime Rib to Chicken & Waffles, O'Sheehan's has all your favorite comfort foods.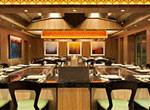 Teppanyaki
Flying shrimp. Onion volcanoes. Twirling knives. The sizzles and surprises never cease at our authentic Japanese Hibachi restaurant. Sit around a lively shared table as a skillful chef slices, chops and grills steak, seafood and chicken on a large steel grill right before your eyes. The chilled, sake-infused Wasabi Cocktail will have you flipping too.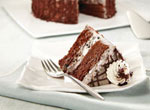 The Bake Shop
Indulge your sweet tooth with decadent treats available à la carte, such as French macaroons, chocolate pralines, and cupcakes.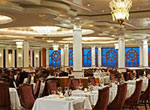 Venetian Dining Room
Imagine a grand Italian Palazzo complete with crystal chandeliers, a sweeping staircase and an award-winning, five-course menu, that is the Venetian. The master chefs are members of the international gourmet society Chaine des Rotisseurs.
Spa and Beauty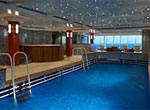 Mandara Spa
If being pampered is your idea of a vacation, the Mandara Spa is for you. It's a full service beauty salon and spa offering a wide range of spa treatments to rejuvenate you, body and soul.
Onboard Activities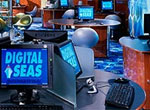 Internet Cafe
No matter how far you are from home, having access to the Internet is always nearby at the Internet Cafe. The Cafe can also be used as a computer lecturer and training center.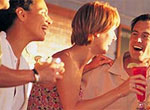 Juice Bar
After a good workout, give yourself a healthy treat. The Juice Bar offers a wide range of juices and smoothies to choose from.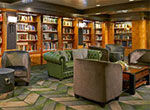 The Library
You'll find a well-stocked selection of things to read with all the elegant trimmings a good library deserves.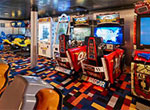 Video Zone
Stop by the video arcade and capture a few aliens, win a car race, play pinball and fly a jet fighter. Anything is possible at Video Zone.
Casino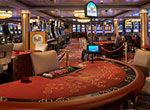 Casino
Welcome to NCL's Casinos at Sea. Where novices and veterans alike will enjoy slots, Roulette, Blackjack, Craps, Let It Ride. Let the good times roll. For a detailed list of games offered, please visit the game types page in the NCL Casinos at Sea section.
Night Life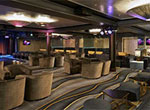 Bliss Ultra Lounge
It's electric – all night long. Go clubbing till the wee hours at Bliss Ultra Lounge. From the moment you walk through the lit tunnel and start hearing the music pumping, you'll feel the energy. And so will the glowing walls and bar which illuminate to the intensifying beats.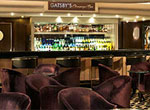 Gatsby's Champagne Bar
There are moments when only champagne will do. Head to Gatsby's Champagne Bar for an extensive selection of bubbly, decorated in classic art deco motif.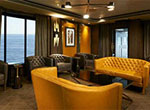 Havana Club
Step into the world of rolled premium cigars, cognacs and spirits at the Havana Club. This is one place where it is completely acceptable to light up in public.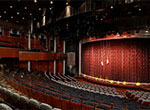 Stardust Theater
It's show time! And Norwegian has got a really big show for you at the Stardust Lounge. A stunning two-story main show lounge with a stage headlines the best entertainment at sea. The Stardust can also be used for large-group meetings by day.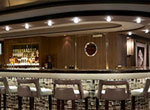 Sugarcane Mojito Bar
Freshly muddled just the way you like, enjoy a refreshing mojito with friends – day or night.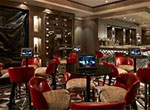 The Cellars - A Michael Mondavi Family Wine Bar
Pull up a stool and pair your favorite vintage with soothing waves. Sample a Merlot as you laugh with some of your closest friends. Or elevate your wine IQ with programs meant for experts and novices alike at the Tasting Table. For four generations, the Mondavi name has been intimately linked with prestige wine making in Napa Valley.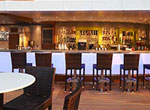 Topsider Bar & Grill
Located poolside at the Oasis Pool is Topsiders, a full bar in close proximity to ample sunning area and hot tubs. It's all part of cruising's total resort experience.
Youth Activities
Entourage Teen Club
A hip place for teens to hang out comes complete, video, jukebox, fooseball table and air hockey. By night The Club turns into a teen disco.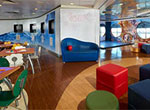 Splash Academy
Get into the zone with the newly remodeled Splash Academy. Kids can watch movies at the cinema, have a dance party at the interactive dance mat along and enjoy an open space for active games.
Sports and Fitness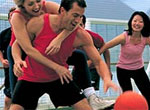 Basketball and Volleyball Court
Shoot hoops, join a pick up game or play beach volleyball without the beach at the net enclosed, outdoor Basketball/Volleyball Court.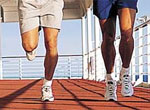 Jogging Track
Run circles around the other guests or get in your daily walk while you're at sea. Breakfast always tastes better after a good walk or run, right?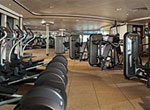 Pulse Fitness Center
There are numerous ways to stay in shape while on board the Dawn. The Fitness Center has a full-service gym and aerobics/fitness classes offered daily.
Shopping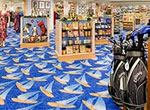 Galleria Shops
Need a new bathing suit? How about a surprise gift for your sweetheart? The Galleria Shops is a department store that offers a wide selection of brand name and specialty goodies.
Pools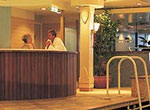 Lap Pool and Jacuzzi
Just because you're at sea, doesn't mean you can't get in your daily swim. The Lap Pool is the longest indoor pool on a cruise ship.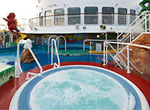 T-Rex Kid's Pool
Just like its name, the T-Rex Kid's Pool has a dinosaur theme featuring slides and paddling pool. There's also a hot tub on the deck nearby.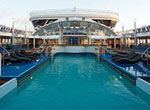 The Oasis Pool
C'mon by for a swim and an ice cream or a cocktail. The Oasis Pool is flanked by Topsiders Poolside Bar, Sprinkles Ice Cream Bar, plenty of deck space, hot tubs, and more.