Dining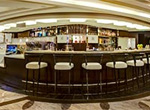 Atrium Café
Amid the hustle and bustle of the Atrium, enjoy something sweet. This is a morning and late-night favorite serving coffees, espressos, cappuccinos and more. Or indulge in freshly baked cookies, cakes and pastries.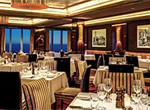 Cagney's Steakhouse
Steak is the standard at Norwegian's American-style steakhouse. Sip your favorite cocktail as you select from premium choice cuts of Angus beef perfectly prepared. And don't forget to order the famous truffle fries.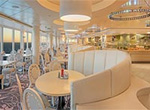 Garden Café
Chefs whip-up freshly, prepared-to-order omelets, crepes, pasta, seafood, ethnic cuisine, burgers, delightful desserts and more. There is even a Kid's Cafe with pint-sized tables and chairs.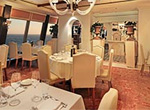 La Cucina Italian Restaurant
Enjoy the flavors of the Tuscan countryside at tables with room for old friends and new. Dine on classic dishes where you can taste the freshness of every tomato used to make an exquisitely delicious sauce. Try a twist on a classic like shrimp fettuccine, or keep it purist with a osso bucco.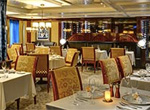 Le Bistro French Restaurant
Have it au poivre or just go straight for the bouillabaisse at our signature French restaurant. Elegant interiors and attentive servers make this an intimate dining experience reminiscent of a Parisian café. By the end of your meal, you'll might just be proclaiming c'est magnifique!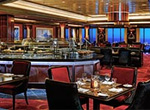 Moderno Churrascaria
If you're looking for a unique experience, Norwegian's authentic Brazilian steakhouse is a must. Start with an impressive salad bar of imported cheeses, olives, cured meats, ceviche and specialty salads. Be sure to save room for the delicious skewers of slow-roasted meats including beef, pork, lamb and chicken – all carved tableside by the Pasadores.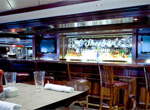 O'Sheehan's Bar and Grill
This place is so inviting, everyone here really may eventually know your name. Dine on American classics as well as your favorite comfort foods, served 24 hours a day. There's even a three-lane bowling alley.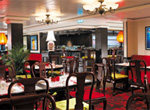 Shanghai's Chinese Restaurant
The food is a masterful mix of traditional Chinese cuisine, noodles, wok fried dishes, dim sum and then some, freshly prepared in a lively open kitchen for all to see.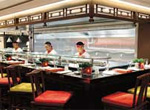 Shanghai's Noodle Bar
Visit Shanghai's Noodle Bar to enjoy fresh noodle dishes that are prepared just the way you like them.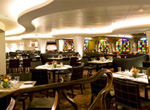 Taste
Serving a wide variety of culinary delights to please every palate, Taste also offers a stylish and contemporary atmosphere. Plus, with a menu that changes daily, Chef's Signature Dishes and carefully selected wine recommendations, you'll experience a different culinary adventure with every visit.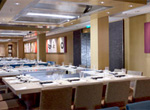 Teppanyaki
Flying shrimp. Onion volcanoes. Twirling knives. The sizzles and surprises never cease at Norwegian's authentic Japanese Hibachi restaurant. Sit around a lively shared table as a skillful chef slices, chops and grills steak, seafood and chicken on a large steel grill right before your eyes.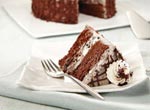 The Bake Shop
Indulge your sweet tooth with decadent treats available à la carte, such as French macaroons, chocolate pralines, and cupcakes.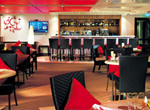 The Haven Courtyard Grill
Step outside the Haven Courtyard Grill for contemporary dining in a relaxed al fresco setting. Perfect for breakfast, lunch, dinner or even drinks at the bar. Private Access for Guests of The Haven Only.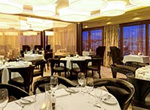 The Haven Restaurant
Choose cool sophistication with flair. The Haven Restaurant offers exclusive private dining for guests staying in The Haven Suites. The haute design is highlighted with pearl drapes, glass sculptures, silk chandeliers and leather. It's the perfect place for privacy with delicious meals and wine selections from the impressive collection.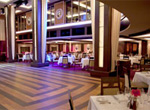 The Manhattan Room
One of three Main Dining Rooms aboard Norwegian Epic, The Manhattan Room is our version of a private New York City supper club. Guests can dance in style while enjoying specially curated modern and classic dishes made with the freshest ingredients. Add panoramic ocean views and you have a recipe for a spectacular evening.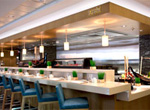 Wasabi Sushi Bar
Marvel as the chefs at this contemporary sushi and sashimi bar create traditional Japanese culinary delights right before your very eyes.
Spa and Beauty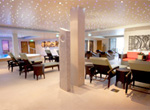 Mandara Spa
When we say "full-service spa," we mean full-service spa. Soothe your body and soul with a hot stone massage, a rejuvenating facial, mani/pedi, acupuncture, BOTOX and teeth whitening and lots more.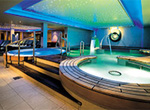 Thermal Spa Suite
The Thermal Suite offers a unique experience benefiting the mind and body. Feel the weightlessness and kneading effect of water in the Thalasso Therapy Pool and enjoy a warm waterfall cascading onto your shoulders in the Vitality Pool. Take a dip in the hot tub and leave the world behind as the warm water relaxes you.
Onboard Activities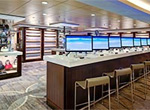 Click Photo Gallery
Stop by the Photo Gallery to find your candid photos taken throughout your cruise.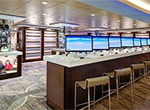 i-Connect Internet Café
The 24-hour Internet Café offers you the comfort and convenience of staying in touch via the Internet while you are Freestyle Cruising.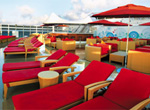 Posh Beach Club
Exclusively For Haven Guests Only. A first of its kind beach club at sea exclusive to guests of The Haven Villas.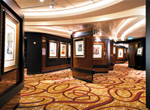 The Collection Art Gallery
Browsers, buyers and bidders are all equally welcome at the on-board art gallery, where works of well-known and emerging artists are on display, and on sale in the lively art auctions.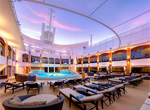 The Haven Courtyard
Exclusively For Haven Guests Only. The exclusive Courtyard at the top of the ship offers a private pool, hot tub, fitness area, dining areas and dedicated service from the Courtyard Valet. You also have the entire ship to explore with priority access to the first-class spa and fitness center. There's an outdoor sports court, bowling alleys, upscale shopping and more. Additionally, you can request an arrangement for private VIP excursions ashore. Imagine it and chances are, it can happen.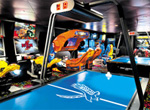 Video Arcade
Stop by the video arcade and capture a few aliens, win a car race, play pinball and fly a jet fighter. Anything is possible.
Casino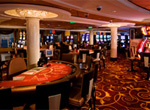 The Epic Casino
The largest, most elegant full-action casino offers high-roller ambiance, no matter what your game. Choose from poker, black jack, roulette, craps and hundreds of more-exciting-than-ever slot machines.
Night Life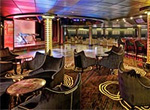 Bliss Ultra Lounge
High-voltage tunes make everyone want to dance, custom loungers are the perfect spot to cap off the evening with a cocktail. There's also a bowling alley.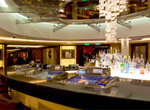 Cascades Bar
Stay close to the action at the Epic Casino's friendly, full-service bar. It's the perfect place to toast your good fortune and let the good times roll.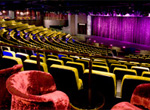 Epic Theater
It takes a world-class venue to attract Broadway shows like the heartwarming musical Priscilla, Queen of the Desert. Add in the sizzle and passion of ballroom dancing in Ballroom Blitz and you'll have a night you'll never forget in the Epic Theater.
Epic Theater Bar
It's "bottoms up" before or after the curtain goes up at this captivating and cordial bar inside the Epic Theater.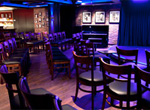 Headliners Comedy Club
Sing along with Howl at the Moon, the World's Greatest Rock 'N' Roll Dueling Piano Show. In the Caribbean you can also spend an evening or two with The Second City comedy troupe and their unique form of comedy or experience authentic European entertainment with a variety of world-class acts while cruising the Mediterranean.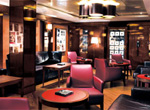 Humidor Cigar Lounge
Comfortable seating, a fully stocked humidor, signature cocktails, and an extensive drink menu helps to make this the perfect environment to enjoy a good smoke.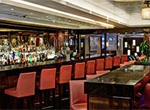 Maltings Whiskey Bar
Be it Canadian, Irish, American, Welsh or Scotch, Maltings Whiskey Bar offers dozens of varieties of the complex spirit for you to savor.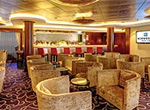 Shakers Martini Bar
Unwind after a long day of doing whatever and join the martini crowd for a sophisticated cosmopolitan or something more adventurous. Appletini, anyone?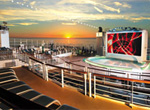 Spice H2O
Soak up the sun by day around the pool and dine on the delicious fare of outdoor buffet at our adults-only Ibiza-inspired beach club at the back of the ship. The entertainment is non-stop as the pool floor rises to become a dance floor and giant screen projects hypnotic visuals under a starry sky.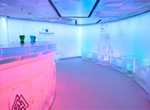 SVEDKA and Inniskillin Ice Bar
Now this truly is as cool as it gets. Inspired by the original ice hotels in Scandinavia, The SVEDKA Ice Bar is one of only 14 in the world and the only true ice bar at sea.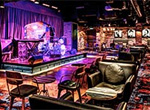 The Cavern Club
Step into the legendary Liverpool club where the Beatles performed. Experience a vibrant rock-and-roll scene, featuring live music and even a Beatles cover band.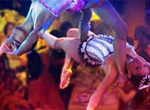 The Haven Experience - Entertainment
Exclusively For Haven Guests Only. From preferred seating at the award-winning shows on board to hot action at the casino to hip DJ house music at the nightclubs, you'll find that when the stars come out, the excitement begins. It's all there for you to enjoy should you wish. But if you simply want to unwind with a cocktail under the stars, you can do so within the privacy and exclusivity of The Haven.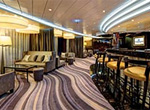 The Haven Lounge
There's nothing quite like The Haven Lounge. Guests of The Haven have exclusive access to this private bar showcasing premium liquors and a salute to the good life.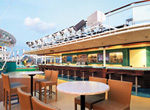 Waves Pool Bar
Forget life on land, relax in a lounge chair, work on your tan and sip on a frozen drink at this poolside bar.
Youth Activities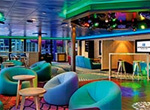 Entourage Teen Center
Guaranteed to attract all teens, Entourage is designed like an adult lounge minus the adults. All play during the day, but at night Entourage turns into a teens-only nightclub.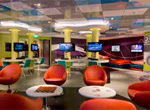 Splash Academy
Splash Academy is built for the young ones, with a large kid's area and a special area just for tweens. Kids can play Wii and Playstation 3, dance the day away on the dance floor and much more.
Sports and Fitness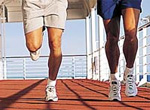 Jogging and Walking Track
Run circles around the other guests or get in your daily walk while you're at sea. Breakfast always tastes better after a good walk or run, right?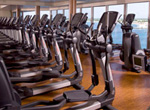 Pulse Fitness Center
Stay in shape with your favorite workout equipment including treadmills, ellipticals and free weights - even, yoga, pilates and the first squash court at sea.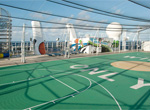 Sports Complex
The Sports Complex has not one, but two decks to play on with a full-sized basketball court, batting cage, rock climbing wall, the first-ever rappelling wall at sea, a rope adventure course and a 24-foot enclosed climbing cage.
Pools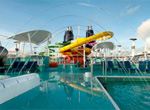 Aqua Park
Suit up and splash down at the first ever Aqua Park. Choose from two pools, five hot tubs, kid's pool, three multi-story water slides and the 200-foot Epic Plunge, the only tube slide at sea.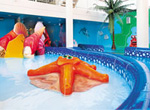 Aqua Park Kid's Pool
Your kids will surely enjoy splashing around here at the Aqua Park Kid's Pool.