Dining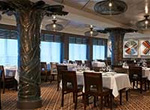 Bayamo Restaurant
Inspired by the infectious energy of the Cuban city of the same name, Bayamo by Jose Garces is fine dining imagined by one of the world's most renowned chefs. Seafood with a Latin twist, every dish is brimming with bold, fresh ingredients. Featured prominently on The Waterfront, the Iron Chef's first restaurant at sea offers a diverse selection of authentic flavors as vibrant as Cuba itself.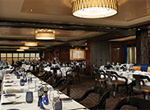 Cagney's Steakhouse
Succulent grilled steaks along with perfectly cooked double cut lamb chops will make your mouth water at the signature steakhouse. With an opening to view The Manhattan Room below, you can dine in style amidst the warm wood tones and comfortable leather.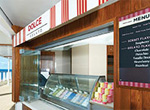 Dolce Gelato
Slow churned, dense and intense in flavor, gelato is Italy's answer to ice cream. And the version is the perfect accompaniment to a leisure stroll on your exploration of The Waterfront. Choose from a variety of flavors and drift off in sweet thoughts as you walk in the breeze.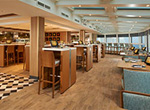 Food Republic
Travel somewhere new with every delicious bite at Food Republic. A fusion of foods and cultures from around the globe, every sumptuous dish has been specially curated by the Pubbelly Restaurant Group, the culinary team who have reinvented the South Beach dining scene. Travel to Peru with the boys and indulge in their version of ceviche. Jet away to Japan and try a new kind of sushi roll. Or have a hearty helping of noodles from China the way the boys envisioned it.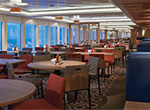 Garden Cafe
Whatever you're craving, chances are you will find it at the Garden Cafe buffet. This complimentary, indoor restaurant serves up breakfast, lunch and dinner - and the floor-to-ceiling windows provide picturesque ocean views.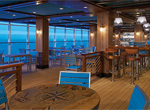 Jimmy Buffett's Margaritaville at Sea
Quit searchin' for your lost shaker of salt, it's right here in the first-ever Jimmy Buffett's Margaritaville at Sea. Take a bite out of paradise with signature items like the Cheeseburger in Paradise. Sip on a Who's to Blame Margarita. Or sit back and groove along to island-inspired music at this specialty dining venue. Inspired by the lyrics and lifestyle of Jimmy Buffett, this isn't just a restaurant. It's a state of mind.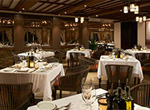 La Cucina Italian Restaurant
Prefer your pasta al dente in the main restaurant, outdoors on The Waterfront or would you like to dine Atrium Al Fresco-style? The menu at La Cucina's is casual, family-style Italian and the ambiance, including the courtyard, is Tuscan-esque complete with lanterns, timbers and stonework.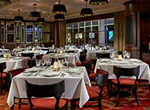 Le Bistro French Restaurant
Have it au poivre or just go straight for the bouillabaisse at our signature French restaurant in the atrium of 678 Ocean Place. Elegant interiors, crisp white linens and attentive servers make this an intimate dining experience reminiscent of a Parisian café. By the end of your meal, you'll might just be proclaiming c'est magnifique!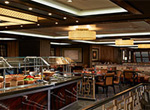 Moderno Churrascaria
Norwegian was first to bring this dining concept to sea, and now taken it a step further with outdoor seating at the signature Brazilian-style steakhouse. Whether you dine indoors or out, your mouth will water as different grilled and slow-roasted meats are carved tableside.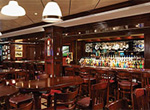 O'Sheehan's Neighborhood Bar and Grill
This is the place to hang out, 24/7. Serving up Irish/American classics in a relaxed, pub atmosphere, O'Sheehan's is a guest favorite complete with billiards, darts, arcade games, TV's and a giant two-story screen for sports and movies.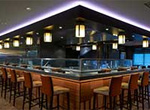 Pincho Tapas Bar
Sharing his love for Spain's culture and cuisine with a menu representing regional favorites, Pincho Tapas Bar by Jose Garces is unlike any other restaurant at sea. Inspired by Chef Garces' work and travels throughout the country, he goes beyond tradition with a menu of shareable small plates that redefine and improve upon centuries-old tapas recipes.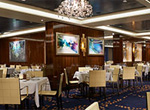 Savor Restaurant
Balancing classic favorites with hot new dishes, dining at Savor is a must. Offering guests an extensive menu of deliciously fresh flavors along with chic and modern decor, visiting this Main Dining Room is always in style.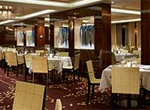 Taste Restaurant
Serving a wide variety of culinary delights to please every palate, Taste also offers a stylish and contemporary atmosphere. Plus, with a menu that changes daily, Chef's Signature Dishes and carefully selected wine recommendations, you'll experience a different culinary adventure with every visit to this Main Dining Room.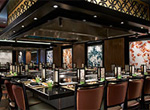 Teppanyaki
Flying shrimp. Onion volcanoes. Twirling knives. The sizzles and surprises never cease at this authentic Japanese hibachi restaurant. Sit around a lively shared table as a skillful chef slices, chops and grills steak, seafood and chicken on a large steel grill right before your eyes.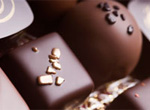 The Bake Shop
Indulge your sweet tooth with decadent treats available à la carte, such as French macaroons, chocolate pralines, and cupcakes.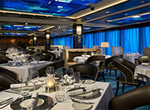 The Haven Restaurant
Exclusively For Haven Guests Only. What's your pleasure? Make it a memorable night "on the town" with preferred reservations at the award-winning specialty restaurants. For something more casual, enjoy complimentary dining in the main dining rooms, grills and cafes. For breakfast and lunch, you can choose to dine in a private restaurant reserved exclusively for guests of The Haven. And for the ultimate in private dining day and night, choose to dine in-suite with white tablecloth service.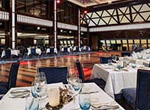 The Manhattan Room
One of three Main Dining Rooms aboard Norwegian Escape, The Manhattan Room is where guests can dance in style while listening to live music and enjoying specially curated modern and classic dishes made with the freshest ingredients.
Onboard Activities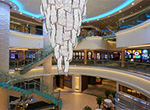 678 Ocean Place
Feel the pulsating energy at the heart of the ship - 678 Ocean Place, three thrilling decks of non-stop action. Mix it up at a new bar or lounge. Splurge inside a designer boutique. Get lucky in our largest casino ever. Please your palate inside one of our specialty restaurants - Moderno, Churascarria, Cagney's Steakhouse or La Cucina. Satisfy every whim – day or night.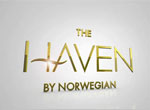 The Haven Experience
Exclusively For Haven Guests Only. Welcome to a private world of luxury at sea - a ship-within-a-ship reserved exclusively for Norwegian's special guests. Each elegant suite and villa in The Haven provides you with the finest amenities, and the expert services of the concierge and 24-hour butlers. Step outside your residence and you'll enter a secluded Courtyard where you can spend your sea days relaxing, dining and enjoying exquisite privacy. It's called The Haven by Norwegian. You'll call it pure paradise.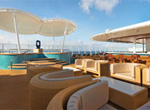 Vibe Beach Club
Guests will jump for quiet joy upon discovering this private retreat where they can connect with ocean - and disconnect from everything else. Exclusively for those 18 and over, Vibe Beach Club is resplendent with ocean views, an oversized hot tub, chaise loungers and a relaxing water feature.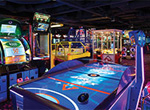 Video Arcade
Stop by and capture a few aliens, win a car race, play pinball and fly a jet fighter. Let your imagination run wild at the Video Arcade.
Casino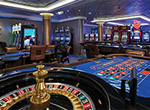 Casino
Test your luck in one of the largest Casinos At Sea or play favorites like Blackjack, Craps, Roulette, Texas Hold 'Em and Poker. With all your favorite table games and slots, it's easy to see why Norwegian has been rated the "Best Cruise Line Casino" of any cruise line for ten years running,
Night Life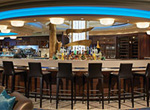 Atrium Bar
Amid the hustle and bustle of the Atrium, enjoy something sweet. This is a morning and late-night favorite serving coffees, espressos, cappuccinos, beer, wine, and more.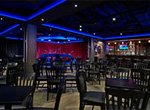 Headliner's Comedy Club
Tickle your funny bone at Headliner's Comedy Club with performances by Levity Entertainment Group's roster of top-notch comedians. Employing over 300 artists nationwide, Levity is the largest producer of live comedy, creating tours and TV specials for the biggest names in the industry, including Daniel Tosh, Amy Shumer, Gabriel Iglesias and Jeff Dunham. With several hilarious shows per week, prepare for a sidesplitting good time with Levity Entertainment Group.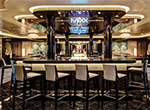 Mixx Bar
Mingle with new friends and enjoy live piano at Mixx, a modern classical, pre-dinner gathering place between two of the most popular dining spots.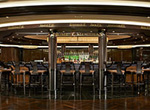 Prime Meridian Bar
Between Cagney's Steakhouse and Moderno Churrascaria, take a seat, order your favorite beverage and be a part of the action of 678 Ocean Place.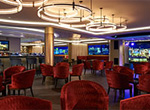 Skyline Bar
Hit the jackpot in more ways than one inside Skyline Bar. Nestle into plush interiors and take in the changing view. The high-definition digital landscapes illuminate this cocktail lounge with ever changing moods. It's the perfect spot to have a cocktail before dinner, meet friends after the show or just press your luck with bar-top poker screens that give winning at the bar a whole new meaning.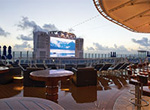 Spice H2O
Inspired by the renowned summer beach parties on the island of Ibiza, Spice H20 is an adult-only escape with contemporary Asian influences. By day, lounge beside hot tubs and a soothing waterfall; by night, it's a whole different beat.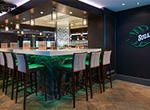 Sugarcane Mojito Bar
Freshly muddled just the way you like, enjoy a refreshing mojito with friends – day or night.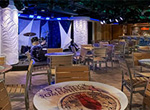 The 5 o'clock Somewhere Bar
It's happy hour, every hour at the 5 o'clock Somewhere Bar, the first at sea on Norwegian Escape. Enjoy the sounds of the tropics while sipping on a signature margarita on The Waterfront. As the sun starts to set, that's when the party really heats up. Let the sounds of live musical performances move you well into the night. Or grab a table inside, make some new friends and keep the good times rolling on and on. After all, it's 5 o'clock somewhere – and you don't need to be anywhere.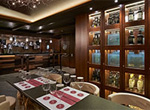 The Cellars - A Michael Mondavi Family Wine Bar
Pull up a stool on The Waterfront and pair your favorite vintage with soothing waves. Step inside the main bar and sample a Merlot as you laugh with some of your closest friends. Or elevate your wine IQ with programs meant for experts and novices alike at the Tasting Table. For four generations, the Mondavi name has been intimately linked with prestige winemaking in Napa Valley. And now, they're bringing their best blends and unparalleled knowledge to Norwegian Escape.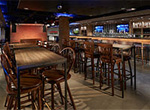 The District Brew House
Let your hair down in a never-before-seen party at sea. Order one of more than 50 different bottled beers or any of the 24 draft beers on tap, including local Miami craft beer from Wynwood Brewing Company – exclusively on Norwegian Escape. Sip on a specialty cocktail by Bar Lab, masterminds of internationally recognized cocktail creations. Scream your lungs out alongside live music. Or get a little wild inside the photo booth. What happens in The District, stays in The District.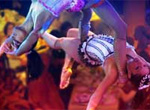 The Haven Experience - Entertainment
Exclusively For Haven Guests Only. From preferred seating at the award-winning shows on board to hot action at the casino to hip DJ house music at the nightclubs, you'll find that when the stars come out, the excitement begins. It's all there for you to enjoy should you wish. But if you simply want to unwind with a cocktail under the stars, you can do so within the privacy and exclusivity of The Haven.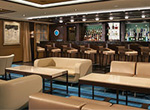 The Haven Lounge
Exclusive to The Haven guests, enjoy your favorite cocktail and light bites surrounded by ultimate luxury.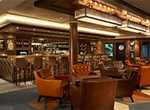 Tobacco Road
Miami's oldest and most legendary bar, Tobacco Road, will find its new home aboard Norwegian Escape. Located within 678 Ocean Place, Tobacco Road Bar will incorporate elements of the original Tobacco Road, including the iconic neon sign, memorabilia and photographs that will showcase the history of Miami through the lens of events and happenings at the bar over the past century. Tobacco Road Bar will also feature a selection of cocktails created by Tobacco Road's Cocktail Collection mixologist, Leo Holtzman.
Youth Activities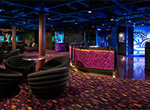 Entourage
Entourage is a place where teens can be themselves, hang out, meet new friends and get lost in a world of cool comfort. Ages 13-17 are welcome to this inviting venue, designed like a chic adult lounge, minus the adults.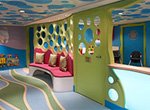 Guppies Nursery
With the first-ever Norwegian nursery on Norwegian Escape, parents can rest easy knowing their tots (2 and under) are being well looked after by Norwegian's dedicated staff. Featuring an Active Room with sensory-based activities, games and toys based on a daily theme, plus a Quiet Room for babies to sleep and rest, parents can have the vacation they deserve while their little ones do too.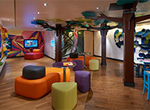 Splash Academy
It's the biggest kids' area yet! This radical venue was created especially for the young fans, ages 3 to 12 years. At Splash Academy, kids 3-12 can dance on the interactive, light-up floor; clown around at circus school; play Wii and PlayStation 3 and watch movies in the state-of-the-art cinema.
Sports and Fitness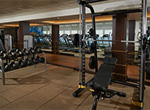 Pulse Fitness
Stay in shape with your favorite workout equipment including treadmills, ellipticals and free weights or even yoga, pilates and spinning.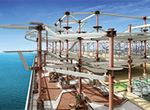 Sports Complex
Norwegian's Sports Complex provides three stories of action-packed activities including two new additions that will test your skills like never before. Challenge yourself with the new, largest-at-sea ropes course where you can conquer over 40 elements as you masterfully maneuver through this multi-level structure.
Pools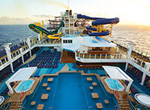 Aqua Park
Seventeen decks above the sea, wind in your hair, sun on your back, ocean views all around, and before you - a stellar selection of liquid delights: five multi-story waterslides, two swimming pools, four hot tubs...more water than ever before.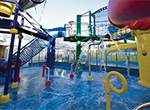 Kid's Aqua Park
They'll splish. They'll splash. They'll definitely have a blast. Whether they want to zoom down a tube slide or get drenched by tipping buckets or water cannons, kids will have the best of times at our new interactive Kids' Aqua Park. This watery wonderland has something to keep the kiddies entertained all day long.