Dining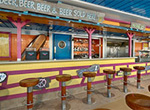 Bali Hai Bar and Grill
A hot air balloon theme where the bar itself is styled as a ballooning basket with sandbags, ropes and a rattan front.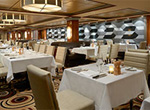 Cagney's Steakhouse
An upscale traditional American steakhouse of the 1930's. Steak is the standard at the American-style steakhouse. Select from choice cuts of Black Angus perfectly prepared like the traditional T-bone or tender Prime Rib. Your mouth will water, so sip your favorite cocktail in anticipation. And don't forget to order the made-from-scratch jumbo crab cakes and a side of the famous truffle fries.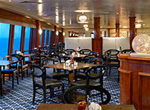 Garden Café
Made-to-order action stations, always-changing menu options, a fresh salad bar and a dessert bar make this way more than a traditional buffet. There's also a cute-as-can-be cafe for little eaters with kid-favorite options.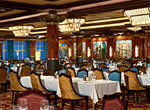 Grand Pacific Main Dining Room
A grand dining room inspired by the 1st class dining rooms from the Matson Liner ships that sailed from San Francisco to Honolulu. Artwork around the room will be inspired by the exceptional menu covers from the Matson Line.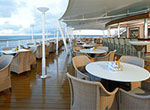 Great Outdoors
A spacious outdoor buffet with many choices that will surely keep you coming back for more.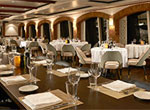 La Cucina Italian Restaurant
Enjoy the flavors of the Tuscan countryside at tables with room for old friends and new. Dine on classic dishes where you can taste the freshness of every tomato used to make an exquisitely delicious sauce. Try a twist on a classic like shrimp fettuccine, or keep it purist with a osso bucco.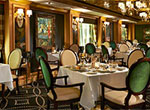 Le Bistro French Restaurant
Have it au poivre or just go straight for the bouillabaisse at our signature French restaurant. Elegant interiors and attentive servers make this an intimate dining experience reminiscent of a Parisian café. By the end of your meal, you'll might just be proclaiming c'est magnifique!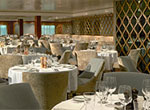 Magenta Dining Room
Balancing classic favorites with the hottest new dishes, Magenta is a can't miss culinary experience. With daily changing menus offering even more variety and Chef's Signature Dishes featuring deliciously fresh ingredients, there's always something to look forward to inside this Main Dining Room.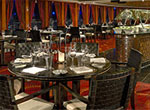 Moderno Churrascaria
If you're looking for a unique experience, Norwegian's authentic Brazilian steakhouse is a must. Start with an impressive salad bar of imported cheeses, olives, cured meats, ceviche and specialty salads. Be sure to save room for the delicious skewers of slow-roasted meats including beef, pork, lamb and chicken – all carved tableside by Pasadores.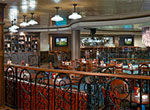 O'Sheehan's
This place is so inviting, everyone here really may eventually know your name. Dine on American classics as well as your favorite comfort foods, served 24 hours a day.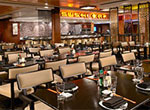 Orchid Garden Asian Restaurant
Enjoy a complimentary Asian Fusion dining venue featuring freshly prepared noodles, delicious wok fried dishes, authentic soups, and more.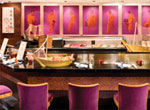 Sushi
Take a seat at the sushi bar and watch in amazement as chefs expertly slice, carve, and roll the freshest ingredients into works of delicious art.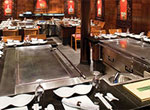 Teppanyaki
Flying shrimp. Onion volcanoes. Twirling knives. The sizzles and surprises never cease at the authentic Japanese Hibachi restaurant. Sit around a lively shared table as a skillful chef slices, chops and grills steak, seafood and chicken on a large steel grill right before your eyes. The chilled, sake-infused Wasabi Cocktail will have you flipping too.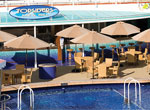 Topsiders Bar & Grill
Dip your feet in the pool while you sip on a drink from the Topsiders Bar & Grill.
Spa and Beauty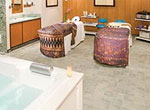 Mandara Spa and Beauty Salon
If being pampered is your idea of a vacation, the Mandara Spa is the place for you. This full service beauty salon and spa offers a wide range of spa treatments to rejuvenate your body and soul.
Onboard Activities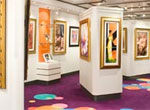 Art Gallery
Stroll through Norwegian Gem's Art Gallery of original works for sale by a wide range of well-known artists.
Card Room/Life Style Room
Looking for a quiet place to write postcards, play cards or read a book? Drop by the Life Styles Room.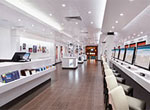 Photo Gallery
The place to check out and purchase all the photos taken during your cruise.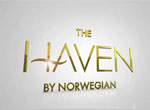 The Haven Experience
Exclusively For Haven Guests Only. Welcome to a private world of luxury at sea - a ship-within-a-ship reserved exclusively for Norwegian's special guests. Each elegant suite and villa in The Haven provides you with the finest amenities, and the expert services of the concierge and 24-hour butlers. Step outside your residence and you'll enter a secluded Courtyard where you can spend your sea days relaxing, dining and enjoying exquisite privacy. We call it The Haven by Norwegian. You'll call it pure paradise.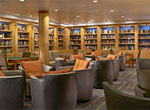 The Library
You'll find a well-stocked selection of things to read with all the elegant trimmings a good library deserves including a stellar view.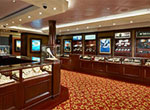 Trade Routes Boutiques
Large department store offering a wide selection of branded & choice items.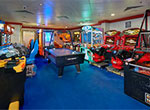 Video Arcade
Stop by the video arcade and capture a few aliens, win a car race, play pinball and fly a jet fighter. Anything is possible.
Casino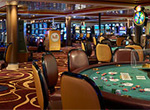 Casino
Full Casino featuring a circus theme reflecting bold and brash colors of traditional traveling circuses at the turn of the century.
Night Life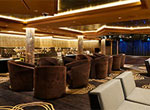 Bliss Ultra Lounge and Night Club
A lounge inspired by all things spherical and out of space. Bubbles, the use of lighting, color and ultraviolet artworks will be throughout this room. Features the industry's 1st bowling alley and also is equipped with plasma TVs.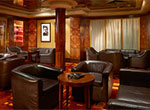 Corona Cigar Club
Step into the world of rolled premium cigars, cognacs and spirits at the Cigar Club. This is one place where it is completely acceptable to light up in public.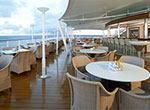 Great Outdoors Bar
Enjoy wine, beer and a fully selection of cocktails at this covered outdoor bar.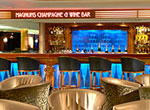 Magnum's Champagne and Wine Bar
Magnum's Champagne and Wine Bar, inspired by the Art Nouveau era using Charles Rennie Mackintosh's design elements and colors.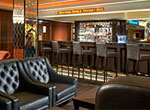 Maltings Beer and Whiskey Bar
Contemporary bar area with a backdrop reflecting the production of beer.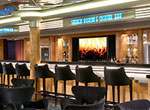 Shakers Martini and Cocktail Bar
Art Deco inspired with a large screen behind the bar depicting James Bond inspired graphic silhouettes of funky images from the 60's & 70's.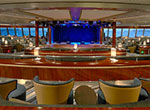 Spinnaker Lounge
Horizontal windows in the floor allow views of the bridge. The stage can also be used as a dance floor.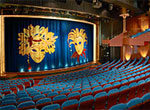 Stardust Theater
It's showtime! And Norwegian has got a really big show for you at the Stardust. Enjoy Broadway and Vegas-style shows.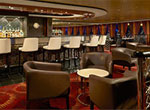 Sugarcane Mojito Bar
Freshly muddled just the way you like, enjoy a refreshing mojito with friends – day or night.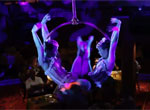 The Haven Experience - Entertainment
Exclusively For Haven Guests Only. From preferred seating at the award-winning shows on board to hot action at the casino to hip DJ house music at the nightclubs, you'll find that when the stars come out, the excitement begins. It's all there for you to enjoy should you wish. But if you simply want to unwind with a cocktail under the stars, you can do so within the privacy and exclusivity of The Haven.
Youth Activities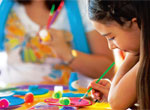 Splash Academy
Get into the zone of fun because Splash Academy is just for kids! With lots of open space for active games and an arts and crafts area kids can do what they do best – be a kid!
Sports and Fitness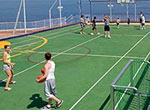 Basketball/Vollyball/Tennis Court
Shoot hoops, join a pick up game, or play tennis at the enclosed, outdoor Basketball/Volleyball/Tennis Court.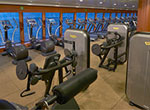 Body Waves Fitness Center
There are numerous ways to stay in shape while on board. The Body Waves Fitness Center is open from 6am to 11pm with a full gym and aerobics/fitness classes daily.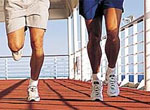 Jogging/Walking Track
Run circles around the other guests or get in your daily walk while you're at sea. Breakfast always tastes better after a good walk or run, right?
Pools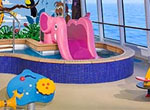 Kid's Pool
Run circles around the other guests or get in your daily walk while you're at sea. Breakfast always tastes better after a good walk or run, right?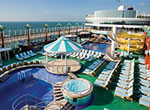 Tahitian Pool
Had a long day of excursions? Then cool down at the Tahitian Pool.