Dining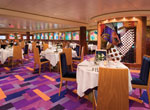 Azura Main Dining Room
Balancing classic favorites with the hottest new dishes, Azura is a can't miss culinary experience. With daily changing menus offering even more variety and Chef's Signature Dishes featuring deliciously fresh ingredients, there's always something to look forward to inside this Main Dining Room.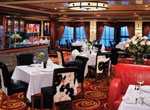 Cagney's Steakhouse
Steak is the standard at Norwegian's American-style steakhouse. Sip your favorite cocktail as you select from choice cuts of Angus Beef perfectly prepared. And don't forget to order the famous truffle fries.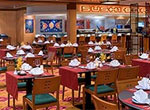 Chin Chin Asian Restaurant
This elegant adventure into Pan Asian fare is a world-class experience in the finest authentic Japanese, Thai and Chinese cuisine.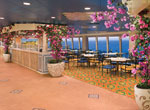 Garden Cafe/Kids Cafe
The Garden Cafe/Kid's Cafe offers a family-friendly menu of omelets, pasta, soups, salads and ethnic specialties. There's even a special kid-sized section for pint-size appetites.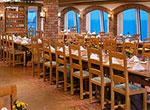 La Cucina
Enjoy the flavors of the Tuscan countryside at tables with room for old friends and new. Dine on classic dishes where you can taste the freshness of every tomato used to make an exquisitely delicious sauce. Try a twist on a classic like shrimp fettuccine, or keep it purist with a osso bucco.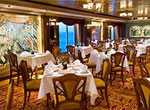 Le Bistro French Restaurant
Le Bistro is an ode to all things French. From the art nouveau decor and artwork to the menu which is filled with modern classical and contemporary French gourmet fare.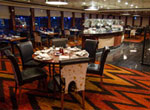 Moderno Churrascaria
If you're looking for a unique experience, Norwegian's authentic Brazilian steakhouse is a must. Start with an impressive salad bar of imported cheeses, olives, cured meats, ceviche and specialty salads. Be sure to save room for the delicious skewers of slow-roasted meats including beef, pork, lamb and chicken – all carved tableside by Pasadores.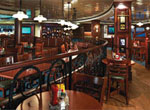 O'Sheehan's
This place is so inviting, everyone here really may eventually know your name. Dine on American classics as well as your favorite comfort foods, served 24 hours a day.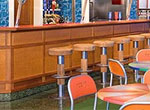 Sky High Bar and Grill
Enjoy your grilled favorites like hot dogs, hamburgers and bratwurst at the casual Sky High Bar.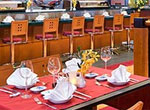 Sushi and Sake Bar
Chin Chin Asian Restaurant also has a Sushi and Sake Bar where you can enjoy the very best sushi and sake expertly prepared as you watch. The menu is priced a la carte.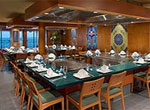 Teppanyaki Room
Within Chin Chin Asian Restaurant is the Teppanyaki Room - a truly authentic Asian dining experience. Sit at a large table of 10 where the process of preparing your food right before your eyes is both entertaining and impressive.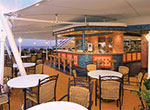 The Great Outdoors
Outdoor buffet featuring prepared-to-cook omelets, waffles, fruit, soups, ethnic specialties and pasta.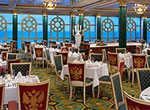 Tsar Palace Main Dining Room
The interior is an inspiration of the grand palaces of St. Petersburg and the era of the great Tsars of Russia. A five-course, award-winning menu is the inspiration of the master chefs.
Spa and Beauty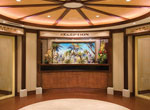 Mandara Spa
If being pampered is your idea of a vacation, the Mandara Spa is the place for you. This full service beauty salon and spa offers a wide range of spa treatments to rejuvenate your body and soul.
Onboard Activities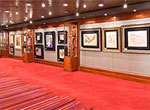 Art Gallery
Stroll through Norwegian Jewel's Art Gallery of original works for sale by a wide range of well-known artists.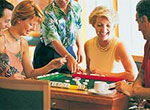 Card Room
Here is one room where playing games is not just encouraged, it's expected. Find another couple and play bridge or test your skill with chess, checkers and Scrabble.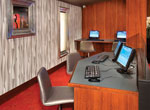 Internet Cafe
No matter how far you are from home, staying in touch is easy at the Internet Cafe.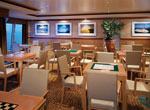 Lifestyles Room
Looking for a quiet place to write postcards, play cards or read a book? Drop by the Life Styles Room.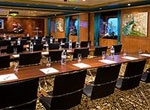 Meeting Rooms
Norwegian Jewel's meeting room area features three individual rooms, the Java room, the India room, and the Congo room. They can be used together or separately.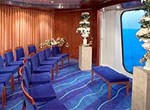 The Chapel
This on-board chapel also functions as a meeting room.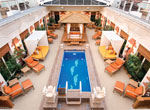 The Haven Courtyard
Exclusively For Haven Guests Only. The exclusive Courtyard at the top of the ship offers a private pool, hot tub, fitness area, dining areas and dedicated service from the Courtyard Valet. You also have the entire ship to explore with priority access to the first-class spa and fitness center. There's an outdoor sports court, bowling alleys, upscale shopping and more. We can also arrange for private VIP excursions ashore. Imagine it and chances are, we can make it happen.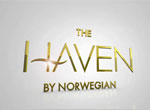 The Haven Experience
Exclusively For Haven Guests Only. Welcome to a private world of luxury at sea - a ship-within-a-ship reserved exclusively for Norwegian's special guests. Each elegant suite and villa in The Haven provides you with the finest amenities, and the expert services of the concierge and 24-hour butlers. Step outside your residence and you'll enter a secluded Courtyard where you can spend your sea days relaxing, dining and enjoying exquisite privacy. We call it The Haven by Norwegian. You'll call it pure paradise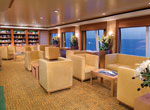 The Library
You'll find a well-stocked selection of things to read with all the elegant trimmings a good library deserves including a stellar view.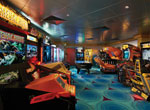 Video Arcade
Stop by the video arcade and capture a few aliens, win a car race, play pinball and fly a jet fighter.
Casino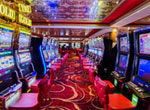 Jewel Club Casino
This could be your lucky night! Try your hand at Roulette, Blackjack, Craps and Let It Ride.
Night Life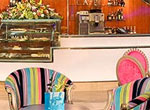 Atrium Café & Bar
For that double, vanilla, extra hot latte with extra foam, the Java Café is at your service with a wide variety of specialty coffees, teas, pastries and cookies.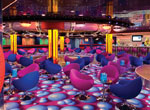 FYZZ Cabaret Lounge & Bar
This modern lounge has bubble lighting, fun colors and ultraviolet artwork. It also has three private Karaoke rooms that can accommodate small groups.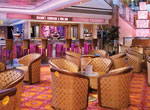 Magnum's Champagne & Wine Bar
Some moments just call for champagne. And this is the place to enjoy it. Magnum's features a French Art Deco motif combined with elements that reflect the grand old cruise liner Normandie.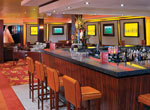 Maltings Beer & Whiskey Bar
Inspired by the lobby bar from the Mandarin Oriental in London, this contemporary full bar has low lounges and tables with the perfect hint of mood lighting.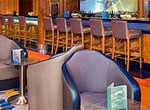 Shakers Martini & Cocktail Bar
How do you like your martini? Shaken, not stirred? Of course you do. James Bond silhouettes reflect from a screen behind the bar in this Art Deco inspired ode to the 1960's and 70's.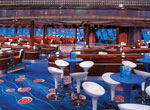 Spinnaker Lounge
Horizontal windows in the floor allow you to look down on the bridge. At night, the atmosphere is charged when the music comes up and the stage becomes a dance floor.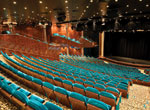 Stardust Theater
An art nouveau style theatre set against the backdrop of the best of European Art Nouveau. A large art nouveau peacock adorns the main stage curtain and the colors of the peacock adorn the rest of the room.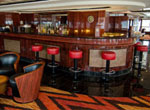 Sugarcane Mojito Bar
Freshly muddled just the way you like, enjoy a refreshing mojito with friends – day or night.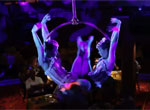 The Haven Experience - Entertainment
Exclusively For Haven Guests Only. From preferred seating at the award-winning shows on board to hot action at the casino to hip DJ house music at the nightclubs, you'll find that when the stars come out, the excitement begins. It's all there for you to enjoy should you wish. But if you simply want to unwind with a cocktail under the stars, you can do so within the privacy and exclusivity of The Haven.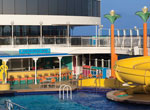 Topsiders Bar & Grill
Located poolside at the Sapphire Pool is Topsiders. This full bar is located in close proximity to ample deck space and hot tubs.
Youth Activities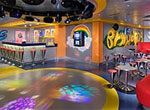 Club Underground
This is a cool place where teens can have fun, too. Designed to look and feel like the New York Subway, there's even graffiti on the walls.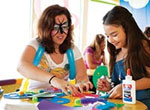 Splash Academy
Get into the zone of fun at Splash Academy! This just for kids area has lots of open space for active games plus an artist craft area.
Sports and Fitness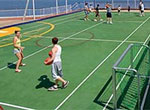 Basketball/Volleyball/Tennis Court
Shoot hoops, join a pick up game, play volleyball or tennis at the enclosed, outdoor Basketball/Volleyball/Tennis Court.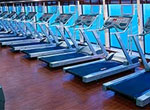 Body Waves Fitness Center
There are numerous ways to stay in shape while on board. The Body Waves Fitness Center is open from 6am to 11pm with a full gym and aerobics/fitness classes daily.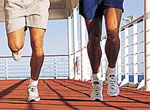 Jogging/Walking Track
Run circles around the other guests or get in your daily walk while you're at sea. Breakfast always tastes better after a good walk or run, right?
Shopping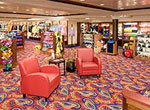 The Galleria Shops
Need a new bathing suit? How about a surprise gift for your sweetheart? The Galleria is a department store that offers a wide selection of brand names and specialty goodies.
Pools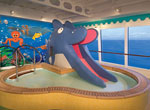 Sapphire Kid's Pool
The Sapphire Kid's Pool features slides and paddling pool. The Sapphire Pool and hot tub are also nearby.
Sapphire Pools
The main pool on Jewel has a seemingly infinite number of sun beds and deck chairs to choose from. Topsiders Bar, the Sapphire Kid's Pool and a covered hot tubs are all on deck, nearby.