Dining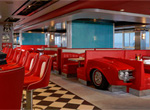 American Diner
Pull up a chair at the casual diner and order from a diverse selection of American foods, including burgers, fried chicken, pot pies and more. Experience a slice of Americana, including classic American cars, with every bite. Pair your delicious diner dishes with American cocktails or beer, including Sam Adams, Budweiser and Whiskey Sours. Enjoy a taste of Americana at sea.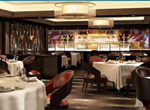 Cagney's Steakhouse
Steak is the standard at Norwegian's American-style steakhouse. Sip your favorite wine as you select from choice cuts of perfectly prepared steaks. And don't forget to order the famous truffle fries while enjoying oceanside seating.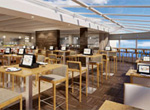 Food Republic
Travel somewhere new with every delicious bite as you savor a fusion of foods and cultures from around the world. Indulge in a reinvented ceviche. Jet away to Japan and try a diverse selection of fresh sushi.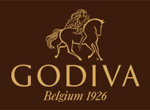 Godiva
Savor a variety of decadent sweet treats by Godiva, including delicious chocolates, truffles and rich soft-serve ice cream.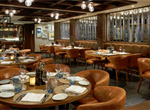 La Cucina
Enjoy the finest ingredients at the vibrant Italian ristorante. Dine on classics like pasta carbonara or shrimp fettucine. Seating options include inside, Atrium al fresco or oceanside.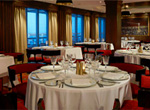 Le Bistro
Norwegian's signature French restaurant offers Mediterranean, nouveau and classic French cuisine with dishes featuring Chinese ingredients. Indoor and outdoor seating available for a choice of atmosphere.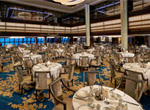 Manhattan Room
Enjoy dining in a private New York City-styled dinner club featuring Western dishes and traditional Chinese cuisine.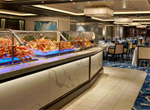 Neptune's Seafood
Norwegian's seafood restaurant features a cold buffet with fresh seafood selections and hot à la carte dishes available to order. Chilled, raw, broiled and fried – savor delicious cuisine cooked to enhance natural flavors.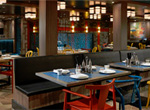 Noodle Bar
Whether its noodles or dim-sum you seek, you'll discover delicious traditional Chinese cuisine. Enjoy noodles in broth or pan-fried dim sum for a relaxing dinner.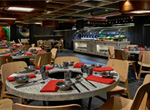 Sakura & Hibiscus
Pull up a seat for either flavorful Korean barbecue or sizzling Chinese Hot Pot style table cooking for a festive dining experience. Two separate menus ensure everyone will find a dish to savor. Seafood and meat platters are also available.
Savor
Stunning in design with incredible ocean views, this main restaurant offers traditional Chinese cuisine for breakfast, lunch and dinner.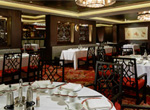 Taste
Taste is one of our three main restaurants serving a variety of culinary delights to please Chinese palates. Take in beautiful ocean views while savoring the contemporary Chinese cuisine and décor.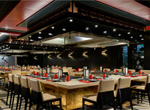 Teppanyaki
The sizzles and surprises never cease at Norwegian's authentic Japanese Hibachi restaurant. Sit at a lively shared table as a skillful chef perfectly grills steak, seafood and chicken on a large steel grill.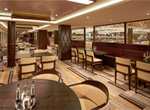 The Garden Café
The buffet serves up complimentary breakfast, lunch and dinner, and the floor-to-ceiling windows provide picturesque ocean views. Traditional Asian cuisine and specialty dishes from around the world will satisfy your every craving.
The Haven Restaurant
A private fine-dining experience for guests of The Haven, serving unique signature dishes and wine offerings from the impressive selection.
Spa and Beauty
Mandara Spa
Make time to pamper yourself during your cruise. Whether you're in the mood for a luxurious massage, rejuvenating skin treatment in the Medi-Spa, a break at the Foot Clinic, or simply relaxing in our Thermal Suite, the Mandara Spa offers over 50 treatments that are good for the body and soul. Get ready to shine by stepping into this full-service salon for a haircut, manicure, pedicure, waxing and more.
Onboard Activities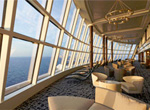 Concierge Lounge
Unwind in this exclusive VIP lounge that's exclusive for Concierge Level guests. Dine on a delicious buffet available for a light breakfast, lunch or afternoon snack.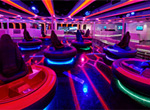 Galaxy Pavilion
Step inside the all new Galaxy Pavilion and into a virtual world unlike anything you've ever seen. Immersive virtual reality experiences. Star Wars Battle Pods. Thrilling simulator rides. Interactive video walls. This is just the beginning of an exciting new world to discover.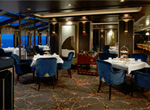 Joy Tea Room
Gather with friends and family in this casual Chinese tearoom to enjoy delicious tea and food selections and the company of loved ones.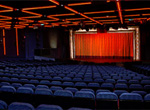 Joy Theater
Norwegian is excited to bring you two spectacular shows. You're invited for an evening of laughter and entertainment in the Joy Theater.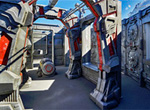 Laser Battle
Human colonizers have lost contact with Planet Earth. It's up to you to find them while searching an abandoned spaceship in this first-ever laser tag experience at sea.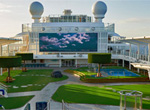 Serenity Park
Catch a glorious sunrise or an afternoon sea breeze. Or take a moment to share your incredible vacation memories with friends back home via fast Wi-Fi service. There's no better place to relax than at the top deck of the ship or on The Waterfront. Enjoy a serene setting that is partially covered and designed for you to unwind however you wish.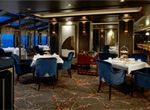 The Grand Tea Room
Relax and rejuvenate in this high-end tea room offering both English and Asian teas served with elegant finger foods and featuring daily High Tea service.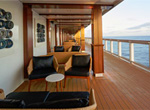 The Waterfront
Only Norwegian let's you truly embrace the world around you. An industry first, The Waterfront will forever change the way you cruise. This quarter-mile oceanfront promenade allows you to connect with the ocean while experiencing some of Norwegian's signature dining venues. Restaurants, bars, stunning views. What could be better?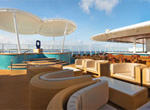 VIBE Beach Club
Exclusively for those 18 and over, Vibe Beach Club is resplendent with ocean views, an over-sized hot tub, chaise loungers and a relaxing water feature. A full-service bar, water spritzers, chilled towels and skewers of fruit ease you even more into serenity.
Casino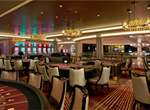 Casino
Test your luck in one of the largest Casinos At Sea or play favorites like Blackjack, Craps, Roulette, Texas Hold 'Em and Poker. With all your favorite table games and slots, it's easy to see why Norwegian has been rated the "Best Cruise Line Casino" of any cruise line for ten years running.
Night Life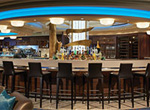 Bar at the Atrium
If you are a people watcher then this is the place to be, whether you want a glass of wine or a vanilla latte.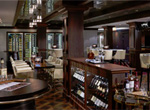 Le Cave Wine Bar
Sample a wide range of premium wines and spirits in an upscale lounge.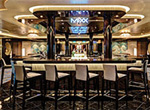 Mixx Bar
Mingle with new friends and enjoy upscale cocktails and wines at this modern pre-dinner gathering place located between two of the most popular dining spots.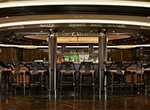 Prime Meridian Bar
Situated between Cagney's Steakhouse and Neptune's Seafood Restaurant, take a seat, order your favorite beverage and share the day's events with friends, both old and new.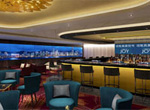 Skyline Bar
Hit the jackpot in more ways than one inside Skyline Bar. Nestle into plush interiors and have a cocktail before dinner, meet friends after a show or just press your luck with the latest bar-top poker screens.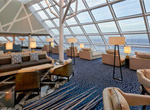 The Haven Observation Lounge
Exclusively for guests in The Haven, The Observation Lounge is a stunning plush space featuring spectacular ocean views. Enjoy a delicious limited buffet available for breakfast and lunch offering delicious traditional Chinese and savory Western cuisine.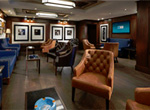 The Humidor Cigar Lounge
Calling all cigar enthusiasts! Unwind in an elegant smoking lounge while enjoying your favorite cigar and cocktail.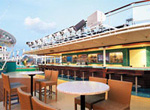 Waves Bar
Unwind with your favorite cocktail while enjoying breathtaking views from this casual outdoor bar.
Youth Activities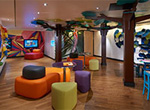 Splash Academy
Your little ones will have a blast inside Splash Academy where they'll learn to juggle at Circus School, break a sweat with a wide range of sports and enjoy creative play and fun family activities in an age-appropriate atmosphere.
Sports and Fitness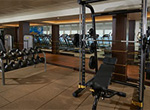 Pulse Fitness Center
Stay in shape with your favorite workout equipment including treadmills, ellipticals and free weights or even yoga, Pilates and spinning.
Pools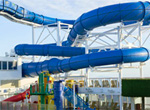 Aqua Park
Swirl down a double loop waterslide over the side of the ship on the Ocean Loop. Twist and shout while rushing down the AquaRacer. And splash around at the family-friendly Aqua Park.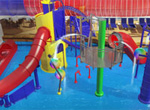 Kid's Aqua Park
They'll splish. They'll splash. They'll definitely have a blast. Whether they want to zoom down a tube slide or get drenched by tipping buckets or water cannons, kids will have the best of times at our new interactive Kids' Aqua Park. This watery wonderland has something to keep the kiddies entertained all day long.