Dining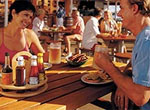 Bier Garten Grill
Just imagine the Bavarian ambiance at the Bier Garten on the terrace where you can enjoy bratwurst and sauerkraut to name a few German delights and of course beer.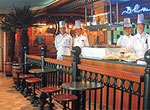 Blue Lagoon Cafe
In honor of the midnight snack, we bring you the Blue Lagoon 23-Hour Food Court. Whether you're craving a burger or a fast-wok dish, you can enjoy a light bite in a family friendly atmosphere, anytime.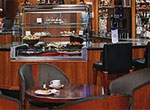 Cafe 49
The cafe is located in the lobby and serves coffee drinks and fine pastries.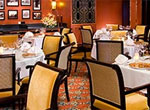 Cagney's Steakhouse
Steak is the standard at Norwegian's American-style steakhouse. Sip your favorite cocktail as you select from premium choice cuts of Angus beef perfectly prepared. And don't forget to order the famous truffle fries.
La Trattoria
Enjoy the flavors of the Tuscan countryside at tables with room for old friends and new. Dine on classic dishes where you can taste the freshness of every tomato used to make an exquisitely delicious sauce. Try a twist on a classic like shrimp fettuccine, or keep it purist with a osso bucco.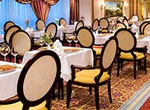 Le Bistro French Restaurant
Have it au poivre or just go straight for the bouillabaisse at our signature French restaurant. Elegant interiors and attentive servers make this an intimate dining experience reminiscent of a Parisian café. By the end of your meal, you'll might just be proclaiming c'est magnifique!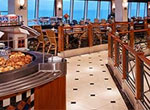 Raffles Court & Terrace
Choose from a delicious selection of ready-to-cook omelets, waffles, fruits, soups, ethnic specialties and pasta in this buffet-style indoor/outdoor restaurant.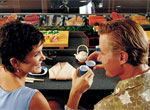 Shogun Asian Restaurant
This elegant adventure into Pan Asian fare is a world-class experience in the finest authentic Japanese, Thai and Chinese cuisine.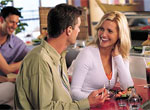 Sushi
The Shogun Asian Restaurant also has a Sushi and Sashimi Bar where you can enjoy the very best sushi and sashimi expertly prepared as you watch. The menu is priced a la carte.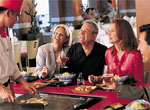 Teppanyaki
Within the Shogun Asian Restaurant is Teppanyaki - a truly authentic Asian dining experience. Sit at a large table of 10 where the process of preparing your food right before you is both entertaining and impressive.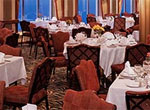 The Garden Room Main Dining
Enjoy five-course dining dishes in a more intimate atmosphere with views of the sea and sky.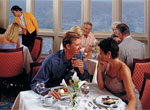 Windows Main Dining Room
Welcome to Windows, where you can enjoy delicious five-course feasts in a beautiful room named for one heck of a panoramic view.
Spa and Beauty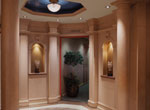 Mandara Spa
If being pampered is your idea of a vacation, the Mandara Spa & Fitness Center is for you. This full service beauty salon and spa offers a wide range of spa treatments to rejuvenate you.
Onboard Activities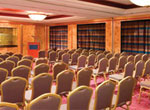 Conference Area & Meeting Rooms
Norwegian Spirit's meeting room area features three individual rooms. The Boardroom, Clipper Room and Schooner Room can be converted into boardrooms, classrooms or theater-style meeting rooms.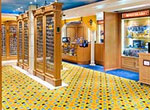 Galleria & Photo Gallery
Walk through a collection of beautiful photographic prints is worthy of any wall. Be sure to check them out at the Photo Gallery.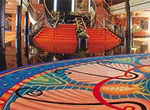 Grand Centrum
It's located in the middle on the ship, where you'll find the Main Reception and the Shore Excursion desk.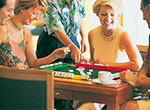 The Card Room
Here is one room where playing games is not just encouraged, it's expected. Find another couple and play bridge or test your skill with chess, checkers, Scrabble and more.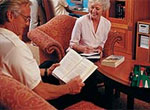 The Library
You'll find a well-stocked selection of things to read with all the elegant trimmings a good library deserves including a stellar view.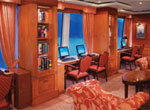 The Lifestyle Room & Internet Café
The Internet Café offers you the comfort and convenience of staying in touch via the Internet while you are Freestyle Cruising.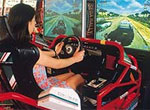 Video Arcade
There's a lot of fun to be had here. Stop by and capture a few aliens, win a car race, play pinball and fly a jet fighter. Anything is possible at the Video Arcade.
Casino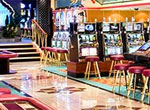 Maharajah's Casino
This could be your lucky night. Try your hand at one of 158 slot machines. Or play, Blackjack, Roulette, Craps, Caribbean Stud Poker (TM) and Let It Ride (TM). Maharajah's Casino includes a full bar.
Night Life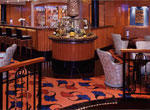 Champagne Charlie's Champagne Bar
Decorated in a classic art deco motif, you can enjoy a full range of premium champagnes with caviar and foie gras at Champagne Charlie's. All you need now is an excuse to celebrate.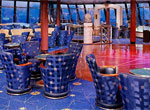 Galaxy of the Stars Observation Lounge
Sit back and take in the beautiful colors of the sea and sky as the sun sinks into the ocean with a full bar as a backdrop. Yummy appetizers change daily.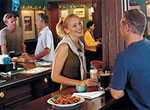 Henry's Pub
Going down to the pub takes on new meaning at Henry's Pub, a traditional English Pub featuring Dart Boards, large screen TV's, Fish n' Chips and the proper beer on tap.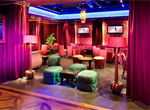 Maharini's Lounge and Nightclub
Lets go to South Beach and dance the night away at this Indian/Bollywood style lounge and nightclub.
Shanghai Bar
Just your typical sports bar, with an Asian twist. Enjoy a broad selection of premium beers and pub snacks while catching game highlights.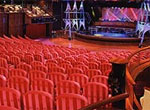 Stardust Theater
It's showtime! And we've got a really big show for you at the Stardust. Enjoy Broadway and Vegas-style shows with cocktails before or after dinner in a traditional European opera style auditorium reaching up two decks.
Youth Activities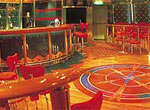 Celebrity Teen Disco
Get down and get funky at this disco. It's the hottest spot on the ship for the hip teen crowd complete with video, jukebox, bar fooseball and air hockey.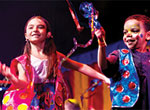 Splash Academy
Get into the zone of fun because Splash Academy is just for kids! With interactive games, an arts and crafts area and creative theme nights kids can do what they do best – be a kid!
Sports and Fitness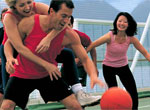 Basketball Court
Shoot hoops or join a pick up game at the net enclosed, outdoor Basketball Court.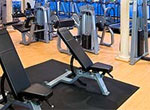 Fitness Center
Work up a sweat on a full range of exercise machines in the gym. The Roman Spa & Fitness Center is open from 6am to 11pm.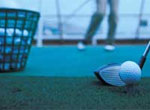 Golf Driving Net
Fore! Take your clubs out for a drive at one of two Golf Driving Nets onboard, because there's no such thing as a lost ball or a bad drive on Norwegian Spirit.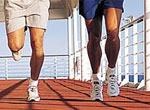 Jogging/Walking Track
Run circles around the other guests or get your daily walk in before breakfast on the outdoor track.
Pools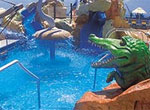 Buccaneer's Wet & Wild
Kids will love Buccaneer's Wet & Wild pool complete with slides, paddling pool and a hot tub just for kids.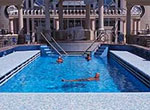 Tivoli Pool
The main pool aboard Norwegian Spirit boasts four hot tubs and numerous deck chairs and sun beds.