Dining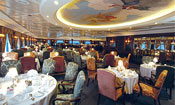 Grand Dining Room
Exceedingly stately and dignified, the Grand Dining Room exudes a warm, convivial ambiance. This is luxury on a grand scale, but approachably so. The handsome decor captures the spirit and splendor of a European, 5-star restaurant.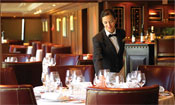 Polo Grill
Thoroughly classic in every sense, the intimate Polo Grill embodies a certain timelessness long associated with the world's finest steakhouses. A triumph of elegance, the restaurant possesses a gracious, traditional atmosphere, courtesy of its crisp, white linen tablecloths, dark-wood furnishings and supple, high-back leather chairs. Open for dinner only. Reservations required.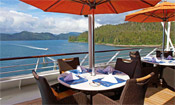 Terrace Cafe
It's hard to resist the sumptuous, ever changing breakfast and lunch buffets in this light-filled, informal buffet restaurant. You may dine indoors or outdoors since the Cafe opens onto both the teak-lined pool deck or aft onto the Terrace, where the tantalizing sea breeze is sure to stir your appetite.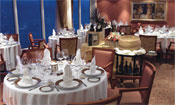 Toscana
Hailed for its simplicity and keenly balanced flavors, Tuscan cuisine is firmly rooted in family traditions. Many of the recipes used to create the authentic Tuscan dishes in Toscana have been handed down from generation to generation, coming to us from the own Italian culinary staff. Open for dinner only. Reservations required.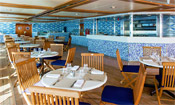 Waves Grill
The casual ambiance of the Waves Grill, which occupies a spacious, shaded corner near the swimming pool, belies its mouth-watering luncheon menu. Come straight from lounging about in the sun, or for a quick meal between tours, and dine from an outstanding menu of gourmet burgers, tangy barbecue and succulent seafood. Open for lunch and afternoon dining only.
Spa and Beauty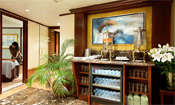 Spa
Discover a legendary spa experience aboard Oceania Cruises. Award-winning Canyon Ranch - with its family of destination health resorts, hotel, wellness communities and SpaClub facilities - has been the acknowledged world leader in healthy living expertise, and a haven of luxury, comfort and warmth for 30 years.
Onboard Activities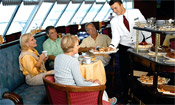 Afternoon Tea
One of cruising's most time-honored traditions, High Tea is served promptly at 4:00 each day, when the pastry chefs take center stage with a colorful collection of English finger sandwiches, scones and other goodies fit for royalty. Live entertainment and gracious service complete a very elegant and refined afternoon.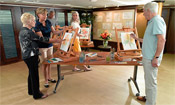 Artist Loft
Artist Loft where talented artists-in-residence offer step-by-step instruction. Under their watchful eye, you may paint with oils or watercolors, sketch or create collages. The courses change continually and are designed with every level in mind, so everyone from beginners to seasoned professionals will find the classes engaging and enriching. With the masters' guidance, your talents will quickly blossom.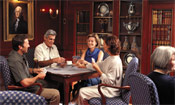 Card Room
The beautifully decorated Card Room is an inviting and tranquil oasis. Stay at the top of your game and try your hand at bridge, either in tournament format or with newfound friends. Or gather around one of the many tables for a quiet afternoon or evening of board games.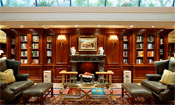 Library
Enrich your mind in the tranquility of the English inspired Library with over 1,000 volumes ranging from destination-specific guide books to best-selling mysteries to classic literature.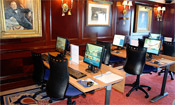 [email protected]
Stay connected with loved ones back home or easily monitor business developments through the fully staffed 24-hour Internet center,
[email protected]
Casino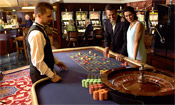 Casino
Lady Luck always seems to be present in the casino, coaxing jackpots and eliciting squeals of delight. Take one of the slot machines for a spin or join a rousing game of blackjack, poker, or roulette.
Night Life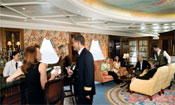 Grand Bar
Before enjoying a gourmet meal, sample a rare vintage or imbibe in your favorite libation as you enjoy spirited conversation with new found friends amid the opulence of the convivial Grand Bar.
Headline Entertainers
If you're an aficionado of the arts, you'll find Oceania's entertainment just as engrossing and personally satisfying. In the evenings, the ship is filled with music performed by, what some have called, the finest orchestra at sea. Attend a live classical concert under the stars, the notes gently wafting through the misty night.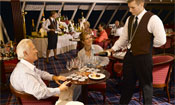 Horizons
An observation lounge with dramatic floor-to-ceiling windows offers captivating views, sweeping vistas and a convivial bar in which to enjoy the favorite cocktail.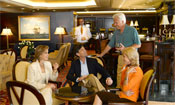 Martinis
Martinis serves numerous incarnations of this famous cocktail in an intimate atmosphere reminiscent of a private gentleman's club, featuring live piano music.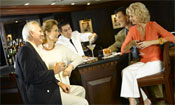 Polo Bar
Located in the Polo Grill, the Polo Bar is the perfect place to gather with friends and relax while you sample an almost infinite variety of premium, single-malt Scotch and full-grain whiskeys.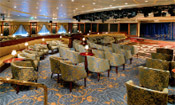 Ship Lounge
From headline acts to comedians and magicians to lively jazz ensembles, the ship lounges are the center of nightly entertainment aboard Oceania Cruises.
Sports and Fitness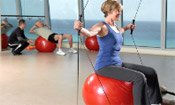 Fitness Center
Opportunities await you in the state-of-the-art fitness center, where you may exercise on the latest fitness equipment or join a class in indoor cycling, Pilates or yoga.
Shopping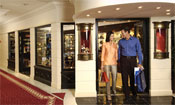 Boutique
The two stylish boutiques feature a bounty of items ranging from sundries to designer casual wear. Feel free to browse through the array of duty-free merchandise including fine jewelry, fragrances and Oceania Cruises logo wear.
Pools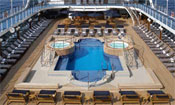 Pool
With a large heated pool and three whirlpool spas, there is always room for a refreshing dip in the pool, poolside relaxation, or a soothing spa experience.