Dining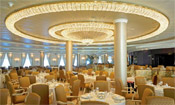 Grand Dining Room
Like a precious jewel imbuing the room with radiance, a luminous crystal chandelier crowns the center of the Grand Dining Room's soaring ceiling. It is emblematic of the stateliness throughout, the warm grandeur of Marina's most spectacular restaurant.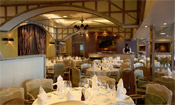 Jacques
Enter Jacques, the eminent Jacques Pepin's first restaurant to bear his name on land or sea, and you will be instantly struck by the sensory pleasures. Luscious aromas waft from the gleaming glass and brass show rotisserie in the room's heart, where duck, pork, chicken and veal roasts slowly turn, sealing in their succulent flavors. Open for dinner only. Reservations required.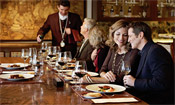 La Reserve
La Reserve by Wine Spectator may be the most inspired wine pairing ever. It's the brilliant union of La Reserve, Marina's exclusive domain for bons vivants, with Wine Spectator, the foremost magazine for wine connoisseurs. Open for dinner only. Reservations required. Wine Experience surcharge applies.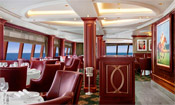 Polo Grill
Polo Grill is simply timeless; a traditional intimate setting that personifies a classic steakhouse, courtesy of its crisp, white linen tablecloths, dark-wood furnishings upholstered in richly textured fabrics, and supple burgundy leather chairs. Open for dinner only. Reservations required.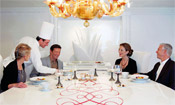 Privee
Privee stands alone as Oceania Cruises' most indulgent, one-of-a-kind dining experience. Even superlatives pale when describing Marina's ultimate venue, which you may reserve solely for exclusive parties of as many as eight privileged guests. Reservations required. A room reservation surcharge applies.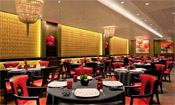 Red Ginger
Red Ginger makes an immediate and powerful statement with its decorative centerpiece: three fabulous, multi-colored Buddha heads, each carved from a single piece of glass and brightly lit from within. Open for dinner only. Reservations required.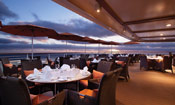 Terrace Cafe
Days that begin in the Terrace Cafe always seem light and carefree. Perhaps it's because the furnishings are so wonderfully inviting, or that the room is infused with natural sunlight from the floor-to-ceiling windows, stimulating the appetite for the sumptuous breakfast selections.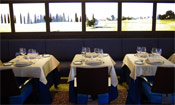 Toscana
Beautiful scenes of the fertile Tuscan countryside adorn Toscana, an artistic expression of the authentic dining experience awaiting guests. Simple yet keenly balanced, Tuscan cuisine evolved from rich family traditions, epitomized within Toscana, where many of the recipes originated with the grandmothers and mothers of the own Italian culinary staff. Open for dinner only. Reservations required.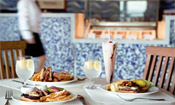 Waves Grill
Being open-air and just steps from the swimming pool, Waves Grill welcomes casual diners. Its laid-back ambiance invites guests to come directly from lounging in the sun, or for a quick meal between shore excursions. Open for lunch and afternoon dining only.
Spa and Beauty
Canyon Ranch SpaClub
Discover a legendary spa experience aboard Oceania Cruises. Award-winning Canyon Ranch - with its family of destination health resorts, hotel, wellness communities and SpaClub facilities - has been the acknowledged world leader in healthy living expertise, and a haven of luxury, comfort and warmth for 30 years.
Onboard Activities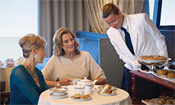 Afternoon Tea
One of cruising's most time-honored traditions, High Tea is served promptly at 4:00 each day, when the pastry chefs take center stage with a colorful collection of English finger sandwiches, scones and other goodies fit for royalty. Live entertainment and gracious service complete a very elegant and refined afternoon.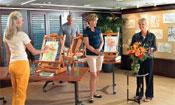 Artist Loft
Marina offers a hands-on program for budding artists in the Artist Loft, a well-equiped enrichment center, where superbly talented artists-in-residence offer step-by-step instruction in their areas of expertise.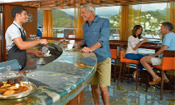 Baristas
As you sit ensconced in a tufted leather chair in Marina's welcoming library immersed in the latest bestseller, you are drawn by the aroma of freshly-brewed specialty coffees to Baristas, Oceania Cruises new coffee bar directly adjacent to the library.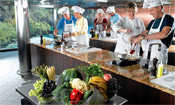 Culinary Center
Rather than just watching others create and merely taking notes, the best way to acquire new skills is through hands-on learning. It's especially true with regard to culinary and artistic endeavors.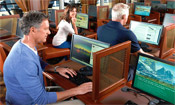 Internet Center
Travel to the most remote, exotic lands and never be out of touch. The Internet center is open around the clock so you can stay connected with loved ones through email, check the latest business news and stock prices, or research your next port of call.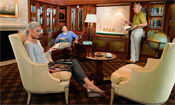 Library
Enrich your mind in the tranquility of the English inspired Library with over 2,000 books and periodicals ranging from destination-specific guide books to best-selling mysteries to classic literature.
Casino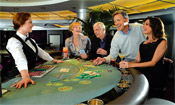 Casino
Lady Luck always seems to be present in the Monte Carlo style-casino, coaxing jackpots and eliciting squeals of delight. Take one of the slot machines for a spin or join a rousing game of blackjack, poker, or roulette.
Night Life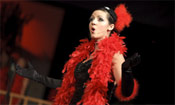 Headline Entertainers
If you're an aficionado of the arts, you'll find the entertainment just as engrossing and personally satisfying. In the evenings, the ship is filled with music performed by, what some have called, the finest orchestra at sea.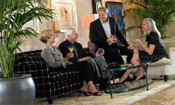 Grand Bar
Before enjoying a gourmet meal, sample a rare vintage or imbibe in your favorite libation as you enjoy spirited conversation with new found friends amid the opulence of the convivial Grand Bar.
Lounge
From headline acts to comedians and magicians to lively jazz ensembles, the ship lounges are the center of nightly entertainment aboard Oceania Cruises.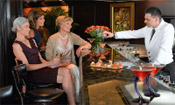 Martinis
Martinis serves numerous incarnations of this famous cocktail in an intimate atmosphere reminiscent of a private gentleman's club, featuring live piano music.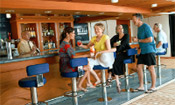 Waves Bar
Located in shaded area steps from the swimming pool. Waves Bar offers a wide variety of libations to enhance your poolside experience.
Sports and Fitness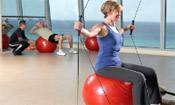 Fitness Center
Opportunities await you in the state-of-the-art fitness center, where you may exercise on the latest fitness equipment or join a class in indoor cycling, Pilates or yoga.
Shopping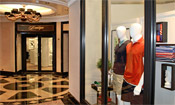 Boutiques
The three stylish boutiques feature a bounty of items ranging from sundries to designer casual wear. Feel free to browse through the array of duty-free merchandise including fine jewelry, fragrances and Oceania Cruises logo wear.
Pools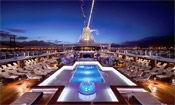 Pool and Jacuzzis
With a large heated pool and three whirlpool spas, there is always room for a refreshing dip in the pool, poolside relaxation, or a soothing spa experience.