Dining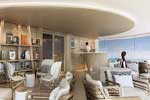 Panoramic Restaurant
To the back of Deck 4, you will find a 260 m² panoramic restaurant which can accommodate all of our passengers in a single sitting. Designed differently to that on our other ships, this dining area, which opens onto the outside, will have a buffet of salads, desserts and cheeses at your disposal. Our discreet and attentive crew will provide table service for hot meals.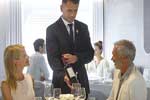 Restaurant
In a relaxed atmosphere, a first dining area located on Deck 3 and able to seat 70 will serve grilled meats daily, along with a variety of salads and desserts.
Onboard Activities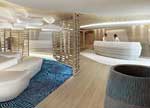 Reception Area
A reception area includes: a reception/concierge desk, an excursions desk, The ship's administrative services, The sales office, manned by our Guest Relations Officer, and the boutique which sells clothing, jewelry, beauty products, postcards and various accessories
Night Life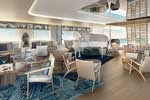 Lounge
A main lounge which can accommodate all of our passengers to share convivial moments and to host activities organised during the day or evening.
Pools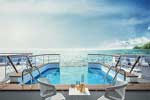 Pool Deck
Pool deck offers a pool with a panoramic view, equipped with a counter-current swimming system, a pleasant solarium, and an outdoor bar and lounge with armchairs and sofas.