Dining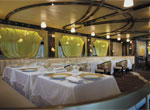 Chartreuse
Featuring a classic French menu with a modern twist, Chartreuse evokes memories of a chic Parisian fine dining restaurant discovered during an evening stroll. The restaurant ambiance is complemented by a menu that features dishes expertly prepared using both classic and modern techniques for a multiple course celebration of French gastronomy.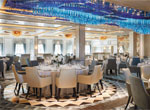 Compass Rose
Compass Rose delights with a beautifully defined atmosphere and transitions from refreshing natural light during the day to a romantic ice blue lighting theme at night. This is the perfect setting for you to enjoy your breakfast, lunch and dinner, where the menu features an exceptional variety of Continental cuisine.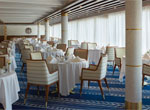 La Veranda
Spacious and comfortably casual, La Veranda offers regional specialties that often reflect the cuisines of the countries called on, such as Grilled Lamb Chops with Spanish Sherry Sauce or pan-sauteed Mediterranean Sea Bass.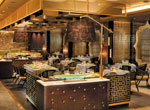 Pacific Rim
The interior glows with muted lighting that illuminates intricate architectural details. During dinner, guests are treated to incredible ocean views through windows designed in an abstract lotus shape, a universal Asian motif. To complement the stunning decor, Pacific Rim's chefs created a delectable menu of Pan-Asian creations with dishes such as grilled Korean barbecue lamb chops, wok-fried beans, eryngii mushroom and gochujang dressing.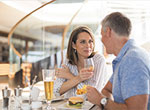 Pool Grill
The Pool Grill welcomes casual diners. Its laid-back ambiance invites guests to come directly from lounging in the sun, or for a quick meal between shore excursions. While the atmosphere is deliciously informal, the menu and preparation reflects the same attention to detail as the finest of restaurants.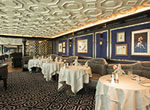 Prime 7
Enjoy a cocktail at the bar before being taken to your personal banquette. And after savoring a succulent filet mignon or a mouthwatering cote de boeuf, delight in a digestif and a lively conversation with fellow guests in the comfort of supple leather wing-back chairs.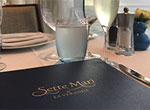 Sette Mari at La Veranda
In the evenings, La Veranda transforms into the warm and inviting Sette Mari at La Veranda, where tables are candlelit to match the star-filled skies. The menu also transforms into a tantalizing journey of alluring antipasto, perfect homemade pastas, enticing main courses and divine desserts hailing from all over Italy.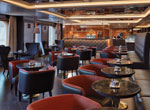 The Cafe
Visit The Cafe on Deck 5 mid-ship to enjoy complimentary coffee drinks prepared by baristas, as well as delicious pastries, gourmet sandwiches and homemade cookies.This venue to your destination to relax, meet other guests and enjoy coffee and snacks throughout the day.
Spa and Beauty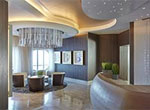 Canyon Ranch SpaClub
Indulge in a treatment tailored to your taste within the serene Canyon Ranch SpaClub. Enjoy an array of treatments including signature massages and therapeutic bodywork, aromatherapy, ayurvedic and seaweed treatments as well as facials.
Onboard Activities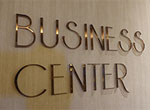 Business Center
Seven Seas Explorer offers FREE WiFi access throughout the ship, allowing guests to connect to the Internet with their own device. If a guest prefers to travel without a laptop, the staffed Business Center on Deck 5 offers desktop computers that allow them to access their emails and browse the Internet. Guests also have access to a printer for a nominal fee.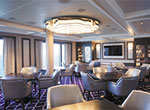 Card Room
The beautifully decorated Card Room is an inviting and tranquil oasis. Gather your favorite teammates for a quiet afternoon or evening of board games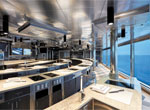 Culinary Arts Kitchen
At the Culinary Arts Kitchen, guests learn how to prepare a variety of exquisite dishes in a welcoming environment reminiscent of the most prestigious cooking schools in the world in both layout and design. Eighteen individual cooking stations sit atop three long curved rows with white quartzite countertops and stainless steel accents, belaying the complex and richly flavored foods you will prepare during the classes.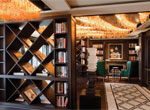 Library
Well-stocked and exceedingly comfortable, the Library offers a calm setting for reading and relaxing. Enrich your mind with a vast collection of volumes ranging from destination-specific guide books to best-selling mysteries to classic literature.
Casino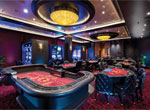 Casino
When you are in the gaming mood, delight in the exciting offerings inside the elegant, Monte Carlo-style casino. Glass doorways lead the way to table games that include Blackjack, roulette, stud poker, mini-craps and slot machines.
Night Life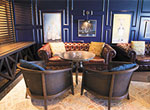 Connoisseur Club
The Connoisseur Club is the perfect venue to enjoy a fine cigar or imbibe on your favorite libation while enjoying spirited conversation with new found friends. This elegant hideaway provides comfortable leather armchairs and a club-like atmosphere.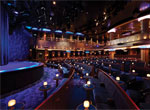 Constellation Theater
This phenomenal venue pays homage to ornate show palaces of Hollywood's golden age with a subtle swan motif woven into the seating banquettes, ceiling architecture and an intricate entry-way mosaic.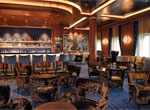 Explorer Lounge
The Explorer Lounge's rich mahogany wood columns, heavy leather chairs and deep blue fabrics set the tone for the start of your evening. Choose to meet friends fro a pre-dinner cocktail at the elegant, black marble bar.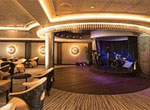 Meridian Lounge
Located on Deck 5 mid-ship, the Meridian Lounge is elegantly appointed and comfortably furnished. Boasting an expansive bar and relaxed arm chairs, this space is an ideal location to gather for a cocktail, especially after one of the many exciting performances at the Constellation Theater. Entertainment-rich evenings continue with virtuoso performances by resident musicians.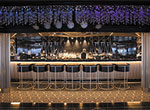 Observation Lounge
The Observation Lounge brings to life opulence and indulgence with a rich color palate that features shimmering silver, gold, black and white color hues, while the floor to ceiling windows provide guests with incredible ocean vistas.
Sports and Fitness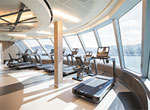 Fitness Center
Above the Canyon Ranch SpaClub, is the state-of-the-art Fitness Center, which features Lifecycles, free weights, striders, StairMasters, treadmills, weight benches, a Nautilus machine, workout mats and step benches. Canyon Ranch fitness experts lead popular exercise classes, such as Pilates, yoga and aerobics and are on hand to offer advice and demonstrate the use of fitness equipment.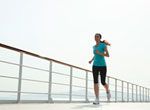 Jogging Track
Whether an early morning run or a brisk walk in the evening, the Jogging Track offers the best views. Also along the path is the dedicated sports area, featuring shuffleboard, putting greens, golf nets, bocce court and paddle tennis.
Shopping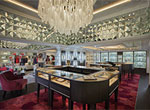 The Boutiques
Whether looking for something special to wear for dinner or a memento to bring back home, guests may browse through designer garments and fashionable accessories in the shops. Just outside the Constellation Theater, The Boutiques offer a wide range of items from upscale handbags to exclusive fragrances to fine jewelry in an intimate and unhurried setting.
Pools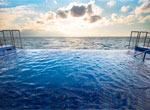 Infinity-Edge Plunge Pool
Soak in the refreshing Infinity-Edge Plunge Pool just outside of the Canyon Ranch SpaClub. An inviting teak-deck terrace filled with plush, partially covered lounge chairs surround the intimate pool. The views are dramatic from wherever you are, as the pool contours to the stern of the ship.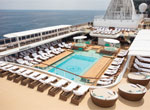 Pool Deck
Lounge the day away under the warm sun and an unforgettable vista. Outfitted in teak accents, the Pool Deck is one of the most elegant at sea, featuring a lavish pool and two whirlpools.