Dining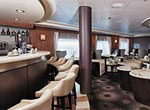 Coffee Connection
Located on Deck 6 within the Navigator Lounge, guests enjoy complimentary coffee drinks prepared by baristas, as well as delicious pastries, gourmet sandwiches and homemade cookies. Additionally, international newspapers and news magazines are made available. This venue is the perfect destination to relax, converse and enjoy coffee and snacks throughout the day.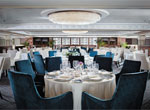 Compass Rose
As the flagship restaurant aboard each of the ships, the wonderfully spacious Compass Rose serves breakfast, lunch and dinner and features an exceptional variety of European-inspired Continental cuisine, as well as flavorful vegetarian and kosher dishes and nutritious Canyon Ranch SpaClub specialties.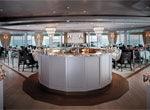 La Veranda
Serving breakfast, lunch and dinner, La Veranda is exceedingly popular any time of the day. Spacious and comfortably casual, La Veranda offers regional specialties that often reflect the cuisines of the countries called on, such as Grilled Lamb Chops with Spanish Sherry Sauce or pan-sauteed Mediterranean Sea Bass.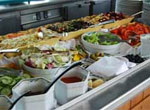 Pool Grill
The ultimate come-as-you-are dining venue, the Pool Grill couldn't be more casual. Walk over straight from sunbathing or swimming in the pool. Drop by before or after a shore excursion.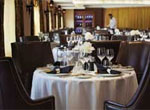 Prime 7
A true classic in every sense, Prime 7 sets a new standard in steakhouse fare with its contemporary interpretation of an American favorite. Handsomely decorated with supple leather wing-back chairs, burnished woods and rich earth-toned fabrics, Prime 7 exudes a distinct, intimate elegance.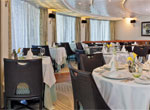 Sette Mari
In the evenings, La Veranda transforms into the warm and inviting Sette Mari at La Veranda, where tables are candlelit to match the star-filled skies. The menu also transforms into a tantalizing journey of alluring antipasto, perfect homemade pastas, enticing main courses and divine desserts hailing from all over Italy.
Spa and Beauty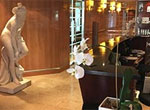 Spa
Wherever you sail, take the world's premier spa, Canyon Ranch SpaClub. These shipboard gems provide a realm of perfect tranquility and renewal. Here you'll enjoy a healthy sampling of the spa and wellness services of legendary Canyon Ranch health resorts.
Onboard Activities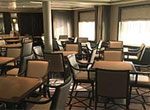 Card and Conference Room
The beautifully decorated Card & Conference Room is an inviting and tranquil oasis. Guests may gather their favorite teammates for lively afternoon or evening of board games, as well as enjoy a social game of Bridge or participate in an ACBL Tournament on select voyages.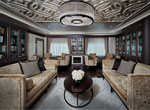 Library
Well-stocked and exceedingly comfortable, the Library offers a calm setting for reading and relaxing. A vast collection of volumes ranging from destination-specific guide books to best-selling mysteries to classic literature are available. Seven Seas Navigator offers FREE WiFi access throughout the ship, however if a guest prefers to travel without a laptop, the Library offers several desktop computers.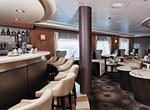 Navigator Lounge
The Navigator Lounge is a friendly gathering place that welcomes you after shopping, touring or for simply relaxing. It offers an informal Early Riser Continental Breakfast where you can enjoy a cup of coffee, espresso, cappuccino, latte or tea accompanied by a selection of pastries and a variety of fresh juices.
Casino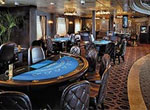 Casino
For those in the gaming mood, a few hands of blackjack in the elegantly appointed Casino are the perfect draw. The Casino is located on Deck 7, and is open every day at sea when not restricted by territorial border limits. Blackjack, roulette, stud poker, mini-craps and slot machines are offered for the guests' enjoyment.
Night Life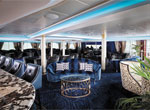 Galileo's
Galileo's is the ideal place for cocktails or to simply relax and unwind with an after-dinner drink. Musicians entertain with familiar tunes during teatime as well as before and after dinner, with an opportunity for dancing. Game shows, night entertainment and live musical events are featured regularly.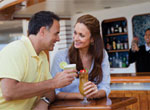 Pool Bar
By the pool, guests can enjoy refreshing cocktails and frozen drinks expertly prepared by the Mixologists in the relaxed atmosphere of the Pool Deck.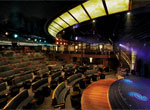 Seven Seas Lounge
The Seven Seas Lounge is perfectly tiered for unobstructed viewing and furnished with plush seating. This main show lounge is an intimate venue where every seat is the best seat in the house. The phenomenal variety of entertainment here includes full-scale musical revues.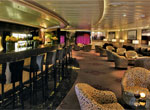 Stars Lounge
The Stars Lounge is an ideal place to meet friends and fellow travelers for an after-dinner drink or late night cocktail. This is the place for those night owls wanting to dance into the night or maybe sing along in a karaoke competition.
Sports and Fitness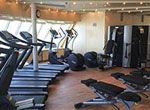 Fitness Center
Canyon Ranch fitness experts lead popular exercise classes, such as Pilates, yoga and aerobics and are on hand to offer advice and demonstrate the use of fitness equipment. One-on-one training can be arranged with a Fitness Instructor. Equipment includes Lifecycles, free weights, striders, StairMasters, treadmills, weight benches, a Nautilus machine, workout mats and step benches.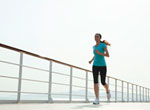 Jogging Track & Recreation
In addition to planned activities in the Fitness Center, guests may take advantage of other sports-related activities throughout the ship. Deck 12 provides shuffleboard and mini-golf, while Deck 11 offers a full-circle jogging track.
Pools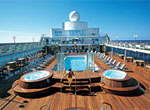 Pool
The teak pool deck is the ideal spot to lounge the day away with a good book and a cold drink. Or go for a swim in the large heated pool, or enjoy a dip in one of two whirlpools.