Dining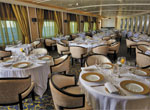 Chartreuse
Chartreuse evokes memories of a chic Parisian fine dining restaurant. Wherever guests are seated in this regal restaurant, they will be treated to a succulent dinner while enjoying incredible ocean views. The restaurant ambiance is complemented by a menu that features dishes expertly prepared using modern techniques for a multiple course celebration of French gastronomy.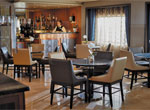 Coffee Connection
Guests enjoy complimentary coffee drinks prepared by baristas, as well as delicious pastries, gourmet sandwiches and homemade cookies. Additionally, international newspapers and news magazines are made available. This venue is the perfect destination to relax, converse and enjoy coffee and snacks throughout the day.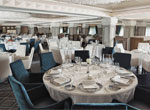 Compass Rose
As the flagship restaurant aboard each of the ships, the wonderfully spacious Compass Rose serves breakfast, lunch and dinner and features an exceptional variety of European-inspired Continental cuisine, as well as flavorful vegetarian and kosher dishes and nutritious Canyon Ranch SpaClub specialties.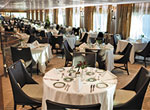 La Veranda
Serving breakfast, lunch and dinner, La Veranda is exceedingly popular any time of the day. Spacious and comfortably casual, La Veranda offers regional specialties that often reflect the cuisines of the countries called on, such as Grilled Lamb Chops with Spanish Sherry Sauce or pan-sauteed Mediterranean Sea Bass.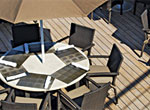 Pool Grill
The Pool Grill is open-air, yet abundantly shaded for comfortable dining. Choose your preferred table and one of the attentive staff will take your order. While the atmosphere is deliciously informal, the menu and preparation reflects the same attention to detail as the finest of restaurants.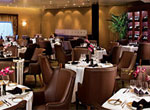 Prime 7
A true classic in every sense, Prime 7 sets a new standard in steakhouse fare with its contemporary interpretation of an American favorite. Handsomely decorated with supple leather wing-back chairs, burnished woods and rich earth-toned fabrics, Prime 7 exudes a distinct, intimate elegance.
Sette Mari
In the evenings, La Veranda transforms into the warm and inviting Sette Mari at La Veranda, where tables are candlelit to match the star-filled skies. The menu also transforms into a tantalizing journey of alluring antipasto, perfect homemade pastas, enticing main courses and divine desserts hailing from all over Italy.
Spa and Beauty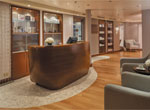 Canyon Ranch SpaClub
Wherever sailing, take the world's premier spa, Canyon Ranch SpaClub. These shipboard gems provide a realm of perfect tranquility and renewal. Here you'll enjoy a healthy sampling of the spa and wellness services of legendary Canyon Ranch health resorts.
Onboard Activities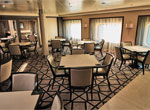 Card & Conference Room
he beautifully decorated Card & Conference Room is an inviting and tranquil oasis. Guests may gather their favorite teammates for lively afternoon or evening of board games, as well as enjoy a social game of Bridge or participate in an ACBL Tournament on select voyages.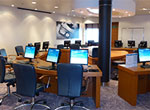 Club.com
Seven Seas Voyager offers FREE WiFi access throughout the ship, allowing guests to connect to the Internet with their own device. If a guest prefers to travel without a laptop, the staffed Club.com on Deck 5 offers desktop computers that allow them to access their emails and browse the Internet. Guests also have access to a printer for a nominal fee.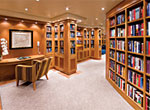 Library
Well-stocked and exceedingly comfortable, the Library offers a calm setting for reading and relaxing. A vast collection of volumes ranging from destination-specific guide books to best-selling mysteries to classic literature are available.
Casino
Casino
For those in the gaming mood, a few hands of blackjack in the elegantly appointed Casino are the perfect draw. The Casino is located on Deck 7, and is open every day at sea when not restricted by territorial border limits. Blackjack, roulette, stud poker, mini-craps and slot machines are offered for the guests' enjoyment.
Night Life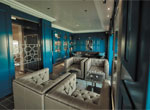 Connoisseur Club
The Connoisseur Club is the perfect venue to enjoy a fine cigar or imbibe a favorite libation while enjoying spirited conversation with new found friends. This elegant hideaway provides comfortable leather armchairs and a club-like atmosphere.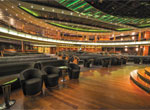 Constellation Theater
In the plush two-tiered Show lounge, the nine-piece Regent Signature Orchestra creates concert-quality music for an exhilarating array of productions. Cabaret revues and feature productions are presented, and several of the shows feature professional ballroom couples performing original choreography showcasing Latin, swing, waltz and other styles.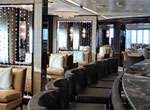 Horizon Lounge
The Horizon Lounge is the ideal place for cocktails or to simply relax and unwind with an after-dinner drink. Resident musicians will entertain daily during teatime as well as before and after dinner.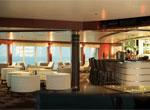 Observation Lounge
The Observation Lounge is a quiet place to read and relax while watching the spectacular views Seven Seas Voyager offers upon entering or leaving the various ports of call. Musicians will entertain daily and it is the perfect spot for pre-dinner cocktails or a nightcap.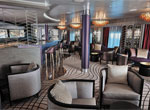 Voyager Lounge
The Voyager Lounge and nightclub is the perfect venue to meet friends and fellow travelers for a pre-dinner cocktail. After dinner, the Voyager Lounge turns into a nightclub and is the place for those night owls wanting to dance into the night or maybe sing along in a karaoke competition.
Sports and Fitness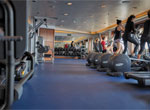 Fitness Center
Canyon Ranch fitness experts lead popular exercise classes, such as Pilates, yoga and aerobics and are on hand to offer advice and demonstrate the use of fitness equipment. One-on-one training can be arranged with a Fitness Instructor. Equipment includes Lifecycles, free weights, striders, StairMasters, treadmills, weight benches, a Nautilus machine, workout mats and step benches.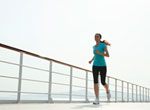 Jogging Track & Recreation
In addition to planned activities in the Fitness Center, guests may take advantage of other sports-related activities throughout the ship. Deck 12 provides golf cages, shuffleboard, paddle tennis and a full-circle jogging track.
Shopping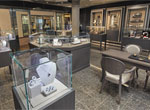 Boutiques
Whether looking for something special to wear for dinner or a memento to bring back home, guests may browse through designer garments and fashionable accessories in the shops. The Boutiques offer a wide range of items from upscale handbags to exclusive fragrances to fine jewelry in an intimate and unhurried setting.
Pools
Pool
Lounge the day away with a good book and a cold drink on our pool deck. The teak pool deck is one of the most expansive at sea, including a large heated pool, two whirlpools and table tennis.