Dining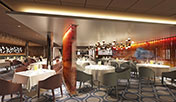 American Icon Grill
Discover America, the beautiful...the delectable...the absolutely mouthwatering. It's your favorite comfort foods, hand picked from cities spanning sea to shining sea.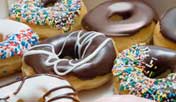 Boardwalk Donuts
Hit the Boardwalk on the Oasis-class ships and choose your favorite doughy goodness - chocolate, frosted, sprinkled and more - with fresh brewed coffee and specialty drinks.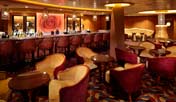 Boleros
An experience infused with Latin passion, from the signature drinks to the live Salsa music.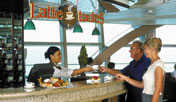 Cafe Latte-Tudes
Caffeine fix, coffee break, or after-dinner cappuccino - drop by this cafe for sweets, people watching and specialty coffee beverages (additional cost applies).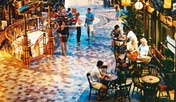 Cafe Promenade
The multi-level Royal Promenade is the heart of the Voyager-, Freedom-, and Oasis-class ships - and the best spot for people watching. Pick a table with a view at Cafe Promenade, serving Seattle's Best Coffee, snacks, pastries and sandwiches throughout the day and into the night - so you can enjoy the action when you please.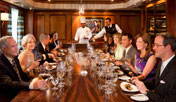 Chef's Table
A once-in-a-lifetime culinary experience. In this exclusive space, 14 guests will enjoy a five-course menu of gourmet selections specially prepared and personally presented by the Chef de Cuisine. Every course is accompanied by wine pairings chosen to enhance your enjoyment of each dish.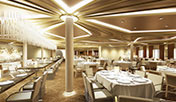 Chic
The height of contemporary cuisine is realized at Chic, where the freshest ingredients of the wild are evolved for a modern palate.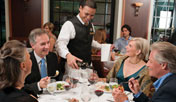 Chops Grille
Royal Caribbean's popular signature steakhouse, featuring grade-A premium cuts of steak cooked to your specifications, plus fresh seafood, hearty side dishes and signature desserts in an upscale, contemporary setting.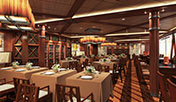 Coastal Kitchen
Exclusively for suite guests, Coastal Kitchen fuses Mediterranean influences with the unmatched riches of California's bountiful farmlands.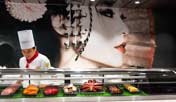 Izumi Japanese Cuisine
The traditional Japanese dishes at Izumi will impress you with their pure, delicate flavors, freshness of ingredients and impeccable presentation. Diners can choose from popular sushi rolls, sashimi, the Hot Rock (Ishiyaki) Plates, sukiyaki and more.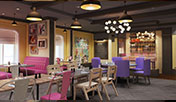 Jamie's Italian
Chef Jamie Oliver may be one of Britain's most famous food exports, but it's his love of Italian cooking and the Italian way of life that drives the menu at Jamie's Italian on Quantum of the Seas.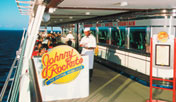 Johnny Rockets
Get the family together for good old-fashioned hamburgers and fries at Johnny Rockets - complete with authentic 1950s decor, a menu filled with all-American favorites and a jukebox at every table.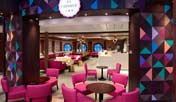 La Patisserie
A quaint and cozy coffeehouse and pastry shop in the French tradition.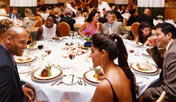 Main Dining Room
Sweeping, multi-level ambience, world-class cuisine and extraordinary personal service from a dedicated wait staff. The main dining room serves exceptional, multi-course meals for breakfast, lunch and dinner. Enjoy a new dinner menu each evening in an elegant setting, with two sittings, nightly, or choose My Time Dining.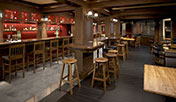 Michael's Genuine Pub
James Beard Award-winner Michael Schwartz brings you delicious yet uncomplicated pub fare, plus his namesake craft beer.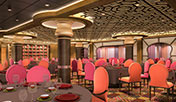 Silk
Weave your way through a vibrant tapestry of pan-Asian flavors as diverse and nuanced as the Far East itself.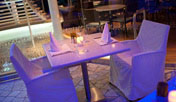 Solarium Bistro
A hearty but healthful lunch destination in Solarium with lighter options for breakfast and lunch. Try soups and stews, crepes, salad bars, fresh-cut fruits and more.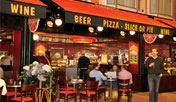 Sorrento's Pizza
For an authentic New York pizzeria experience, head to Sorrento's for fully-loaded pies right out of the oven. Sample rotating creations from chorizo to Hawaiian to Pizza Florentine - with classic cheese and pepperoni always on call.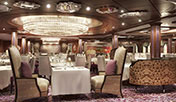 The Grande Restaurant
The Grande is a luxuriant nod to a bygone era. When dining was not a task, but a time-honored ritual. At The Grande, every night is formal night, and every night is a special occasion.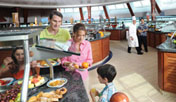 Windjammer
A culinary destination loaded with an array of delicious food for every meal and snack time - all with spectacular views and a comfortable, casual atmosphere. Browse multiple buffets and serving stations featuring pastas, omelettes made-to-order, global cuisine, salads, soups, sandwiches, meat-carving, and tons of tantalizing desserts.
Wonderland
Chefs twist their culinary kaleidoscopes to invent an elaborate dreamscape of never-before-seen fare. The story begins as you open the menu and find your element - Wind, Ice, Fire, Water, Earth and Dreams.
Spa and Beauty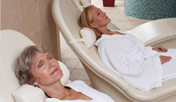 Vitality Spa
A luxurious sanctuary boasting signature treatments, medi-spa services, and a full-service salon to make you glow from the inside out. Browse the spa menu for pricing.
Onboard Activities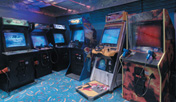 Arcade
Blips, bleeps, clangs and cheers. Play to win in a classic arcade atmosphere with timeless games like Pacman and table hockey, plus the latest - Guitar Hero, Fast and Furious and more.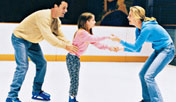 Ice Skating
Put your vacation on ice with a spin on the ice rink, an onboard feature exclusive to Royal Caribbean. Skates will be provided to show off the moves. Included in your fare, no reservation required.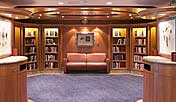 Library and Card Room
Peace, quiet, and your next great read - find it all at the well-stocked library, featuring a variety of genres, plus tables for cards and board games. Everything's complimentary for your enjoyment.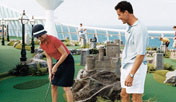 Mini Golf
Hit the links on the high seas! Refine your mini-golf game on a green that overlooks a sea of blue. Included in your fare, no reservation required.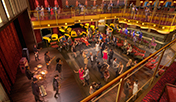 Music Hall
The place to enjoy intimate and exclusive access to live performances. Rebellious and edgy, the two-story design is inspired by the spirit of rock and roll, with decor in deep, rich tones, velvet and touches of leather and mirrors. During the day, the venue offers activities ranging from dance classes to game shows. At night, Music Hall comes alive as the heart of the ship's entertainment, with shows, billiard tables and two bars.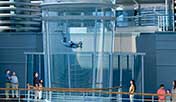 Ripcord by iFly
One of Royal Caribbean's many innovative firsts! Feel the wind in your hair, and the complete and utter WOW of flying, without ever leaving the ship. Available on the forthcoming Quantum class.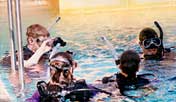 Scuba in the Pool
Choose from a few different levels of dive training - from a scuba-equipped dip in the onboard pool, to full certification in the Caribbean's warm waters. Available on Oasis-, Freedom- and Voyager-class ships on Caribbean itineraries. Participants must be at least 12 years old. Fee applies.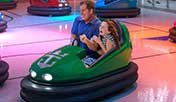 Seaplex
The largest indoor active space at sea is only on Royal Caribbean. Roller skating, basketball, bumper cars, a circus school - it's the first time you'll ever play like this on a cruise. SeaPlex makes its debut in the Quantum-class ships.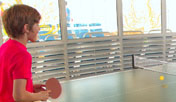 Table Tennis
Put your paddle up for a table tennis battle at sea. Full-sized tables feed the back-and-forth action while winner-take-all tourneys deliver the glory.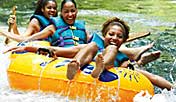 Take The Adventure Onshore
Where the shoreline begins, your adventure continues. Explore a full lineup of shore excursions designed to give you the very best of each port Royal Caribbean visits.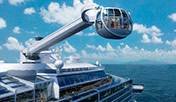 The North Star
Stand in a jewel-shaped capsule that reveals breathtaking 360-degree views as you gently ascend 300 feet above sea level. Only available on the forthcoming Quantum class.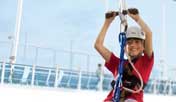 Zipline
Brace yourself for a spine-tingling rush as you race across the Oasis class' Boardwalk, suspended nine decks in the air. It's a thrill you won't find on any other cruise line. Included in your fare, no reservation required.
Night Life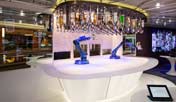 Bionic Bar
The first true robotic bar in the world delivers innovation and WOWs on every level.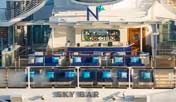 North Star Bar
Champagne, signature cocktails and breathtaking views make for a truly uplifting atmosphere.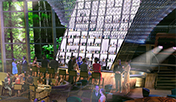 Two70 Degrees
Multi-level great room with 270-degree panoramic sea views through vast, floor-to-ceiling glass walls fusing entertainment and technology to create a transformative journey for guests from morning to night. Perfect setting to connect with the sea during the day, and during the evening the space will delight guests with spectacular, unexpected entertainment, plus chic ice bar and distinct menu.
Youth Activities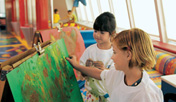 Aquanauts
For ages 3 to 5 yrs of age the Aquanauts kids program will enjoy the magic of Bubbling Potions, uncover the dinosaur-sized secrets of Jurassic Jr., and take over the ship with the Pirate Party Parade. Parents of three-year olds can opt for pagers so that Adventure Ocean staff can stay in touch. (All children participating in activities are required to be 3 years of age, 100% toilet trained and diaper and pull-up free.)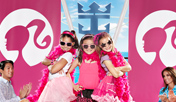 Barbie Premium Experience
The Barbie Premium Experience, only on Royal Caribbean, brings aboard the fab-tastic style of the world's most famous fashion doll! Girls age 4 to 11 set sail on a Barbie dream cruise complete with fun, fashion and runway moments. Make lifelong memories and take to the waves in true Barbie style! (Fees may apply)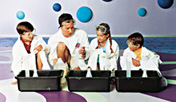 Explorers
Space Mud, Fossil Fever, Meteorology Madness! Hands-on science gets young minds churning - along with explorations of the fine arts with Adventure Art and Adventure Theater. Round out the night with dancing through the decades and ice cream for all. Explorers Club is for children ages 6 to 8 yrs. of age.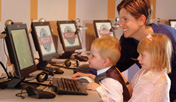 Late Hours Adventure Ocean Club
Kids and teens can enjoy activities into the late evening with extended hours in the Adventure Ocean and teen-only spaces. An hourly rate applies after 10 p.m.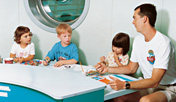 Royal Babies and Tots Program
Join your child in the fun of Royal Babies or Royal Tots interactive playgroup sessions developed by early childhood experts at Fisher-Price. Each 45-minute session, held on one of the onboard lounges, offers activities that make playtime learning time as well. Royal Babies and Tots programs are for children ages 6 months to 36 months.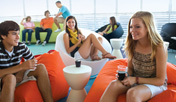 Teen Center and Program
Activities are scheduled throughout the day and early evening. The best part of the Teen program is that it's not structured, teen guests can come join activities and games when they want to, or just chill with friends in a teen-only lounge. Activities may include: Improv Games, FlowRider surf contest, Scratch DJ Academy, Ice-Skating, Open Mic Talent Show, Teen BBQ, Dive In Movie and Pool Party and much more.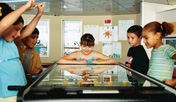 Voyagers
How about a scavenger hunt with new friends from across the world? That's just the beginning for Voyagers, who enjoy programs including sports tournaments, talent shows, video game showdowns and much more. Voyagers Club is for 9 to 11 yr. olds.
Sports and Fitness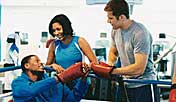 Boxing Ring
Go glove-for-glove with an experienced trainer in the full-sized Everlast boxing ring. Half-hour or hour-long training sessions; fee applies.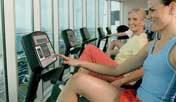 Fitness Center
Get in ship shape at a state-of-the art fitness center, fully loaded with the latest weight systems and cardio equipment - plus sweeping ocean views while you work up a sweat. Included in your fare, no reservation needed.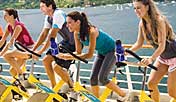 Fitness Classes
Yoga, Pilates, spinning, sculpting and more - work out and have fun with easy-to-follow group classes led by trained instructors. Fee applies for some classes.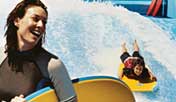 FlowRider
Only Royal Caribbean gives you the chance to catch a wave right onboard. Grab a board and hang ten on the 40-foot-long surf simulator, or cheer on friends from stadium seating with prime wipeout views. Give it a go - it's included in the cost of your cruise, no reservation required. Want to refine your FlowRider skills? Try a private lesson for a nominal charge.
Jogging Track
Hit the lanes of the top-deck jogging track for a sunrise stroll or morning mile, with 360-degree views along the way.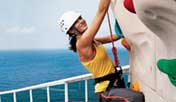 Rock Climbing
Rise to the occasion and take on the signature rock wall. From beginners to speed climbers, everyone can enjoy an unparalleled view from 40 feet above deck. Included in your fare, no reservation required.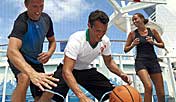 Sports Court and Tournaments
Whether it's a game of one-on-one or an all-out tournament to fuel your competitive fire, the sports court is just the spot for basketball and volleyball action.
Pools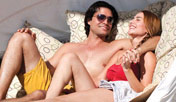 Adults Only Solarium
Retreat to the glass-canopied, adults-only Solarium pool, where inspired surroundings, a light-fare cafe, and whirlpools promise the ultimate in relaxation.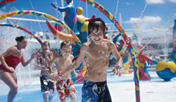 H2O Zone
Splish, splash, kids have a blast at this water park, loaded with interactive geysers shooting out from colorful, climbable creations, plus water guns, pools, and waterfalls.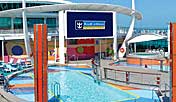 Pool Deck
Soak up the sun or savor the shade on expanded pool decks, featuring complimentary loungers, live music, and the opportunity for a frosty cocktail.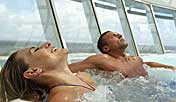 Whirlpools
Every ship boasts multiple whirlpools - and several feature unique cantilevered whirlpools, extending 13 feet beyond the side of the ship for a unique at-sea perspective.