Dining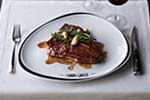 Chops Grille
Royal Caribbean's popular signature steakhouse, featuring grade-A premium cuts of steak cooked to your specifications, plus fresh seafood, hearty side dishes and signature desserts in an upscale, contemporary setting.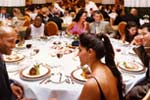 Main Dining Room
Extensive menus for your breakfast, lunch, and dinner needs are offered daily in this dining room.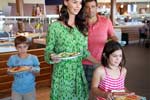 Windjammer Café
This seaside café offers buffet-style breakfasts and lunches. In the evenings, the café's casual atmosphere is complemented by a changing menu and restaurant-style service.
Spa and Beauty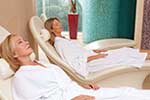 The Spa
The full-service spa offers a beauty salon and spa treatments, including massage, manicures and seaweed body wraps.
Onboard Activities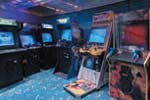 Challenger's Arcade
Blips, bleeps, clangs and cheers. Play to win in a classic arcade atmosphere with timeless games like Pacman and table hockey, plus the latest - Guitar Hero, Fast and Furious Drift and more.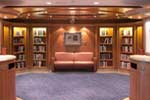 Library & Card Room
Peace, quiet, and your next great read – find it all at the well-stocked library, featuring a variety of genres, plus tables for cards and board games. Everything's complimentary for your enjoyment.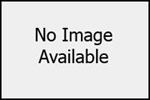 Royal Theatre
Enjoy the glitz, glamour, and special effects of Broadway or Las Vegas.
royalcaribbean online
It's high tech on the high seas! With royalcaribbean online, for a small fee you can access the Internet, send e-mails or send your family an e-postcard with your picture in it.
Casino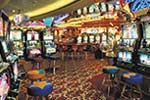 Casino Royale
The glittering casino features electronic slot machines, video poker, blackjack, craps, roulette and Caribbean stud poker.
Night Life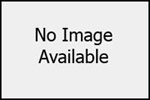 Schooner Bar
This nautically themed bar is the perfect spot to enjoy a drink with friends.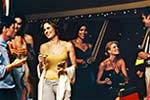 Viking Crown Lounge
A Royal Caribbean signature. Perched high above the ocean, this comfortable lounge offers spectacular vistas by day and turns into a lively dance club at night.
Youth Activities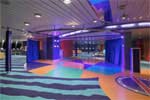 Adventure Ocean
A spacious playroom offers toys, books and games for little sailors.
Sports and Fitness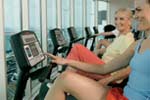 Fitness Center
The seaside fitness center features modern exercise equipment.
Rock Climbing Wall
The signature rock climbing walls are the most popular feature and are available on all Royal Caribbean cruise ships. Whether it's your first time on a rock wall or you're a seasoned climber, there are challenges for all levels of experience.
Pools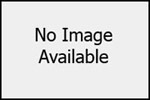 Pool
The perfect place to take a refreshing dip or relax in whirlpools with friends. Expansive, retractable glass roof ensures year-round enjoyment.