Dining

150 Central Park
Treat yourself to the most exclusive, fine-dining restaurant onboard. A meal and experience you'll never forget.

Cafe Promenade
This cafe on the Royal Promenade offers favorites like Seattle's Best Coffee and tons of snacks to choose from.

Chops Grille
Elegant and upscale, this 'reservation only' restaurant is the place to go when you're hungry for the perfect steak.

Coastal Kitchen
Exclusively for guests in Grand Suites and above as well as Pinnacle members, a fresh new fusion of California cool and Med-inspired taste.

Giovanni's Table
Take a trip to Tuscany in this casual Italian eatery that has a dish to tantalize any palate.

Izumi
Tempt your palate with delicious cuisine from the Far East. Delicious sushi rolls, rice dishes, noodle bowls, and more.

Johnny Rockets
Step into Royal Caribbean's '50s diner, which features red booths, formica counters, a jukebox, burgers, fries and the best old-fashioned malted milk shakes.

Main Dining Room
Spanning from decks 3-5, it's the perfect place to take the family for a delicious meal.

Park Café
A casual-dining, walk-up, gourmet market with something for everyone.

Sabor Taqueria and Tequila Bar
Sabor - in Spanish, it means flavor. But here, it's that and so much more. A feast - or shall we say fiesta - for the eyes. A vibrant dance across the plate and palate. A long heritage of fresh, simple ingredients, reimagined in full bloom.

Solarium Bistro
Grab and go healthy snacks and sandwiches during the day transforming into a healthy dining, restaurant at night.
Sorrento's Pizzeria
Grab a specialty pie for the whole family, a Cheese & Pepperoni slice for the road, or choose from many Italian favorites from Sorrento's menu. There's something for everyone.

Windjammer Cafe
This seaside café offers buffet-style breakfasts and lunches. In the evenings, the café's casual atmosphere is complemented by a changing menu and restaurant-style service.
Spa and Beauty

Vitality at Sea Spa
The full service spa offers a beauty salon and spa treatments including massage, manicures, and seaweed body wraps. A great way to ease your body, mind, and soul.
Onboard Activities

Boardwalk
Dedicated to family, fun and nostalgia, this neighborhood offers enough games, amusement, and attractions to keep everyone entertained.

Boardwalk Dog House
Take a seat at the counter for traditional hot dogs, brats, sausages and other delicious linked meats, plus a variety of toppings to split a long bun.

Candy Beach
What would a boardwalk be without candy? Grab some delicious treats and enjoy all of the amusements Boardwalk has to offer.

Carousel
At the center of the Boardwalk is a hand-crafted, full size carousel - the first ever at sea - featuring 11 horses and a menagerie of other animals including a crowned frog prince.

Central Park
A tranquil public space that combines nature and nautical with 12,000 trees at sea! A great place for relaxing, fabulous shopping, fine-dining and for just strolling around.

Cups & Scoops
Delicious sweet treats onboard. Try for one of our signature cupcakes baked fresh daily or enjoy a scoop of Ben & Jerry's ice cream with your choice of toppings.
FlowRider
Your friends are never going to believe you surfed aboard a ship! Even the best beaches have bad days, but on the FlowRider, the surf is always up. Great fun for all ages and skill levels

Royal Promenade
The heart of every Royal Caribbean ship invites you to enjoy a coffee while people-watching in the morning, some shopping and lunch in the afternoon and endless nightlife and entertainment in the evenings.

Studio B
A multipurpose studio complex filled with activity all day long, from ice-skating to cooking demonstrations. In the evenings catch ice shows featuring professional ice skaters from around the world.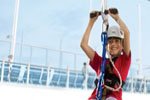 Zip Line Experience
Fly from one end of the Boardwalk to the other on a zip line suspended nine decks in the air. An amazing on of a kind view and a thrilling one of a kind experience.
Casino

Casino Royale
The glittering casino features electronic slot machines, video poker, blackjack, craps, roulette and Caribbean stud poker.
Night Life

Aqua Theater
With seating for 600, theatergoers will be dazzled by the spectacular water shows, aerial acrobatics, stunning ocean views and ongoing entertainment.

Blaze
A great onboard club where you can go to grab a drink, meet some of your shipmates, and dance till close.

Boleros
Dance to Latin rhythms in a Boleros and cool off with a refreshing Latin drink like a mojito or caipirinha.

Champagne Bar
This quiet and elegant escape is the perfect place to enjoy a glass (or two) of the bubbly.

Dazzles
Dance the night away and make new friends at Dazzles, a 2-story music & dancing lounge.

Globe and Atlas Pub
An excellent meeting place for pints, people, performances and more, you'll think you've popped "across the pond" in this authentic English pub.

Jazz on 4
Fans of jazz can enjoy soulful sounds in an intimate environment, or just sit back and enjoy the mellow, sophisticated mood.
On Air Club
Grab a mic, a few friends, and bring your voice to the hottest onboard karaoke bar in the Royal Promenade.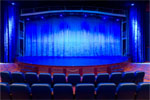 Opal Theatre
The 1,380-seat, state-of-the-art theater features award winning Broadway-style theater productions and aerial acts.

Rising Tide Bar
The first-ever moving bar at sea, which ascends and descends over three decks. You have to see it to believe it.

Schooner Bar
This nautically themed bar is the perfect spot to enjoy a drink with friends.

Viking Crown Lounge
Perched high above the ocean, this comfortable lounge is the perfect place to have a drink and see the amazing views.

Vintages
Enjoy a glass of your favorite vino, participate in a wine tasting or sample something new from Royal Caribbean's world-class cellar.
Youth Activities

Aquanauts
Kids aged 3-5 get to learn about local customs, do cool science experiments and make great new friends.

Explorers
All kinds of exciting activities await your 6- to 8-year-olds, like hands-on science experiments, scavenger hunts, theater games, and more.

Fuel Teen Disco
Open 'til 2 a.m., teens can dance, listen to music or just hang out with new friends.

Royal Babies and Tots Nursery
Parents love Royal Caribbean's new colorful nursery where the littlest guests (ages 6-36 months) can be left in the care of their trained professionals, to enjoy specially-designed programming and playgroups.

The Living Room
The Living Room is the perfect laid-back place for teens to hang out with new friends.

Voyagers
The Voyagers program is all about kids, ages 9-11, having a great time, learning new things and making new friends from all over the world.
Sports and Fitness

Fitness Center
The fitness center features the best equipment, saunas and whirlpools, and all the latest classes, like yoga and pilates.

Rock Climbing Walls
You have not seen a rock wall quite like this. Test your strength and agility when you climb this monster wall. Fun for all ages.

Sports Court
Brush up on your spikes and dunks at the onboard volleyball and basketball courts.
Shopping

Boutiques
Who knew there was such great shopping in the middle of the ocean? In the Royal Promenade, you'll find everything from unique jewelry and souvenirs to any toiletries you may have forgotten. Everything is at your disposal - jewelry, cosmetics, souvenirs, and even a men's salon.
Pools

H2O Zone
The H2O Zone integrates colorful sculptures around a series of sprinklers, jets and water canons that guests can use to soak each other. In the evening, it transforms into a beautifully lit sculpture garden.

Main Pool
With two side-by-side whirlpools, the Main Pool is ideal for rest and relaxation under the sun.
Solarium
Sit in one of the cantilevered whirlpools in this tranquil, adults-only space surrounded by three decks of glass.

Sports Pool
The more competitive set will find haven in the Sports Pool, where afternoon water team sports will include basketball, badminton and water polo, while morning hours will be dedicated to lap swimming.