Dining

Chef's Table
Experience a once-in-a-lifetime culinary experience. In this exclusive space, 14 guests will enjoy a five-course menu of gourmet selections specially prepared and personally presented by the Chef de Cuisine. Every course is accompanied by wine pairings chosen to enhance your enjoyment of each dish.

Chops Grille
Royal Caribbean's popular signature steakhouse, featuring grade-A premium cuts of steak cooked to your specifications, plus fresh seafood, hearty side dishes and signature desserts in an upscale, contemporary setting.

Giovanni's Table
A casual Italian trattoria with indoor and al fresco seating, Giovanni's Table offers rustic dishes with a contemporary flair, including toasted herb foccacia, pastas, braised meat dishes and stews, served family-style.

Izumi
The traditional Asian dishes at Izumi will impress you with their pure, delicate flavors, freshness of ingredients and impeccable presentation. Diners can choose from popular sushi rolls, sashimi, Hot Rock (Ishiyaki) Plates, sukiyaki and more.

Main Dining Room
Royal Caribbean elegant main dining rooms are a great place to start the morning off right or finish off a fabulous day with a five-course meal.

Park Café
Grab a bite to eat at this delicious deli offering made-to-order salads, paninis and freshly prepared sandwiches, as well as a selection of gourmet pastries and coffee. The Park Café will be a tasty addition to ship's relaxing, adults only Solarium area.

Windjammer
Enjoy spectacular buffets and incredible views. The casual convenience of the Windjammer Cafe and the wide variety of meals and snacks available make this restaurant a guest favorite.
Spa and Beauty

Vitality at Sea Spa
This full-service spa offers a beauty salon and spa treatments, including massage, manicures and seaweed body wraps.
Onboard Activities

Ben & Jerry's
Stop by Ben & Jerry's ice cream for cool treats in a rotating selection of fabulous flavors. Chill out with a frozen drink or sample from up to 16 different flavors as part of the sundae of your dreams.

Café Latté-tudes
Caffeine fix, coffee break, or after-dinner cappuccino - drop by this café for sweets, people watching and specialty coffee beverages.

Library
Immerse yourself in another world at the Library. Offering a wide selection of books and guidebooks, you'll be sure to find something.

royalcaribbean online
With royalcaribbean online, for a small fee you can access the Internet, send e-mails or send your family an e-postcard with your picture in it.
Casino

Casino Royale
Take a gamble at the Casino Royale. This glittering casino features electronic Slot Machines, Video Poker, Craps, Roulette, and Caribbean Stud Poker.
Night Life

Champagne Bar
Celebrate a hole-in-one, a new stamp in your passport or just another day in paradise with champagne, fine wines and canape. Even novice champagne drinkers will find something they like in the Champagne Bar.

Masquerade Theater
With the glitz, glamour and special effects, you'll think the ship has docked on Broadway. Performed in the magnificent theatre, the live productions feature the outstanding talent of The Royal Caribbean Singers and Dancers, along with well-known performers and headline acts.

R Bar
Experience a 1960s vibe at the all-new R Bar, featuring iconic furnishings and classic cocktails - gimlet, martini, gin, whiskeys and more - all served by the ship's resident mixologist.

Schooner Bar
Relax and enjoy the warm smell of teak oil in the nautical-themed bar. This signature Royal Caribbean bar can be found on all of the cruise ships.

Showboat Lounge
Relax and enjoy the live music and entertainment in the Showboat Lounge. If you feel the need, you can dance along to the rhythm with your new friends.

Some Enchanted Evening Lounge
Dance the night away in the Some Enchanted Evening Lounge. If you're not in the mood to dance, don't worry! The lounge also offers live music and entertainment.

Viking Crown Lounge
You'll feel like you're on top of the world in the Viking Crown Lounge. It's completely enclosed in glass, offers amazing 360-degree views from the very top of the ship, and features several theme bar areas.
Youth Activities

Adventure Ocean
A play area with specially designed activities for kids from 3-17. Run by exceptional, energetic and college-educated staff.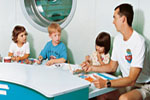 Royal Babies and Tots Program
Join your child in the fun of Royal Babies or Royal Tots interactive playgroup sessions developed by early childhood experts at Fisher-Price. Each 45-minute session, held on one of the onboard lounges, offers activities that make playtime learning time as well. Royal Babies and Tots programs are for children ages 6 months to 36 months.

Teen Center
Teens will enjoy a wide variety of shipboard activities from scavenger hunts and pizza parties to playing in the video arcade.
Sports and Fitness

Rock Climbing Wall
Royal Caribbean cruise ships are the only ones in the world to offer rock-climbing walls. They offer skill combinations for all levels, not to mention one of the best views from the ship. At 200 feet above sea level and towering 30 feet above the deck, the rock-climbing wall offers an incredible view and is one of the most popular onboard activities, for kids and adults.

Vitality at Sea Fitness Center
Royal Caribbean fitness center has all the equipment and facilities that major sports clubs do: weight machines, free weights, stationary spin bikes, stair steppers, treadmills, sauna, whirlpool, steam room, and thermal suites. Plus a sweeping ocean view that extends for miles. Also offering all the latest classes, from Pilates to spinning to kickboxing and more.
Shopping

Shopping
Who knew there was such great shopping in the middle of the ocean? In the Royal Promenade, you'll find everything from unique jewelry and souvenirs to any toiletries you may have forgotten. Plus, everything is available tax- and duty-free, with a savings of up to 25% off U.S. retail prices.