Dining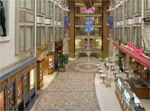 Cafe Promenade
This cafe on the Royal Promenade offers specialty coffees, snacks and pastries in the morning and sandwiches and cookies throughout the day and night.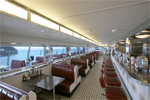 Johnny Rockets
Get the family together for good old-fashioned burgers and fries. With its retro decor and classic all-American menu, Johnny Rockets is like the 1950s all over again.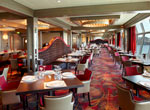 Chops Grille
Royal Caribbean's popular signature steakhouse, featuring grade-A premium cuts of steak cooked to your specifications, plus fresh seafood, hearty side dishes and signature desserts in an upscale, contemporary setting.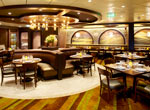 Giovanni's Table
A casual Italian trattoria with indoor and al fresco seating, Giovanni's Table offers rustic dishes with a contemporary flair, including toasted herb focaccia, pastas, braised meat dishes and stews, served family-style.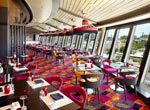 Izumi
The traditional japanese dishes at Izumi will impress you with their pure, delicate flavors, freshness of ingredients and impeccable presentation. Diners can choose from popular sushi rolls, sashimi, Hot Rock (Ishiyaki) Plates, sukiyaki and more.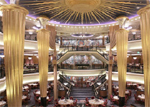 Main Dining Room
Carmen, La Boheme, Magic Flute Dining Room - Sweeping, multi-level ambience, world-class cuisine and extraordinary personal service from a dedicated wait staff. Their main dining room serves exceptional, multi-course meals for breakfast, lunch and dinner. Enjoy a new dinner menu each evening in an elegant setting, with two seatings nightly, or choose My Time Dining.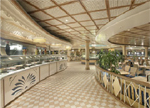 Windjammer Cafe
This seaside cafe offers buffet-style breakfasts and lunches. In the evenings, the cafe's casual atmosphere is complemented by a changing menu and restaurant-style service.
Spa and Beauty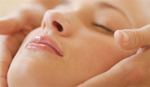 GenerationYSPA
YSpa menu features services made just for teens ages 13 to 17, including Acne Attack facial, Beach Babe deep conditioning hair treatment, Sole Mate pedicure and more.*Spa services vary by ship.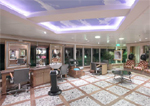 Vitality at Sea Spa
Royal Caribbean offers full-service spa offers a beauty salon and spa treatments, including massage, manicures and seaweed body wraps.
Onboard Activities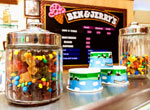 Ben & Jerry's Ice Cream Parlor
Vermont's Finest Ice Cream hits the high seas. Grab scoops served up with a smile, or indulge in a sundae, shake or smoothie. A la carte pricing.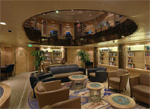 Library
Royal Caribbean's onboard library features comfortable reading chairs as well as an impressive selection of books and guidebooks.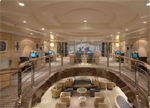 royalcaribbean online
It's high tech on the high seas! With royalcaribbean online, for a small fee you can access the Internet, send e-mails or send your family an e-postcard with your picture in it.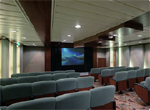 Screening Room
The screening room provides you an onboard theater featuring first-run movies.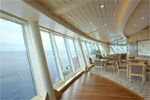 Seven Hearts
Sit, outside, take in the ocean view and enjoy a light meal or simply a snack, in one of our most popular venues, where fun is offered along with good food.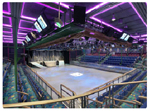 Studio B
Put your vacation on ice with a spin on the ice rink, an onboard feature exclusive to Royal Caribbean. They provide the skates, you show off the moves. Included in your fare, no reservation required.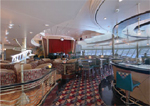 Viking Crown Lounge
A Royal Caribbean signature. Perched high above the ocean, this comfortable lounge offers spectacular vistas by day and turns into a lively dance club at night.
Casino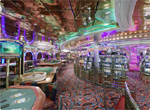 Casino Royale
There's nothing to stir your sense of excitement like the sound of cards being shuffled, chips being stacked and slot machines paying out. Consider the Casino Royale to be your little slice of Vegas right at sea - with thousands of square feet of lights, action, slots and tables.
Night Life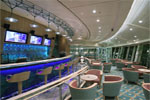 19th Hole
If sports fans liked the Sports Bar, then they will love the 19th Hole. This bar that features sports memorabilia and TV's.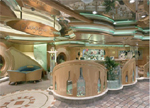 Champagne Bar
This quiet and elegant bar is the perfect place to enjoy a glass (or two) of champagne.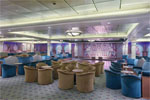 Cleopatra's Needle
Swing your hips to some live music or simply bask in the amazing entertainment that the Cleopatra's Needle Lounge has to offer.
Connoisseur Club
The Connoisseur Club is a relaxing lounge perfect for sipping cognac or enjoying a cigar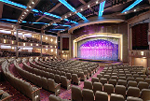 La Scala Theatre
Royal Caribbean Productions, their own in-house production company, brings together world-class performers to star in awe-inspiring original shows from contemporary dance to headline musical acts and more.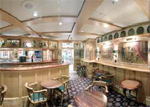 Pig and Whistle Pub
Pop "across the pond" and lift a pint of ale in one of our authentic English pubs. In addition to a long list of imported beers.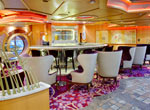 R Bar
Experience a 1960s vibe at the all-new R Bar, featuring iconic furnishings and classic cocktails - gimlet, martini, gin, whiskeys and more - all served by the ship's resident mixologist.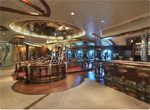 Schooner Bar
Relax and enjoy the warm smell of teak oil in the nautical-themed bar which is the perfect spot to enjoy a drink with friends.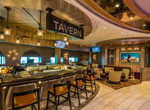 The Tavern
Come together to watch a match or play a board game at this upscale tavern that will make you feel like right at home.
Youth Activities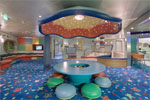 Adventure Ocean
A play area with specially designed activities for kids from 3-17. Run by exceptional, energetic and college-educated staff. With interactive programs and activities designed just for their age group (Aquanauts - Ages 3 to 5, Explorer - Ages 6 to 8, Voyagers - Ages 9 to 11, Ages 12 to 14 and Ages 15 to 17). The Adventure Ocean gives kids the chance to discover a whole new side of themselves.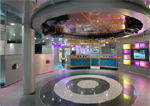 Optix Teen Disco
Optix Teen Disco is a where they hold parties where teens can gather, dance, and enjoy the music.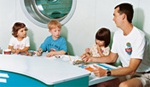 Royal Babies and Tots Program
Join your child in the fun of Royal Babies or Royal Tots interactive playgroup sessions developed by early childhood experts at Fisher-Price. Each 45-minute session, held on one of the onboard lounges, offers activities that make playtime learning time as well. Royal Babies and Tots programs are for children ages 6 months to 36 months.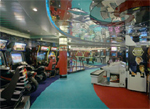 Video Arcade
Blips, bleeps, clangs and cheers. Play to win in a classic arcade atmosphere with timeless games like Pacman and table hockey, plus the latest Guitar Hero, Fast and Furious Drift and more.
Sports and Fitness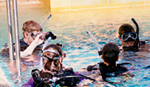 SeaTrek Scuba Diving
Choose from a few different levels of dive training - from a scuba-equipped dip in the onboard pool, to full certification in the Caribbean's warm waters. Participants must be at least 12 years old. Fee applies.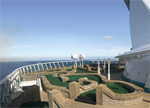 Golf and Skating
Hit the links on the high seas! Refine your mini-golf game on a green that overlooks a sea of blue. Included in your fare, no reservation required or gear up and let the good times roll at the inline skating track, where a smooth course and padded barriers let you zip around the sports deck. Both included in your fare, no reservation required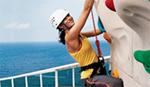 Rock Climbing Wall
Royal Caribbean's signature rock climbing walls are their most popular feature and are available on all Royal Caribbean cruise ships. Whether it's your first time on a rock wall or you're a seasoned climber, there are challenges for all levels of experience. They will provide all of the equipment, including shoes, helmets and harnesses. All you need to do is bring a pair of socks and, of course, your sense of adventure.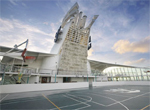 Sports Court
Whether it's a game of one-on-one or an all-out tournament to fuel your competitive fire, Royal Caribbean's sports court is just the spot for basketball and volleyball action.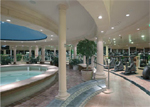 Vitality At Sea Fitness Center
Get in ship shape at a state-of-the art fitness center, fully loaded with the latest weight systems and cardio equipment - plus sweeping ocean views while you work up a sweat. Included in your fare, no reservation needed.
Shopping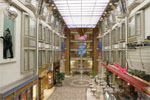 Royal Promenade and Shops
This mall, a naturally lighted four-story area lined with bars and shops, is the heartbeat of the ship. Distinctive storefronts offer an array of merchandise ranging from logo items, perfume and jewelry to liquor and cruise wear.
Pools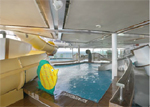 Adventure Beach
A kids' pool area, Adventure Beach is full of fun, splashes, and new friends for children.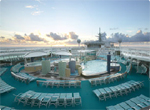 Pool Deck
The Pool Deck features two swimming pool and four warm and relaxing whirlpools.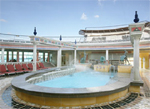 Solarium
The indoor/outdoor pool and lounge are can be covered during inclement weather by a huge glass roof.