Dining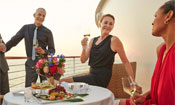 In Suite Dining
A round-the-clock menu offers tempting selections anytime. During extended dinner service hours, you can enjoy a complete meal ordered right from that evening's The Restaurant menu, served for you in your suite or on your veranda.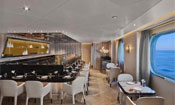 Sushi
Seabourn Encore features for the first time ever a dedicated sushi restaurant on board a Seabourn ship. Seabourn researched the best ingredients and developed a menu that is a perfect blend of authenticity to maintain the root of the cuisine, and a twist of Seabourn's culinary expertise. The sushi concept is a modern line that is steeped in tradition using the finest ingredients.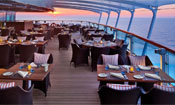 The Colonnade
This slightly more casual alternative offers appealing indoor and outdoor tables for breakfasts and lunches featuring beautiful, bountiful buffets, plus a selection of a la carte items and daily specials from the kitchen. Evenings find these pleasantly lively spots serving regionally themed dinners with full table service.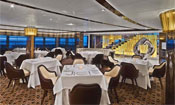 The Grill by Thomas Keller
Inspired by the classic American chophouse, The Grill focuses on updated versions of iconic dishes. Guests setting foot inside the elegant dining room will be treated to table-side preparations of Caesar salad and ice cream sundaes as well as a range of other steakhouse favorites like Lobster Thermidor and creamed spinach, presented a la carte.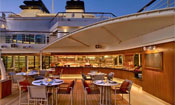 The Patio
The Patio offers casual poolside dining featuring grilled specialties, salads and sides for lunch and dinner, and freshly baked pizzas throughout the afternoon. Lunches and dinners are offered at the Sky Grill, serving grilled specialties and simple sides.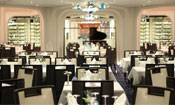 The Restaurant
The Restaurant is a beautiful fine dining venue. Its menus feature a wide variety of delectable choices prepared to your order by our talented chefs. The Restaurant serves breakfast, lunch and dinner on an open-seating basis, inviting guests to dine when, where and with whom they wish.
Spa and Beauty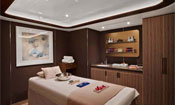 Spa & Wellness with Dr. Andrew Weil
Seabourn is pleased to announce in partnership with The Onboard Spa by Steiner, they have created a fleet-wide mindful living program offering guests a holistic spa and wellness experience that integrates physical, social, environmental and spiritual well-being. The new Spa and Wellness with Dr. Andrew Weil program will be the first-ever of its kind at sea.
Onboard Activities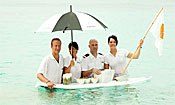 Caviar in the Surf
Compliments of Seabourn. Explore some of the world's most remote and beautiful beaches while our crew stands in turquoise water to serve you caviar and Champagne in the surf. On land, the crew ferries a feast of food and drinks from the ship and creates a festive setting to welcome you ashore with drinks, music and delicious barbecue sizzling on the grill.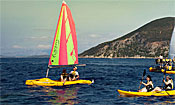 Marina Day
Compliments of Seabourn. Spend a memorable afternoon playing in the sea with fellow guests as the ship is transformed into a private beach resort. Seabourn deploys a watersports Marina at the stern of the ship with a variety of complimentary lightly colored kayaks, pedal boats and windsurfers. Enjoy an exclusive Seabourn Marina Day by playing in the sea without ever having to leave the ship.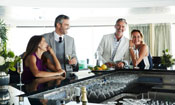 Observation Bar
A stunning round lounge with a square bar and panoramic views. Early Risers' Coffee and Tea is served here every morning, and piano music makes it a great choice for drinks and conversation before and after dinner.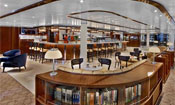 Seabourn Square
Seabourn's innovative "living room" replaces the conventional reception lobby with a welcoming lounge filled with comfortable sofas, easy chairs and cocktail tables.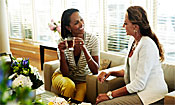 Searbourn to a Tea
Afternoon tea is a tradition steeped in history and, one that has admirably stood the test of time. This inviting, social occasion, is perfect for catching up with friends on the day's adventures or getting to know someone new. Our version, with white-glove service and live piano music features a range of quality teas and tisanes, all freshly brewed to your order, and a bountiful buffet of both sweet and savory delicacies to tempt and satisfy every appetite.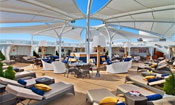 The Retreat
A tranquil setting housed in a distinctive flower-shaped canopy that shields guests from sun and wind, The Retreat is ringed with 15 private cabanas designed as individual luxury living rooms that each feature a large HD flat screen television and a refrigerator stocked with a personalized selection of beverages.
Casino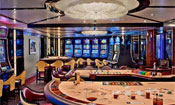 Casino
The Seabourn casino offers a handsome, well-appointed enclave for those wishing to indulge in games of chance and skill. Relax and test the odds on various mechanical games or pit your skills against personable, professional dealers at blackjack or poker tables.
Night Life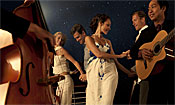 Evening Under The Stars
Some of Seabourn's signature events take advantage of the beautiful night sky. On deck, you may take part in an energetic, musical Evening Under the Stars - sumptuous barbecue dinners or gala parties with live music and dancing. The Rock the Boat nights are famous for high-energy dance music created by entertainment staffs. Jazz or Blues nights are occasional jams featuring members of the ship's bands. And Dessert Under the Stars is a category of culinary indulgence out of doors.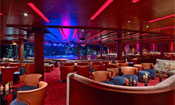 Grand Salon
The ship's main showroom can accommodate all guests, though it seldom does because of the variety available. Lectures, cooking demonstrations, movies and other gatherings are held here in the daytime. In the evenings, live music for dancing before dinner gives way to vocal production shows, cabaret performances, comedy, and classical recitals, as well as more dancing later.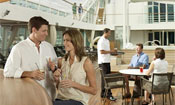 Patio Bar
This poolside retreat serves the sun-worshiping guests who gather around the swimming pool and bubbling whirlpool spas. Enjoy full beverage, cocktail and wine service, fruit smoothies and gelato on the pool deck. There is also chilled mineral water spritzes and iced towels offered by the deck crew to refresh guests on warm days.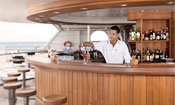 Sky Bar
An alfresco oasis for drinks and socializing overlooking the Pool Patio. With a skilled, friendly bartender preparing everything from fresh fruit smoothies to elaborate mixologist's masterpieces, its stools and tables are occupied from morning until dinnertime with guests who enjoy good company, open air and a breathtaking view of the horizon.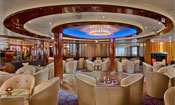 The Club
The liveliest lounge on board is the scene of daily afternoon tea service. It is a popular spot for pre-dinner drinks and dancing to live music. After dinner, the dancing music continues, and later a DJ spins dance music until late at night. Another terrace of open deck aft of The Club boasts a plunge pool and two small whirlpool spas.
Sports and Fitness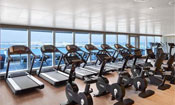 Fitness Center
The Fitness Center features high performance Technogym equipment for cardio and strength training. Seabourn also offers a series of complimentary classes including yoga, Pilates and Tai Chi. If personal attention is preferred, the personal trainers will design a nutrition and exercise plan that will help you maintain your regime or achieve enhanced results. Based on your particular goals, this personalized session will provide you an effective wellness program tailor-made for your fitness needs.
Shopping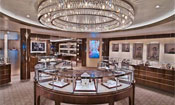 The Collection
Three duty-free shops are arrayed along the starboard side of the walkway. The Seabourn Shop features shield-emblazoned logo wear. The Boutique offers fashions, cosmetics, scents and designers' luxury goods. The Collection is a curated selection of fine watches and jewelry including a private showroom for diamonds and other gemstones.
Pools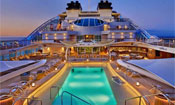 Pools
Cool off or take laps in one of the two beautiful outdoor pools. Sun loungers and cabanas are arrayed in a mix of sun and shade.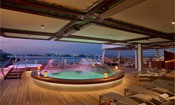 Whirlpools
Relax under the stars and enjoy the scenery in the large whirlpools on the open deck.