Dining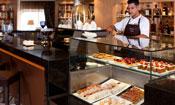 Coffee Bar
The European Konditorei-style coffee bar serves specialty coffees, drinks, sandwiches, pastries and gelati.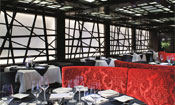 Restaurant 2
So named because....well, because it is a delightfully different alternative. More intimate and innovative, R2 offers nightly tasting menus presenting diner with flights of small plates, combining an array of fascinating flavors and fanciful presentations in to a creative, delicious and memorable meal.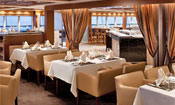 The Colonnade
The Colonnade is a more casual alternative with indoor/outdoor seating, sumptuous buffets and daily specials for breakfast and lunch.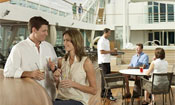 The Patio
The Patio offers casual poolside dining featuring grilled specialties, salads and sides for lunch and dinner, and freshly baked pizzas throughout the afternoon. Lunches and dinners are offered at the Sky Grill, serving grilled specialties and simple sides.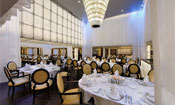 The Restaurant
Before Seabourn, open-seating dining on a cruise ship was unheard of. Come when you like, with whom you please, and be seated as you wish. The room is beautiful, the cuisine is exquisite, and the service is simultaneously flawless, friendly and fun.
Spa and Beauty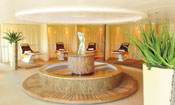 Kneipp Walk
Regain energy and stimulate your circulatory system with the Kneipp Walk, a soothing water therapy system that leads you through a path of interaction of warm and cold water.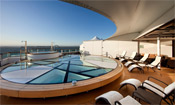 Spa Terrace
Breath taking views makes this one spot on the ship worth seeing. Comfortable lounge chairs for you to bask in the sun with.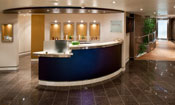 The Spa at Seabourn
The award-winning Spa at SeabournSM center anywhere in the world we sail. Enjoy a thermal wrap surrounded by Antarctic icebergs, or exercise on a Kinesis Wall with views of Santorini's cliffs.
Onboard Activities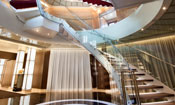 Atrium
Have questions about your cruise? The reception desk located in the Atrium will help all your cruising needs.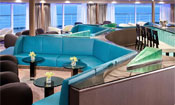 Observation Bar
A stunning round lounge with a square bar and panoramic views. Early Risers' Coffee and Tea is served here every morning, and piano music makes it a great choice for drinks and conversation before and after dinner.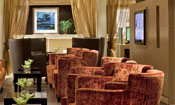 Seabourn Square
Seabourn's innovative "living room" replaces the conventional reception lobby with a welcoming lounge filled with comfortable sofas, easy chairs and cocktail tables.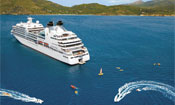 Watersports Marina
Enjoy an exclusive Seabourn Marina Day with complimentary kayaking, pedal boats and board sailing from a marina at the ship's stern or from a beach.
Casino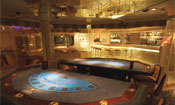 Casino
The Seabourn casino offers a handsome, well-appointed enclave for those wishing to indulge in games of chance and skill. Relax and test the odds on various mechanical games or pit your skills against personable, professional dealers at blackjack or poker tables.
Night Life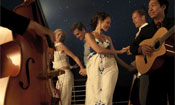 Evening Under the Stars
Some of Seabourn's signature events take advantage of the beautiful night sky. On deck, you may take part in an energetic, musical Evening Under the Stars - sumptuous barbecue dinners or gala parties with live music and dancing. The Rock the Boat nights are famous for high-energy dance music created by entertainment staffs. Jazz or Blues nights are occasional jams featuring members of the ship's bands.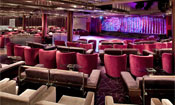 Grand Salon
The ship's main showroom can accommodate all guests, though it seldom does because of the variety available. Lectures, cooking demonstrations, movies and other gatherings are held here in the daytime. In the evenings, live music for dancing before dinner gives way to vocal production shows, cabaret performances, comedy, and classical recitals, as well as more dancing later.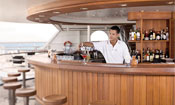 Sky Bar
Enjoy this al fresco oasis for drinks and socializing overlooking the Pool Patio.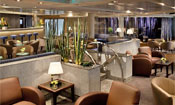 The Club
In The Club, bring your dancing shoes and show off your moves or watch others trip the light fantastic to the live band.
Sports and Fitness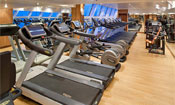 Fitness Center
The Fitness Center features high performance Technogym equipment for cardio and strength training. Seabourn also offer a series of complimentary classes including yoga, Pilates and Tai Chi. Or, if personal attention is preferred, the personal trainers will design a nutrition and exercise plan that will help you achieve results. Based on your body's particular needs, this personalized session will expose you to the wellness program that works best with your body.
Shopping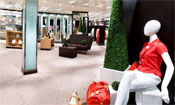 Boutique
Looking for some last minute clothing or jewelry, the Boutique is where you can find it all. The Boutique offers fashions, cosmetics, scents and designers' luxury goods.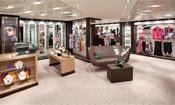 The Collection
The Collection is a curated selection of fine watches and jewelry including a private showroom for diamonds and other gemstones.
Pools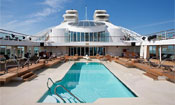 Pool
Cool off or take laps at this beautiful outdoor pool. Sun loungers and cabanas are arrayed in a mix of sun and shade.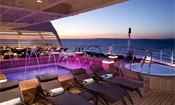 Whirlpool
Relax under the stars and enjoy the scenery in this large whirlpool on the open deck.