Seward Cruises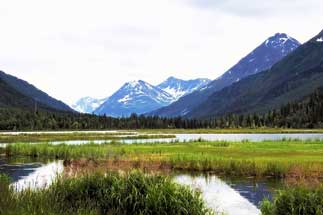 Average Yearly High Temperature in Fahrenheit (&degF)

| Jan | Feb | Mar | Apr | May | Jun | Jul | Aug | Sep | Oct | Nov | Dec |
| --- | --- | --- | --- | --- | --- | --- | --- | --- | --- | --- | --- |
| 31 | 33 | 38 | 45 | 52 | 59 | 62 | 62 | 56 | 45 | 37 | 33 |
Show Seward Sailings
Overview
Alaska is iconic for their sightseeing and vacation fun throughout the state and Seward is no different. Known as the "Gateway to Kenai Fjords National Park", Seward is a walkable city and is one of Alaska's oldest and most scenic communities. The Seward cruise ship terminal, Dale R. Lindsey Alaska Railroad Intermodal Facility, is located on the north section of Resurrection Bay and is nearby restaurants, lodging, shops and attractions.
Please note: If your cruise is departing from Anchorage, you're probably sailing out of Seward, 120 miles south.
Things to Do
Iconic Neighborhoods
Seward Lagoon- Located near the cruise terminal in uptown Seward, this area of town is perfect for viewing local wildlife. Walk along the quarter mile boardwalk along the lagoon and keep an eye out for kingfishers, eagles and swallows.
Downtown-From art galleries, to waterfront activities, and amazing dining options, downtown Seward has something for everyone. Spend the night at one of the many hotels, check out the nearby museums or dine at any of the local restaurants down 4th Ave.
Hotels
Harbor 360 Hotel
Address: 1412 4th Ave, Seward, AK 99664
Phone: (907) 865-6224
0.6 miles from Cruise Terminal
Kenai Fjords Wilderness Lodge
Address: 1302 W. Fourth Avenue, Seward, AK 99664
Phone: (877) 777-4053
0.8 miles from Cruise Terminal
Activities
Benny Benson Memorial Park is in honor of the designer of Alaska's state flag. Benny won a contest to design the flag for the Territory of Alaska when he was just 13. Walk around the beautiful lagoon to view wildlife and this distinctive memorial.
The harbor Dinner Club is an exciting restaurant that was built in 1935 as a private residence. It is now one of the local's favorite places to hang out, eat, and dance
Family Friendly
Stop at the Seward community Library and Museum to learn about the history of Seward. The museum was created by the Resurrection Bay Historical Society and is home to over 3000 artifacts that the whole family will love. It's the perfect place to go back in time and see how Seward came to life.
Alaska SeaLife Center give visitors a 'window to the sea' where they will be able to have close encounters with puffins, octopuses, sea lions and much more marine wildlife. See the work their researchers are conducting in the field and at the center.
Driving Directions
Dale R. Lindsey Alaska Railroad Intermodal Facility address:
913 Port Avenue
Seward, AK 99664
Driving Directions:
Ted Stevens Anchorage International Airport to Dale R. Lindsey Alaska Railroad Intermodal Facility
Merge onto AK-1 S from W. International Airport Road and Walter J. Hickel Parkway
On AK-1 S, follow the road for 82 miles (about 90 minutes).
The road will then turn into State Highway 9, which you will follow for an additional 36 miles or 45 minutes into downtown Seward.
Parking:
Free shuttles run every 30 minutes
Seward Harbor North Parking Lot
1421 4th Ave
Seward, AK 99664
Seward Harbor South Parking Lot
1211 4th Ave
Seward, AK 99664