Dining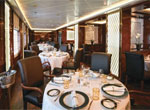 La Dame by Relais & Châteaux
The world's southernmost Relais & Châteaux restaurant can only be found aboard the Silver Cloud. After a day of trekking through tundra and whale watching, indulge in an evening of palette pampering, where fine wines are complemented by a set tasting menu of regionally-inspired dishes in an intimate, elegant setting. An extraordinary six-course experience celebrating the world's most distinguished wine regions complete what is surely the finest dining at sea.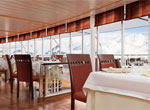 La Terrazza
Offering the very best of Italian cuisine, La Terrazza's freshly made authentic a la carte dishes are complimented by a wide range of complimentray wines, even in the most remote of destinations! Using only the best seasonal produce, La Terrazza offers buffet restaurant for breakfast and lunch with indoor or al fresco seating and is transformed into an intimate Italian restaurant for dinner.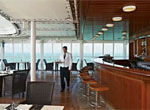 Pool Bar & Hot Rocks
Casual and convenient. At the Pool Bar on board Silver Cloud, cocktails are served with soft ocean breezes. Poolside menu options feature light fare for lunch. As the stars begin to peek out from a darkening sky, the top deck of the Pool Bar & Grill is transformed into The Grill – an intimate al fresco eatery featuring a fun, interactive Black Rock Grill experience. A preheated volcanic rock is brought to your table, allowing you to cook your meal exactly to your liking right at your own table. And what a table it is. Laden with delectable morsels, every seat has an unmatched ocean view: in short everything you would expect, and more.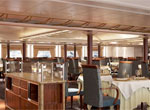 The Restaurant
Sparkling with tales of adventure, bonhomie and like-minded friends, The Restauant offers contemporary, international cuisine created by our most talented chefs. Menus feature regional specialities unique to the destinations guests visit on their cruise, so don't be surpised to see a roasted Chilean Sea Bass while cruising the Chilean fjords. During days at sea, choose something from La Collection du Monde, a series of signature dishes created exclusively for Silversea cruises by the Grands Chefs Relais & Châteaux.
Spa and Beauty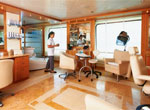 Beauty Salon
A full range of Beauty Salon services is available for both men and women including hairstyling, manicures and pedicures. Appointments for these chargeable services may be made on board the ship.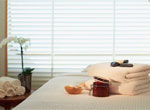 The Spa at Silversea
Relax your body and mind in this luxury cruise ship's soothing spa sanctuary. Indulge in a wide range of invigorating therapies including facials, body wraps and massages. Appointments for spa services may be made on board the ship, or in advance via My Voyage. Men's and women's saunas and steam rooms are perfect for relaxing before your spa treatment or after your workout.
Onboard Activities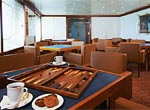 Card Room/Conference Room
The Card Room on board this luxury cruise ship is where bridge games and tournaments take place most days. On days at sea, newcomers to the game can learn how to play. Should your group require a conference or meeting space, Silversea is pleased to provide a tailor-made experience. Audio-visual equipment is available and complimentary for all conferences.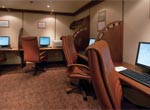 Internet Cafe
From on board this luxury cruise ship, email friends and family back home or surf the web for a nominal fee. CD burners, headphones, digital camera media readers, and complimentary black and white laser printing are also available.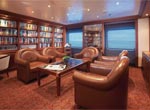 Library
If attending lectures, talking to esteemed guests and picking the brains of the on board experts has still not satiated your thirst for knowledge, then you will be pleased to know that the improved Silver Cloud library will have the answer to any last questions you might have. This educational self-learning space is packed full of destination-driven interesting, informative and original publications, hard-backed reference books and original artefacts. Not forgetting the exclusive Royal Geographical Society exhibitions, making your expedition experience a full 360 degrees.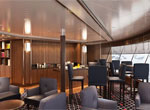 Observation Lounge
The ideal place for scenic days at sea, this vantage point far forward and high atop this luxury cruise ship is perfect for that "king of the world" feeling.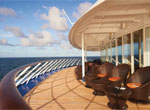 Panorama Lounge
The Panorama Lounge is specially designed to provide an uninterrupted view of the day's destination from the comfort of the luxury cruise ship's interior. This is an ideal place to unwind on your cruise, enjoy afternoon tea, listen to the pianist and watch the setting sun. The drinks are complimentary, the music live and inviting. Enjoy dancing to a range of musical styles for every taste from standards to the latest club mixes.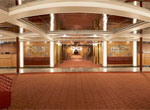 Reception
This central lobby area welcomes guests to speak with our receptionist should they have a question or require any service. Assistance is available 24 hours a day. The Cruise Consultant can also prove indispensable when planning your next Silversea voyage, or should you wish to extend your current voyage for a day, a week, a month… Like having your own personal onboard Silversea professional, the Cruise Consultant will help you to select the perfect voyage, reserve your preferred suite and provide immediate confirmation.
Night Life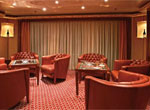 Connoisseur's Corner
The Connoisseur's Corner offers exceptional cognacs along with a premium selection of cigars for purchase.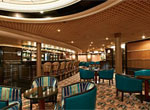 Dolce Vita
With complimentary cocktails and engaging conversation, live music and a dance floor, Dolce Vita on board Silver Cloud welcomes guests to mix and mingle. When living such unique experiences as these, there is never a dull moment!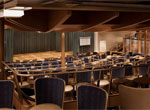 Explorer Lounge
Perfect for presentations, lectures and video screenings, this is where our team of dedicated experts share their knowledge on their specialised subject, not to mention their infectious passion and energy. Multi-tiered show lounge and banquette style seating ensure that you enjoy every minute of the talk and with lectures being streamed live to your suite if desired, this is one of the very few lecture theatres at sea theatre to combine such comfort with such technology.
Sports and Fitness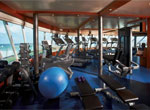 Fitness Centre
The Fitness Centre on board this luxury cruise ship is equipped with free weights, weight machines, state-of-the-art treadmills, elliptical trainers and recumbent and upright bicycles. Classes in aerobics, yoga, Pilates and circuit training are led by the onboard fitness trainer and are always complimentary. Personal training, body composition analysis and specialty classes are available at an additional charge on board all luxury cruises.
Pools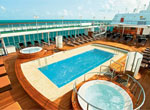 Pool Deck
Chaise lounges arranged in the sun or shade. Bubbling whirlpools. The pool water refreshing in warmer climates, heated for cooler weather. The attentive staff at the ready with an oversized towel as you emerge from the pool, with your favourite beverage at just the right moment. This is expedition cruising as you have never experienced it before. What better way to watch the icebergs?