Dining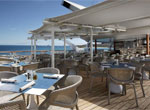 The Grill
Soft breezes and island views beckon at the Grill, especially as the sun goes down, when guests gather at the outdoor bar for cocktails and tapas, and talk about their day. In the evening The Grill is transformed into an intimate, interactive eatery where diners can grill their own fresh seafood and prime cuts under a canopy of stars.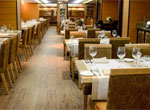 The Restaurant
Sparkling with silver, crystal and candlelight, The Restaurant encircles its guests with sophisticated elegance and impeccable service. Contemporary, international cuisine is created by talented chefs, and menus feature a series of signature dishes created exclusively for Silversea by Relais & Chateaux.
Spa and Beauty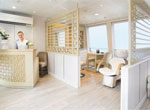 Beauty Salon
A full range of salon services is available for both men and women including hairstyling, manicures and pedicures. Appointments for these chargeable services may be made on board the ship.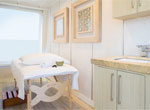 Massage Room
After an energetic day ashore, a soothing ministration may be the perfect accompaniment to the spiritual and physical renewal of travel.
Onboard Activities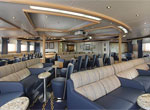 Explorer Lounge
Attend informative lectures, recaps and briefings, and enjoy views of the islands in the Explorer Lounge on Deck 3. Along with a sophisticated AV system, there's also a small photography station with an IMac where guests can download and edit their photographs during their time on board.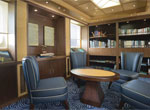 Library
The Library has an extensive selection of hardcover books, magazines, reference materials and newspapers, as well as audio listening stations. Movies are also available and can be viewed on your in-suite entertainment centre.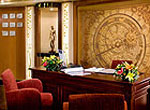 Reception
This central lobby area welcomes guests to speak with a Guest Relations specialist should they have a question or require any service. Assistance is available 24 hours a day.
Night Life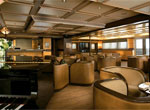 Piano Bar
Meet and mingle with fellow travellers and your expedition leaders in the Piano Bar, where cocktails are served and views of blue seas and lava-rock landscapes are always on display. Your bartender will quickly learn your favorite drink, but do try one of the local concoctions. Accompanied by the music of the resident pianist, you can take your afternoon tea here, and enjoy pre-dinner cocktails before an impromptu dinner with new-found friends.
Sports and Fitness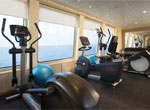 Fitness Centre
Eye-opening panoramas inspire you ever onward in the Fitness Centre with its treadmill, elliptical trainer, stationary bike and a weight machine.
Shopping
Boutiques
Featuring designer collections and duty-free shopping, the onboard Boutiques offer a selection of jewellery, fashions, perfumes and Silversea logo items.
Pools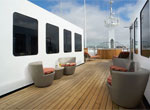 Jacuzzi
What better way to cool off in the tropics than with a dip in the Jacuzzi, waiting for you up top on the sun deck of your luxury cruise ship.