Dining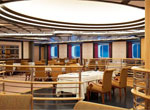 Atlantide
Pivotal to the Silver Muse dining experience, this elegant bar and grill incorporates the best that the sea has to offer. Created to temper your taste buds, designer dishes such as royal crab, blue lobster and Verbena infused red snapper in a sea salt crust are showcased alongside the best steaks offshore.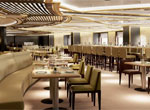 Indochine
Unlock the hidden treasures of the spice markets of Mumbai, whet your appetite with the exoticism of Thailand and temper your taste buds with the cuisine of Vietnam. Elegant and exquisite dishes bursting with Asian essence awaken your gastronomic senses and immerse you in an expansive tapestry of the palate.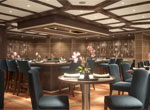 Kaiseki
Balanced menus have been inspired by the five elements of Japanese nutritional cuisine and respect the equilibrium of yin and yang. With teppanyaki available exclusively for evening diners, daytime menus feature a varied and balanced menu of sushi, sashimi and other raw Asian-inspired dishes.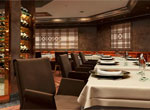 La Dame by Relais & Châteaux
La Dame by Relais & Châteaux features a bespoke menu by top chefs from the Relais & Chateaux team, and is the highest expression of excellence of French dining that Silver Muse has to offer. The ambience is one of chic contemporary style, with crisp white table linens and the impeccable white gloved service associated with Silversea.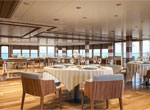 La Terrazza
Together with their partnership with Slow Food, La Terrazza aboard Silver Muse offers innovative interactive food stations: an olive oil cellar, a mozzarella bar, a seafood station and of course a salumeria. The a la carte menu has also been extended to include the popular Sapori di Casa, traditional family-style Italian daily specials.
Silver Note
Small plate tapas-style dishes of mouth-watering international cuisine perfectly compliment the rich, exciting entertainment as the smooth sounds of jazz and blues gently caress your ears. A refined late evening menu perfectly showcases the panache and style of Silver Muse's plentiful dining options.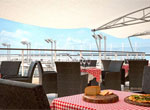 Spaccanapoli
Reflecting Silversea's Italian heritage, this emblematic street in Naples divides the city in two and is renowned for its pizzerias. No visit to the city is complete without a journey to Spaccanapoli. Therefore it is unsurprising that Spaccanapoli aboard Silver Muse reflects the true Italian way of life: the freshest ingredients, authentic dough and a perfect sense of the fabled Italian lust for life.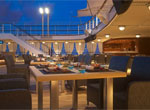 The Grill
One of the healthiest cuisines to exist, The Grill features lava stone cooking at its finest. Sourced from volcanic rock and placed in an oven to reach an optimum temperature of 400˚C, The Grill invites guests to cook their food directly at their table.
Spa and Beauty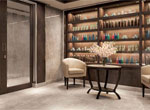 Spa
Relax, rejuvenate and renew all your senses. The Spa by Silversea is a sanctuary of pure bliss… Sweeping sea views from the floor-to-ceiling windows, nine treatment rooms, an acupuncture suite, relaxation areas and a dedicated outdoor whirlpool allow delectable indulgence on board. Invigorating therapies including facials, body wraps and massages.
Onboard Activities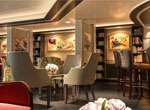 Arts Café
The Arts Café will showcase paintings and sculptures from a broad range of talent. The distinctive design of the venue is a relaxing getaway and offers daytime cuisine in the form of a café and deli-bar. But come early evening, the venue turns into a lively, evening cocktail lounge meaning you can retreat to one of the comfortable chairs, grab a drink and relax as you absorb the incredible view and watch the world float by.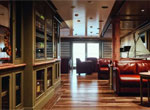 Connoisseur's Corner
This indoor/outdoor venue is where you sip the finest cognac or whisky from a prestigious range and revel in the tranquil murmur of after-dinner conversation. A premium choice of cigars is also available, making this a perfect evening haven of serenity.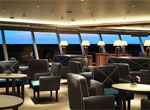 Observation Lounge
Set on the highest level at the very top of the ship, this is a quiet space for reading and reflection while being dazzled by the undulating seascapes that are constituent to life on board. Borrow a book from the in-house library, read the papers or just embrace the tranquility of being at sea.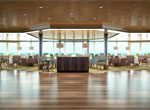 Panorama Lounge
From early morning to late at night, the Panorama lounge offers everything you could wish for. A peaceful retreat that is the perfect place to break away to, a social place to meet and greet old friends, or an evening venue to partake in a cocktail as you sit back and watch the world go by.
Casino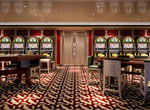 Casino
Let the fun begin! Channel your inner James Bond and enjoy a flutter at a variety of table games including American Roulette, Blackjack and Ocean Poker. An assortment of multi-game, multi-denominational reel and video slot machines are also available. Prepare yourself for a luxurious and exhilarating experience with every turn of a card and spin of the wheel.
Night Life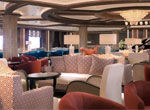 Dolce Vita
Let Silversea spoil you with an incredible array of flawless cocktails, wines and spirits, as you relax, enjoy the evening sounds of a live pianist and enjoy "the sweet life" aboard.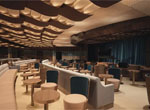 Venetian Lounge
Paying tribute to a golden age of glamour, Venetian Lounge offers belle-époque style cabaret seating, with intimate tables and chairs subtly placed between the rows of comfortable tiered banquettes. As the stage lights are dimmed, soak up the atmosphere, relax and enjoy a night of dazzling sights and sounds.
Sports and Fitness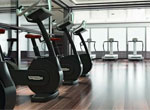 Gym
With state of the art Technogym equipment, free weights and speciality classes, the Fitness Centre brings together elite design with programs that are specifically created for your body type and needs.
Pools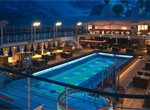 Pool & Jacuzzi
This is the place to cool off, unwind and enjoy the sunshine. Take a dip in the pool, relax in one of the whirlpools or simply soak up the view from one of the sunbeds, while your pool attendant anticipates your every whim.