Vancouver Cruises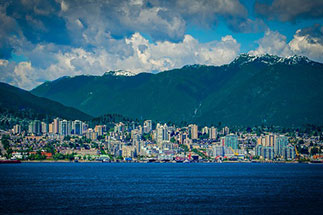 Average Yearly High Temperature in Fahrenheit (&degF)

| Jan | Feb | Mar | Apr | May | Jun | Jul | Aug | Sep | Oct | Nov | Dec |
| --- | --- | --- | --- | --- | --- | --- | --- | --- | --- | --- | --- |
| 40 | 43 | 49 | 55 | 62 | 67 | 73 | 74 | 68 | 58 | 45 | 39 |
Show Vancouver Sailings
Overview
The Port of Vancouver is home port for the Vancouver-Alaska cruise, one of the world's most popular cruises. Just a few minute walk to the downtown attractions, Port of Vancouver is Canada's largest port. Vancouver offers the perfect blend of urban and natural experiences, with stunning vistas and plenty of activities. There are a wide range of cruise lines that sail out of Vancouver port, including larger vessels, and smaller and more intimate ships.
Things to Do
Iconic Neighborhoods
Gastown- Known as Vancouver's oldest neighborhoods, this district retains its historic charm and spirit from when it was a single tavern town back in 1867. Explore the old buildings, cobblestones and lampposts on foot before or after your cruise.
Chinatown- Vancouver is home to North America's third largest Chinatown (after New York and San Francisco) where you can find plenty of classic Asian specialty stores and restaurants. Visit the Classical Chinese Garden to learn more able Chinese culture and symbolism.
Hotels
Fairmont Pacific Rim
Address: 300 - 999 Canada Place, Vancouver, BC V6C 3B5, Canada
Phone: +1 604-662-8111
2 minute walk to cruise terminal
Pan Pacific Hotel Vancouver
Address: 300 - 999 Canada Place, Vancouver, BC V6C 3B5, Canada
Phone: +1 604-662-8111
In the cruise terminal
Activities
The Lion's Gate Bridge is a suspension bridge that crosses the first narrows of Burrard Inlet and connects the city of Vancouver, British Columbia. The total length of the bridge including the north viaduct is 5,890 feet.
Ascend in a glass elevator to the top of Vancouver Lookout for 360 degree views of the city. The 40 second ride will whisk you up 553 feet above the city for panoramic views.
Family Friendly
Stanley Park is a 1,000 acre park bordering downtown Vancouver, British Columbia, Canada. The park features many huge Douglas-fir, Western Red-cedar, and Western Hemlock trees. These trees can be up to 300 ft tall and, hundreds of years old. A great place for the whole family to enjoy.
The Gastown Vancouver Steam Clock was built in 1977 and is a well-known, antique-style clock, powered by steam. It even whistles to tell the time.
Sports
Catch a hockey or soccer game while visiting Vancouver!

Hockey
Vancouver Canucks
Rogers Arena: 800 Griffiths Way, Vancouver, BC V6B 6G1, Canada

Soccer
Vancouver Whitecaps FC
BC Place: 777 Pacific Blvd, Vancouver, BC V6B 4Y8, Canada
Driving Directions
Port of Vancouver Address:
999 Canada Pl, Vancouver, BC V6C 3T4, Canada
Convenient long-term parking is available at Canada Place for regular height vehicles only. Maximum height is 6'9″.
Driving Directions from Vancouver International Airport to Port of Vancouver
Start out going NORTH on GRANT MCCONACHIE WAY.
Turn RIGHT toward ARRIVALS
Continue STRAIGHT to go onto GRANT MCCONACHIE WAY.
Turn RIGHT onto ARTHUR LAING BRIDGE.
Take the ramp toward GRANVILLE ST
Continue STRAIGHT to go onto SW MARINE DR.
Take the SEYMOUR ST / HWY-99 N ramp toward HORSESHOE BAY
Continue STRAIGHT to go onto SEYMOUR ST
Turn RIGHT onto W HASTINGS ST / PROVINCIAL ROUTE 7A.
Turn LEFT onto HAWKS AVE.
Turn RIGHT onto CORDOVA DVSN.
Finally end at Port of Vancouver.