Dining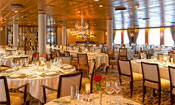 AmphorA Restaurant
AmphorA features surroundings as delightful as the menu. Inviting circular booths and plush banquette seating lend themselves to a private tete-a-tete or a convivial group of newfound friends.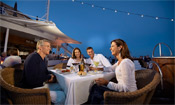 Candles
For a special treat, make a reservation to dine under the stars at the Candles Grill, the deck top restaurant featuring freshly grilled steaks and skewers.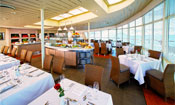 Verandah
The Veranda serves breakfast and lunch daily. Enjoy the great view and atmosphere that makes your dining experience one of a kind. The Verandah is best place to site see while you take a quick bite to eat.
Spa and Beauty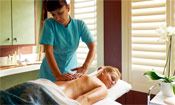 WindSpa
If your idea of adventure is a sea-salt scrub and herbal body wrap, then the WindSpa is your destination. Enjoy a deep tissue massage or just a sea weed wrap, whatever you need the WindSpa has it waiting for you.
Onboard Activities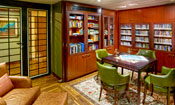 Library
Discover the relaxing tranquility of the Wind Star's library. Filled with great books and plenty of quiet. If you just need time to yourself to relax and expand your knowledge make sire you stop in a pick out a great book.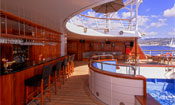 Pool Bar
Enjoy live music and cocktails at the Pool Bar, boasting stylish wicker seating and beautiful woods.
Casino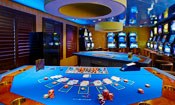 Casino
The Casino is open most afternoons and evenings when the ship is not in port, and the dealers are happy to share their tips on winning at poker or blackjack. After dinner visit the Signature Shop on board, or retreat to the Lounge.
Night Life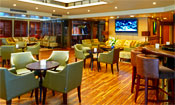 The Lounge
Enjoy the breathtaking views of the ocean while taking in the sights and sounds of the cozy lounge.
Sports and Fitness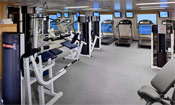 Fitness Center
If you're feeling a bit restless, head on over to the Fitness Center to burn off that energy and some calories.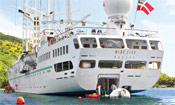 Water Sports Platform
Check out the water sports platform for water-skiing, windsurfing, and the always popular banana boat. Or let the Sports Team show you the underwater basics with a resort scuba class in the ships pool.
Shopping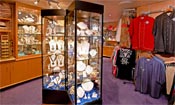 Signature Shop
The Signature Shop has all the last minute clothing or jewelry you need.
Pools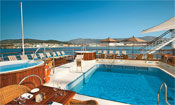 Pool
When the choices simply become too overwhelming, just remember; the Pool is open. Take a nap on a cushioned deck chair or enjoy the view from the Bridge and take a quick dive in the deep end to cool off!